Ivan Cordoba: "Adriano Could've Got Very Close To Ronaldo's Level, I Hope Lautaro Stays At Inter"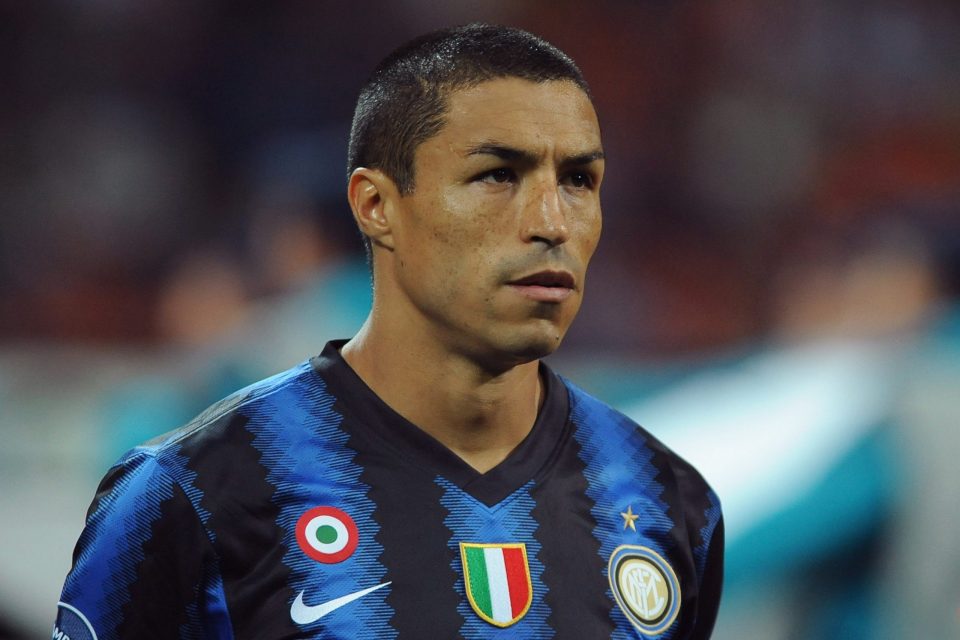 In an interview with Inter's stadium announcer Mirko Mengozzi, legendary Inter centre back Ivan Cordoba discussed a range of Inter related topics.
Cordoba joined Inter in 2000 and spoke on what it felt like to join the team at that time.
"It was absurd and incredible to me that such a team wanted me to play alongside Baggio, Blanc, Vieri, Zanetti, Zamorano, Ronaldo, I couldn't believe it and I couldn't wait to get there," he began the interview which was broadcast on Mengozzi's Instagram profile.
"20 years have passed since I joined, the years go by but those moments remain as do the relationships with those players with whom you have spent beautiful and also difficult moments with."
He then spoke on what it felt like to be part of the Inter team that won the famous treble containing the Serie A, Coppa Italia and Champions League in the 2009/10 season.

"Up to a certain point we didn't realise what we were doing because the manager made us concentrate on one goal, he certainly had in mind where we could go, but we went goal by goal and each final was like a world cup final for us.
"We had to go to Rome for the Italian Cup and we had to win it in any way. Once that was won, we had to think about Siena. We all worked together to achieve that dream, but there was an optimism so high that everything led to winning the Champions League."
He was then asked if the semi-finals against Barcelona were more like finals than the final itself which was played against Bayern Munich at Real Madrid's Santiago Bernabeu stadium.

"There was that feeling, because you know that you faced and beat the strongest team because Barcelona was the team expected to win.
"As Mourinho said, it was our life's best defeat at Camp Nou, spending the match with ten men behind the ball was crazy but only in this way could the objective we had be achieved. After that game we said knew that nobody else could win it other than us."
He then went on to discuss the final itself and how it felt to be part of it.

"Just being there was fantastic. The stadium was a unique show, among their fans and ours who have never seen choreographies before.
"The fact ours was better than that of the Bayern supporters hyped us up more. I am very religious. It was May 22, the day of Santa Rita and we are very devoted, we lit candles in Santa Rita, we prayed and asked for this miracle, we talked about 45 years without winning it.
"We always remember this Saint, she was a help from heaven. It had to be like this, it was a beautiful thing."
He then recalled what then Inter manager Jose Mourinho told the team prior to them taking to the pitch.
"In these situations he was crazy, extraordinary and did not make tactical speeches but emotional speeches. So either it charges you or it lowers your tension because if you are with too high tension he will lower it to you as he did in Barcelona.
"We were 150% agitated, we couldn't wait to go out on the pitch and he, I remember, was sitting on a chair, with his feet crossed on the table and pretending he didn't feel anything, he was calm.
"He said: "Don't worry guys, go on the pitch and do what you have to do." Then in Madrid he said it was everyone's dream and then he told us that it was a dream especially for our families always close to us and we had to go and give a beautiful gift to everyone.
"At that moment what else could he say? There is no point in talking tactics because if at that moment you do not have in mind who you have to face, you are not worthy of being there."
He then went on to reveal that he is still in touch with his teammates from that time.
"We have a good relationship, everyone knows that we have a chat and that we text each other almost every day. We joke and remember that time together. The idea is to always stay close even if we are in different parts of the world. It is nice to have this because we still feel together."
The Colombian then proceeded to speak on which of his former Inter teammates he had the best relationship with.
"I think the relationship I have with Zanetti is something special. I have always seen him as an example from the first day I arrived, then a very close relationship was born.
"He gave me a very big hand when I arrived at Inter, I have always been very grateful to him but he has a great relationship with all of us, for us Javier is our captain."
He then spoke on Mario Balotelli's infamous gesture against Barcelona when he threw the Inter top to the floor and how the team reacted to it.
"We got angry and I think he understood this. He was very young, I think it was a mistake."
Cordoba then discussed what feelings he had when he finally got to raise the Champions League trophy aloft.
"I had a particular feeling because I went back in time and thought about all the difficulties we had, all the moments when we got to the final but something didn't keep us going. Arriving there and raising that trophy together with teammates with whom I had fought for so long was nice."
Cordoba then went on to suggest one of his compatriot's that he would like to see Inter sign.
"There is a player that I would have brought to Inter but there are teams in Europe that move well and quickly and Porto did it, it is Luiz Diaz. He is a very skilled player in one on one situations, he is very good and effective. In my opinion, he would do very well in a team like Inter."
He was then asked what for his opinion on former Inter striker Ronaldo and whether or not Adriano could have reached the same level as him had he not had his well documented issues.
"Il Fenomeno did things in training that you didn't think existed. Although after the injury he was a little afraid. He did things he invented. We woke up happy because we waited for training to see what he was going to do. Sometimes he made fun of us because you didn't know where you ended up against him.
"Could Adriano have reached his levels? I think not, but I think he could have come very close. He had devastating power. Adriano had tremendous strength and shooting ability, he had other skills that I think could have won him the Ballon d'Or, but I don't think he would have reached Ronaldo's level."
Cordoba then discussed former Inter president Massimo Moratti.
"I could write a book on Moratti. I spoke to him a few days ago, I was pleased to know that everyone is well. He has the ability to lift you up and make you feel good. He was like a parent for all of us and we should all thank him because he showed so much trust."
He was then asked if he thinks that Lautaro Martinez will stay at Inter with speculation over a move to Barcelona persisting.
"I hope so because I think the joy you get at Inter is not the same as elsewhere. This is his Inter and wherver he goes it will not be his team. I hope he stays and can enjoy the success that will come soon. I am confident and hope that he will remain and get better."
In conclusion he sent a message to everyone amidst the ongoing global Coronavirus pandemic.

"A big hug to all of you, and to the fans, don't despair. Stay united. Let's pray for those who are not so well and please help all the doctors because they can't take it anymore. A big hug, a lot of strength, a lot of affection and above all Forza Inter, always."