Ex-Inter Goalkeeper Luca Castellazzi: "Handanovic Can Play At This Level Until He's 40 Years Old"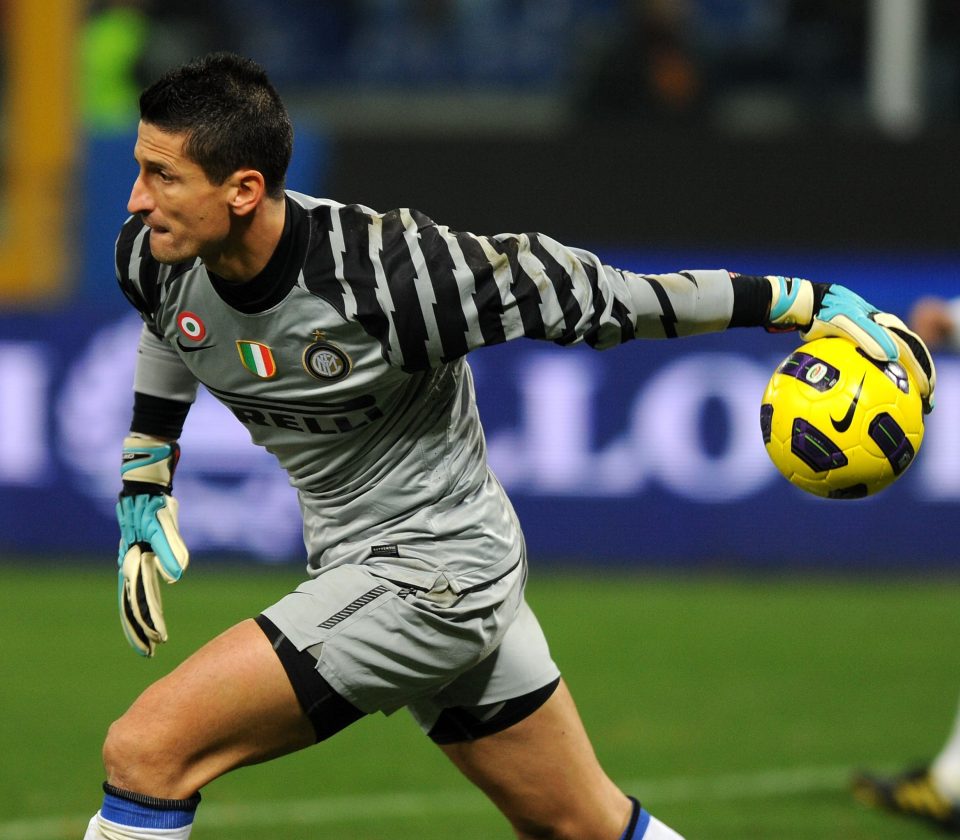 In an interview with Italian news outlet PassioneInter.com, former Inter goalkeeper Luca Castellazzi has spoken on a number of Inter related topics, starting with his move to Inter.
"I arrived in the summer of 2010 and there was an infectious enthusiasm, even during the pre-season training camp. Many top players were not there as it had been the world cup but there were thousands of fans waiting for us at the end of training.
"I came from Sampdoria and it was all new to me. It was like I had just went to another planet. It was the beginning of four years for me in which I had great satisfaction. We won three trophies and the satisfaction will remain indelible in my career."
Next Castellazzi reflected on Rafa Benitez's spell in charge of Inter.
"Anyone who came in after Mourinho would have found it difficult. The players had given everything in the previous year, starting on the same levels would have been complicated.
"When he left he still had the results on his side but it was obvious there was never a connection with the management even though in January we were still close to first.
"There had been many injuries and perhaps that did not help him to create the same environment that Mourinho had created."
Castellazzi then went on to speak abut his Inter debut.
"My debut as a starter came against Tottenham. It was a wonderful football experience to make by debut for Inter as a starter against Tottenham, who were a great team.
"It was too bad that we lost. I conceded three goals but I tried to do my best. I do not think I made any serious faults for any goals. It is a memory that I hold tight to me."
Castellazzi was Inter's back-up goalkeeper for his spell with the club and spoke on what it is like to not be the starting goalkeeper.
"Being the back-up goalkeeper is a difficult role to fulfill as you know from the start that you will not play but you still have to train as if you were going to play.
"I lived as if I were the starter in order to make myself ready. I was aware of the mental and physical approach which was required during the week and if the opportunity to play on Sunday arose, you were ready."
Castellazzi then reflected on Daniele Padelli's recent spell in the team that came about after Samir Handanovic got injured.
"Daniele played in games where the stakes were high and the opponents were great. He had not played for a while and some of the criticism he received was too fierce.
"Replacing Handnaovic is not easy, people expect the most. Unjust pressure was created. On a positive note, he had two very good matches in the Europa League. If he kept playing he would have done well, he is an excellent second choice."
Next he discussed Inter captain Samir Handanovic.
"He gives absolute security. I like how he manages the role. He knows how to save shots and has a certain level of security that surprised me. I have seen how much he has grown over the years. He can play until he is 40-years-old.
"He deserves to win a trophy for all the good he has done both for himself and for the team."
He also spoke on several young goalkeepers who have caught his eye recently, many of whom have drawn links to Inter in recent weeks as they seek a player capable of being Handanovic's back-up and eventual successor.
"I like Ionut Andrei Radu and Juan Musso. I like what Radu did at Genoa. He is someone to be considered for the future both by Inter and other clubs. Musso surprised me a lot, I didn't know him before he arrived and he has improved so much in recent years.
"I also like Emil Audero, he is very good and there is also Alessio Cragno. There are many goalkeepers who can blossom and we must give them confidence."
During his spell with Inter, Castellazzi made a total of 36 appearances across all competitions, in which he kept nine clean sheets.