Nerazzurri Vice-President Javier Zanetti: "I'd Sign Peak Lionel Messi Over Peak Diego Maradona For Inter"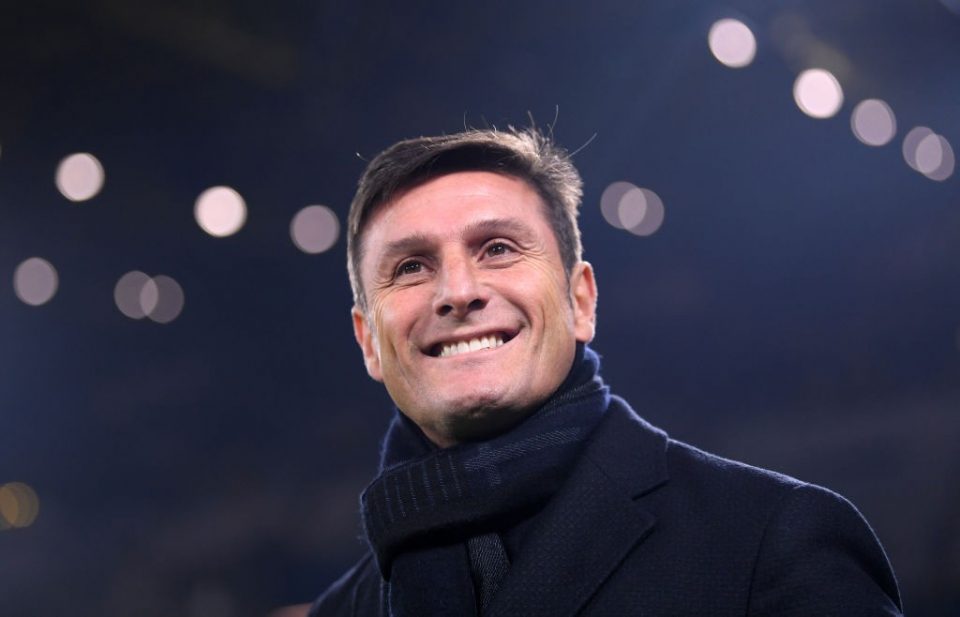 Inter vice president Javier Zanetti discussed the ongoing Coronavirus situation, the current squad and the question of when to finish the season in an interview with Mexican broadcaster Tudn earlier today.
"For the moment, nobody is thinking about when it will start again, the important thing is health. You have to be very careful because this virus is a very delicate thing. We hope the situation can improve, but it will take time. It's very difficult to make a decision about football today, we are careful about what will be decided, but always keeping people's health in mind."
He spoke about which photo perfectly represents his love for Inter and football.
"I have many photos in my restaurant that testify to important moments, also spent with my family. But the most representative one is the one of the night at the Bernabeu, it was the most beautiful moment that I also lived with my family, the night we won the Champions League. My family was with me at an important moment in my career, with all the people of Inter. And I will always keep the photo of that trophy in my heart."
The former Nerazzurri defender spoke about how his love for the club is unending.
"Yes, it is an endless love story because Inter believed in me when I was still a stranger, not knowing me very well. I've spent my entire career defending this shirt, and now I'm doing it as vice president. Although from behind a desk I always try to convey what are the values of this great club that has a great history at a very important international level."
Zanetti touched on the serious injury Brazilian striker Ronaldo suffered during his time with the Nerazzurri.
"It was a very difficult and sad moment. We were in the semi-finals of the Coppa Italia against Lazio. I remember how emotional it was with him because the main character in the match was seriously injured. Seeing Ronaldo on the ground with all that pain made the world sad. It was hard for him because it was a serious injury and it was very difficult to accept such an injury not only for him but for the whole world."
He spoke about why Juventus have been dominating Italian football in recent years.
"Because they're a team that have the most continuity over the years. We're at the start of an ambitious project, with Conte and the players doing very well. We're in a very positive moment, the league is very competitive and Inter have what it takes to stay competitive. It's essential to have team continuity and a specific identity and Inter proves it in every game that they can be a hero, it's a team that always tries to win every game. Then sometimes you're okay with it, sometimes you're not, but that's football."
Finally, Zanetti spoke about whether he would bring Lionel Messi or former Napoli star Diego Maradona to Inter, assuming Maradona was at the peak of his career.
"I think I would bring Messi today because I spent a lot of time with him, and I think what he is doing is formidable. He's a player who makes a difference at any moment and I'd bring him to my team."
Zanetti spent 19 years of his career with the Nerazzurri, quickly becoming a fan favourite. The former Argentina defender made 860 appearances across all competitions for the club, scoring 21 goals and providing 16 assists in that time.