Ex-Inter Winger Moriero: "I Tried To Convince Totti To Come To Inter, It Would Be Wonderful To Work With Conte"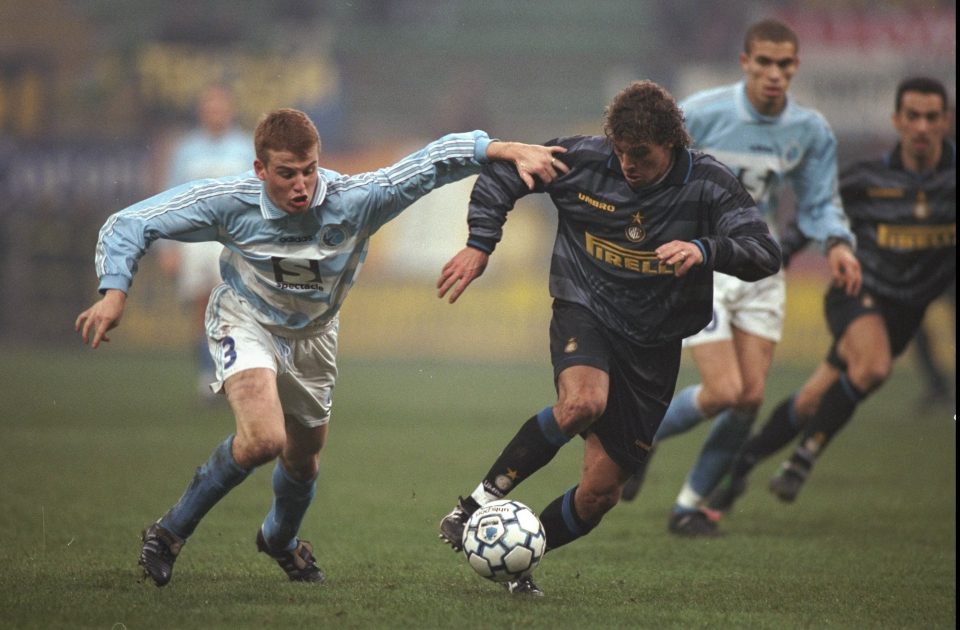 In an interview with journalist Nicolo Schira via Instagram, former Inter winger Francesco 'Checco' Moriero has spoken on a range of Inter related topics, starting with how he came to end up at the Nerazzurri in the Summer of 1997.
"At the end of May, on a Wednesday evening I went to dinner with Derby County who wanted to take me to England. After the meeting I had an appointment the following day to fly to England to sign the contract, but during the night a call from Galliani arrives. He wanted me at AC Milan so I went to Milan. I took my medical and signed for the Rossoneri.
"I went on holiday and a few weeks later Sandro Mazzola called me to go to Inter. AC Milan wanted Andre Cruz who already had an agreement with Inter so AC Milan offered Inter a list of players and Gigi Simoni chose me and I ended up at the Nerazzurri together with Ronaldo.
"For the first week though nobody understood anything as I was all over the newspapers in both AC Milan and Inter shirts."
He then revealed how the shoe-shining celebration came about.
"During my debut at San Siro, Recoba overturned the match with an extraordinary brace. He scored two magic goals and I got on my knee and said for him to put his foot on it. I polished his shoe and it caught on.
"It was a gesture of humility and homage towards the greatness of a teammate. I didn't score much, I preferred to set up goals but when I did score they done it to me too. I forced Diego Simeone to polish my shoe."
Next he revealed he played a part in legendary Italian player Roberto Baggio ending up at Inter in 1998.
"I was a little cupid and brought Roberto to Inter. I was always in his room at the 1998 World Cup and I talked to him about Ronaldo, Moratti and Simoni. I spoke about them until he accepted president Moratti's offer."
He then went on to add that there was a time when he tried to bring Francesco Totti to Inter too.
"I knew that Francesco had some problems with Roma and I spent a long time trying to convince him to come to Inter. He thought about it, but in the end he loved Rome too much and he didn't feel like leaving."
Moriero then shared his views on former Inter manager Luigi 'Gigi' Simoni.
"He was a great manager and a real gentleman. He knew how to handle and take care of you, he was a loyal man who said everything to your face. This was one of his biggest strengths.
"After he was sacked we all went to the club management to try get them to change their mind but there was nothing we could do. Years later I think Moratti regretted sacking him."
He then spoke on what it felt like to win the UEFA Cup with Inter in 1998.
"We felt very strong, we were sure about winning. We came up against a very strong Lazio but it was no contest. We won 3-0 and we celebrated all night."
Next Moriero spoke about Marcello Lippi's time in charge as manager.
"There was Ronaldo, Baggio, Zamorano, Recoba and Bobo Vieri. I think it was the strongest attack of all time. It is too bad that due to injuries and various problems they could not play so much together otherwise we would have won a lot.
"With Lippi it started well and after we lost the derby he decided to not play me any more. I was not part of his plans so I accepted a move to Napoli."
Moriero then discussed former Inter president and owner Massimo Moratti.
"He is a fantastic person. We always wanted to win especially for him. He called us every Monday to comment on the game. On Saturday he came to Appiano to stimulate us. He always gave us incredible speeches to push us to win except for the derby because he considered the game against Milan the easiest game."
Moriero penultimately spoke on former teammate Taribo West.
"Taribo was a crazy madman and had all sorts of colours in his hair. Before each game he would bless Ronaldo. I remember one Monday he fought with Lippi in front of everyone and said that God had told him he had to play for Inter and Lippi replied that God had said nothing to him."
In conclusion he was asked if he would like to one day be a coach at Inter.
"I love working with young people and I would like it, I won't even deny it. It would be wonderful to work side by side with Antonio Conte at Appiano Gentile."