Ex-Inter President Massimo Moratti: "My Biggest Regret Is Not Signing Eric Cantona, I'd Never Sell Lautaro Martinez"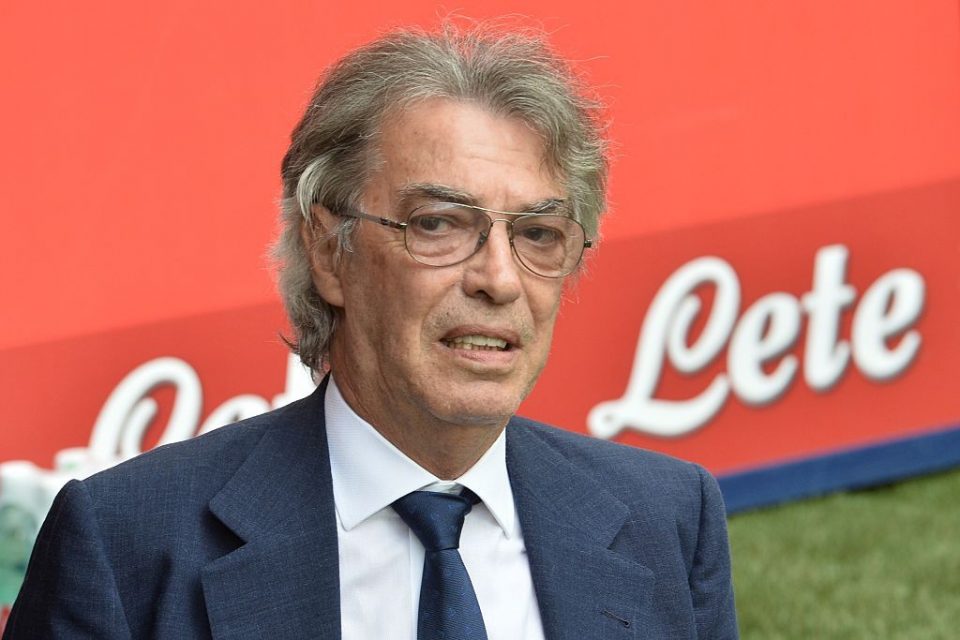 Former Inter president Massimo Moratti spoke about many topics from the Treble to today's squad in an interview in today's paper edition of the Milano based newspaper Il Giornale.
First, he spoke about Inter's 1-0 win over Siena 10 years ago today, their final game of that season.
"A very important game, perhaps the most painful in terms of the result. Worthy of a difficult season against an opponent like Roma who never gave up an inch. We didn't think Siena could play with the tenacity and strength they showed and put on the pitch.
"The match was a tough one but fortunately Zanetti managed to assist Milito with a whiff of his own who then scored a crucial goal. I remember that the crowd was very happy because the one he won was the fifth Scudetto in a row, a remarkable result for our club."
He moved onto talking about if he was scared of losing the league title at any point during that season.
"There was a moment when Roma overtook us by a point in the league but then lost at home to Sampdoria. There was a moment when more than fear of losing it there was the awareness that we had to put in more to see it through. The team always believed in it and never gave any signs of giving in both physically and mentally and in the end, we managed to win a hard and well-deserved Scudetto."
The former Inter president touched on Diego Milito, who scored decisive goals at the end of that season.
"The usual Milito who then continued to be the decisive man. On May 5th he scored in the final of the Coppa Italia, then the goal against Siena on May 16th and six days later he scored that fantastic double that allowed us to return to the top of Europe."
Moratti spoke about his reaction when the final whistle was blown at the end of the Champions League final.
"I think it was something incredible. When you care a lot about something, it almost doesn't seem real when it comes true and you express everything you have inside, I was overjoyed.
"Then I have to tell you the truth, I immediately thought back to my father who had been the only one to win the Champions League, twice, with Inter. I think it was a nice gift to the club and the fans."
He discussed the departure of coach Jose Mourinho straight after the Champions League final.
"Let's say that he and I never talked about it because it was a spell not to be broken. I never bothered him about it even though it had been in the air for some time that something might happen at the end of the season.
"I remember that two days after the final we found ourselves at my house and we spoke about everything in a more relaxed way. Maybe after two or three years Mourinho gets tired of a situation and it's okay that he decided to change his mind and left at the right time."
The former Inter president revealed that he was disappointed that Mourinho chose not to return to Milan to celebrate the win.
"Yes, I have to say the truth that actually getting into Real Madrid's car in that way made us argue. He could have certainly celebrated in Milan but maybe he didn't want to expose himself in that way in front of the fans he loved. It was like a farewell and I think he didn't feel like it."
Moratti touched on the current Inter project being built.
"I really like Conte and the club is doing very well and is doing everything they can to make the team even stronger and more competitive. The managers are working well and then there's the coach who has a great character and has given it to the team."
He discussed how high the current Inter project can go and if they can close the gap with Juventus.
"They can go very high, they just have to keep working with perseverance. The gap with Juventus can be closed by maybe starting to win something but I think Inter are on the right track to be able to do it."
The former Nerazzurri president revealed that he was still on Mauro Icardi's side regarding the dispute with Inter.
"Yes, I said it because I felt like it, Mauro is a good guy. I think it was a matter of principle, even fair on the part of team. In the summer there was the possibility to sell him at a high price and I think they concluded an operation that could have been convenient for all the parties involved."
Moratti suggested that he wouldn't sell Lautaro Martinez if he was the current president of the club.
"I must say that Lukaku is much better than I thought. Besides being a good guy, he's a great striker really. Lautaro on the other hand is very strong, a dream striker with a high tactical quality and is above average in a way that makes you think. I'd never sell him but then in today's football these things count for little because there are so many variables that come into play."
He discussed a deal that he was proud of completing and one that left a bitter taste in his mouth.
"Ibrahimovic-Eto'o was certainly the most successful deal that no one could have expected. My biggest regret is certainly Cantona, he would have helped us win so much, I'm sure. But then I have to tell you the truth there were so many regrets and players that I couldn't get to!"
Finally, Moratti spoke about former Brazil star Ronaldo.
"Absolutely Ronaldo had been a big deal in every way. I'm also happy that he's made his peace with the fans a little bit after some difficult years.
"He left in 2002 but I had the impression that he had suffered a lot during his years in Milan when he had to recover from those two terrible injuries. The environment was heavy for him and he suffered. But I can say with certainty that he was a true Phenomenon."