Ex-Inter Goalkeeper Castellazzi: "Lautaro Martinez Has Been Affected By The Rumours"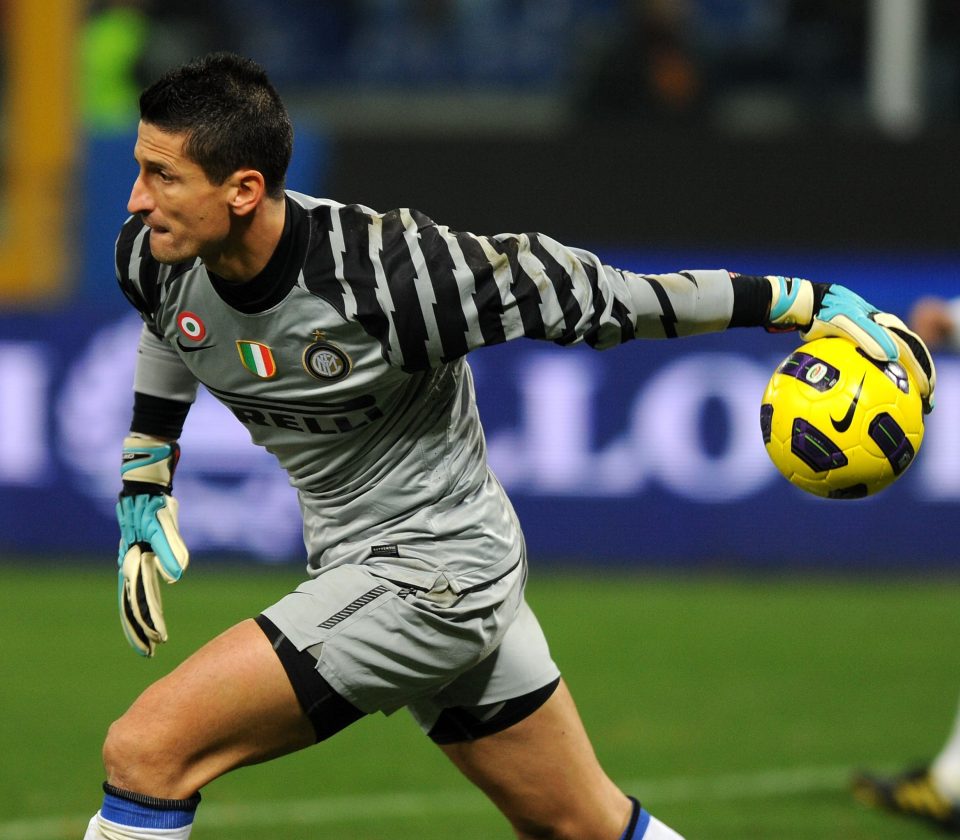 Former Inter goalkeeper Luca Castellazzi discussed the restart of Serie A, the Coppa Italia, the Europa League and coach Antonio Conte's squad in an interview with Italian media outlet FcInter1908 earlier today.
First, he discussed the passing of Inter legend Mario Corso.
"Really sad news. For all the people of Inter and for football. A real Nerazzurro. I'll remember him like all will."
The 44-year-old Italian then spoke about how the squad must be feeling after being eliminated from the Coppa Italia by Napoli in the semi-finals last weekend.
"It hurts. It's a shame that Inter didn't manage to make it to the final, because in my opinion the performance was there, the team created opportunities. The fact that Ospina was Napoli's best makes us understand how dangerous Inter were. In these moments, when you don't have the 90 minutes in your legs, you have to be able to realise the opportunities you create. Unfortunately, carelessness has cost dearly."
Castellazzi then spoke about the Inter squad in general and their performances under coach Antonio Conte this season.
"The problem was the result. The 0-1 in the first leg was hard to overturn. The criticism was the result of a missed final that was within reach. They could have fought for a trophy and started winning. Inter are in the running on two other fronts, but the Coppa Italia was the closest and most imminent title. In my opinion, the team had a great performance. In the first half there was a very intense game. It's normal that then, given the conditions, the pace slowed down in the second half. There are several matches in the same game. But the team is alive, and this is demonstrated by the fact that they tried until the end. This can bode well for the future and the next games."
The former Inter shot stopper talked about how small moments decide games at the highest level, and how the Nerazzurri must remain focused to get the best from those moments.
"In balanced matches, the small moments make the difference. As a former goalkeeper, I must first of all acknowledge that Ospina had a high-level moment. As well as starting the counter-attack, he made a very precise 60-metre pass for Insigne. He has to be given credit for that. Eriksen found himself one-on-one with Insigne and was unable to contain him. That's too bad, because it was only a moment. Doubly painful, because it happened at the end of the first half. Maybe going into halftime ahead it would have been a different game for Inter."
The 44-year-old Italian commented on how Conte has changed the squad since his arrival and whether or not the squad have improved compared to Luciano Spalletti's team.
"Inter and Conte have tried to change the way they approach the games. His football is expensive, his trademark is intensity. The team, in my opinion, has done well in the first months, playing on an equal footing with the most accredited teams. We're talking about a league table that sees Inter potentially six points behind Juve if they win against Samp. And those points are only the result of two direct battles lost. Conte knows it's not easy to win straight away, but his hand can be seen, the team never gives up, it's tough. The path is long, even more so is creating a project to win. But in my opinion, he was the right coach to start with a project aimed at creating a cycle. I repeat, it's a shame about the Coppa Italia, a trophy that's always important to me because it was within reach. Being able to play a trophy right away would have been good for the group's awareness and safety. It's also true that Inter are still in the league and so are the Europa League, where anything can happen with the new formula for dry games."
He discussed the impressive performance of Danish midfielder Christian Eriksen and how he has adapted to Conte's system.
"I really liked him. Before the Napoli game, we didn't understand how he was integrated, at the San Paolo we saw how he was integrated. For me as a trequartista he was decisive, the most dangerous man. The most brilliant game was the Napoli one, where he played as a trequartista, a role in which he can make his mark with goals and assists. Every time he strikes from a dead ball position, he can be decisive. He has had the chance to settle in these months, also thanks to the stop. It's not easy for anybody to get there right away and fit in during the current season. Although I do remember flashes of lightning, like the free kick in the derby. Nobody ever had any doubts about the player, you had to understand his tactical position. At the moment it seems that that role is more functional to his characteristics."
Castellazzi talked about how striker Lautaro Martinez's performances may have been affected by the rumours linking him with a move to Barcelona.
"They certainly do. It's normal that, when you hear your name every day relentlessly in the market, somehow or other, some mental energy is lost. It's also true that he's a professional, which he's always proven, by the way. Perhaps he has not performed well because he is not in top form. I'm starting from the assumption that Inter need Lautaro's goals because he's been instrumental throughout the year. It's in everyone's interest to do well. Then, at the end of the season, everyone will decide what's best for whom. I'm convinced that the club and the coach will be able to give him peace of mind. Rumours influence, but when you go out on the pitch you think about doing well."
The former Nerazzurri goalkeeper talked about captain Samir Handanovic and his performances at the age of 36.
"I think he has everything he needs to play up to the age of 40 without any problems because of his technical and physical guarantees. He has a great personality, a strong player in the locker room. One of those players that it's always better to have. I think it's hard to go after Handanovic. There's a lot of names. I don't consider it a priority at the moment."
He discussed whether Udinese's Juan Musso is the player to replace Handanovic.
"He's a goalkeeper who's done well, grown a lot since last year. It's true that the players at Udine are growing well, I like him. I didn't know him before he came to Italy. The most positive thing is that I've seen him grow a lot. It means he's a guy who's improving year after year, a positive thing for his career."
Castellazzi talked about Radja Nainggolan and if he'd reintegrate him into the squad.
"We all know how devastating he can be. Last year, the club and the coach made different choices. In my opinion, Conte's ability is to exploit every player. So, if he thinks Nainggolan can be useful to the team project, I don't think he's precluded from giving him another chance. If he's okay, he can still be decisive and give that intensity that, as we said before, is necessary in Conte's game. After a year, you can easily make other choices. Among professionals, I don't think it's difficult to find a solution that suits everyone."
He spoke about tomorrow evening's league clash between Inter and Sampdoria.
"Both teams need to get off to a good start for their targets. Inter must return to a win to reduce the gap to the first two and play their cards right in the last 12 games. There are more affordable challenges on the calendar, winning against Samp would give the right momentum. They've both been good chapters in my career, I don't feel like saying anything. My heart is in both teams. I've remained attached to all the teams I've played for. I came to Inter after the Treble, in a euphoric environment. We also won trophies in the post Treble era, so it was an experience that will remain in my memories. I saw an environment from another planet. Playing Inter makes you realize how amplified everything is. It's stuff that stays with you for the rest of your life."
Finally, Castellazzi discussed whether Inter can be a real force in the title race, should they beat Sampdoria tomorrow.
"Not too late because there are so many games and so many points up for grabs. Maybe, without interruptions, we would have had different ideas. But now we don't know how the teams are, how the games will develop. The games, at least for the moment, will be played behind closed doors, we don't know how much the field factor will affect them. There are more variables. In my opinion, the differences will get shorter, because there are 3-4 different ones in the match. There are so many question marks that I wonder why Inter shouldn't try anyway. It's an opportunity to take advantage of. You have to strike the iron whilst it's hot. Don't forget that after the season there's the Europa League, which I wouldn't put aside. There are important teams, but they're still opponents you can play great against. And with the 'mini World Cup' formula, if you can play a good match, you can go all the way."