Preview – Inter Vs Sampdoria – Finally Time To Play The Match That Never Was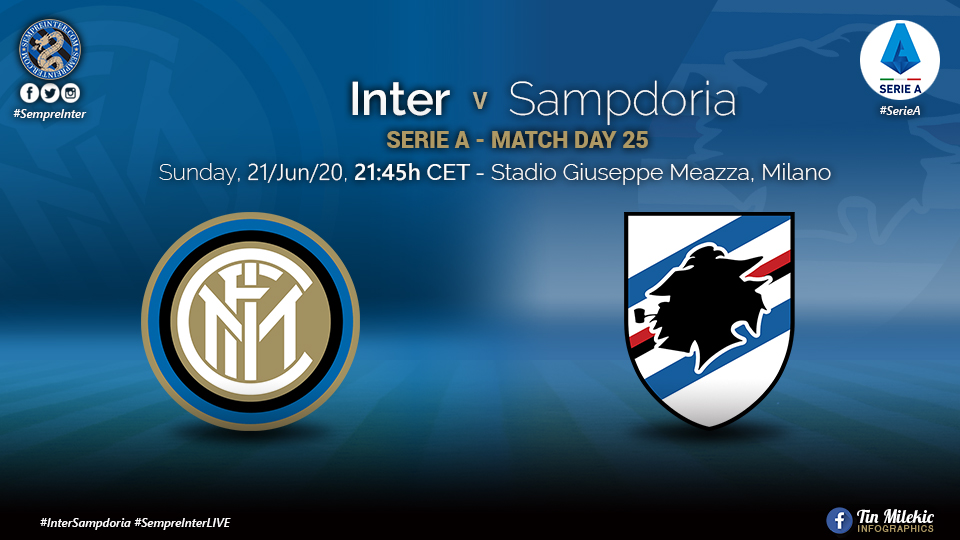 With the league suspension behind us, Inter look to restart their campaign with the rescheduled match against Samp, a win here can see the Nerazzurri back in title contention. Match tonight Sunday at 21:45 CET

Despite getting knocked out of the Coppa Italia, there was much to be optimistic about with regards to Inter's performance, especially in the first half. It seems that Antonio Conte has used the long layoff to really think about his side's best shape and how to maximize utility out of newcomer Christian Eriksen. The Danish playmaker seemed much more integrated into the side and was the main artery through which central attacks were orchestrated.
While fitness and conditioning will be a problem for most sides to deal with, especially when the grueling 3 day match schedule kicks in, Inter and Conte looked particularly ill-suited to deal with the challenge during their match against Napoli. Despite having five substitutions at his disposal, Conte only managed to make a minimal impact on the match with them, all seeming to be too little too late. If Inter are to mount a serious late push for the title, and keep the chasing pack at bay, Conte must be more daring and flexible with his in-game management.
While attack and defense seem to have sorted themselves out, it has traditionally been the midfield that has given Inter problems this season. That said, if Eriksen continues his development into the side, this will be godsend of a solution for Conte, who then need not play Marcelo Brozovic out of position or out of role, bringing balance to the rest of the midfield, who will miss this match anyway due to injury.
Sampdoria, on the other hand, are in a world of pain. The arrival of Claudio Ranieri seemed to assuage relegation fears, however, the Doria are still just one point above the drop-zone and so any mistake might be very costly at this stage of the competition. Samp's problems continue being in attack, they possess the joint-worst scoring record outside the relegation zone, and with striking talisman Fabio Quagliarella even closer to forty years than before the league suspension, it does not seem like their scoring fortunes are going to dramatically change.
Ranieri will probably have his side shell up completely and hope that Inter's post-layoff fitness issues save his side from a second half attacking barrage. Conte, on the other hand, must be hoping that his team manage to make the most out of their chances and be ahead on the scoresheet before halftime, otherwise things could get complicated quickly.
Team News
Man of glass Stefano Sensi has picked up another muscular injury and will not be available for selection, otherwise, it appears that Conte will have a full squad to take his pick from.
Probable line-up (3-4-1-2): Handanovic (C); Bastoni, de Vrij, Skriniar; Young, Barella, Gagliardini, Candreva; Eriksen; Lautaro, Lukaku.
Stats
Last Season: Inter 2 – 1 Sampdoria.
Last 10 Head to Head: The Doria have become somewhat of a punching bag for Inter, with the hosts winning seven of the last ten matches. Perhaps more telling is the fact that Inter have won the last five encounters in a row, both home and away.
Keep an Eye on
Christian Eriksen: Having just scored his first domestic goal for the black and blue in Naples, Eriksen will look to play another pivotal role in the weekend's match. The Dane seems to be slowly but surely taking to Conte's system and becoming more familiar with his new role and responsibilities.
Officials
Referee: Maurizio Mariani.
Assistants: Colarossi and Di Iorio.
Fourth Official: Pairetto.
VAR: Mazzoleni and Preti.
Prediction & Concluding Remarks
Prediction & scorers: Inter 3-0 Sampdoria. Lukaku brace and Eriksen to seal the deal.
Concluding remarks: This match will prove to be a real bellwether of how Conte will line-up his side for the final run of matches. If the manager can maximize utility of the five substitutions, this will be of a great service to Inter's quest to return as genuine title contenders.