Exclusive – New Signing Georgios Vagiannidis: "Man City & Monaco Interested But In My Mind There Was Only Inter"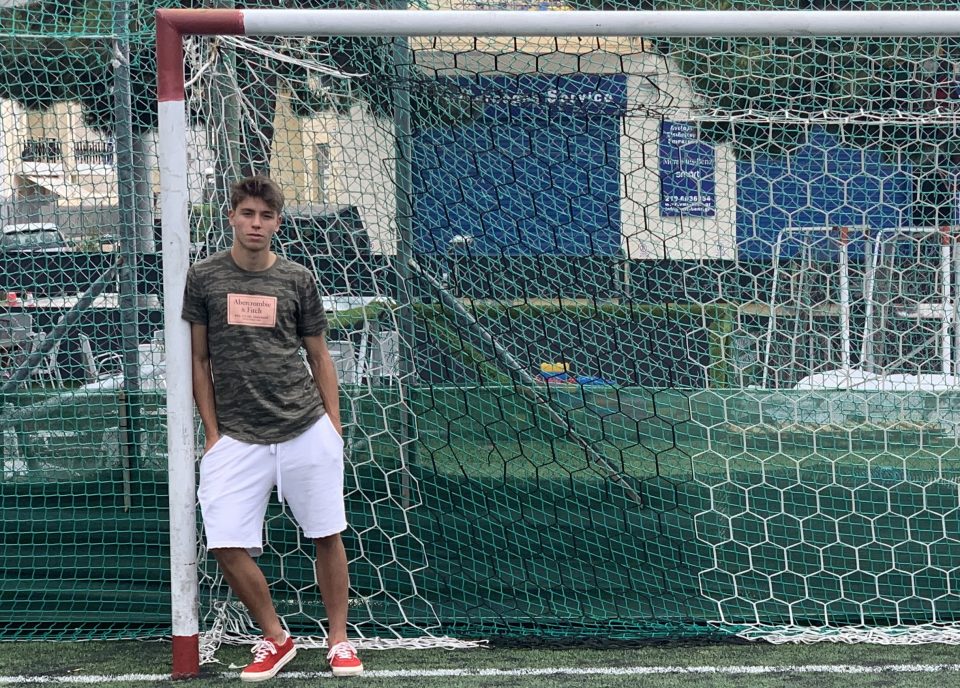 It's been known for quite some time albeit not having been made official yet, but young Greek fullback Georgios Vagiannidis will play for Inter next season.
But who is the youngster who will follow in the footsteps of Greek legends like Grigoris Georgatos and Giorgos Karagounis and become the fifth Greek player to play for the Nerazzurri?
Greek journalist Antonis Oikonomidis spoke exclusively on behalf of SempreInter.com, with a young fullback who loves LeBron James, who decides on visiting holiday destinations based on how quiet they are, and whose last book he read was written by Greek antique historian Herodotus.
"Until I signed the contract, I was never sure" he begins, whilst we're walking on the pitch he grew up playing on, near his home in Gerakas.
"At first it seemed and sounded unbelievable, but when I signed [the contract], when everything was sorted out, only then did I believe what had happened and I calmed down" he says about how he experienced the negotiating process with the Nerazzurri.
"This year, throughout the process of negotiating and searching for a new club, I had heard so much. About so many different teams being interested [in me], so I didn't want to get too excited about Inter. Because I didn't want to be disappointed if it didn't work out or something would go wrong.
"So, I tried to stay grounded and very pragmatic from the first moment that Inter's interest came to my knowledge and I waited calmly to see where it all would end up."
When did you first learn about Inter's interest in you?
"Recently, after the quarantine in Greece was lifted. I was initially informed about Inter's interest by my agents. I was told from the very first moment that this interest was serious. And it was. So, without practically realizing it, I came to negotiate my transfer to a team like Inter."
Who have you spoken to at Inter during these negotiations?
"I spoke only with Mr. Ausilio, before I signed. He analyzed everything to me regarding the project, the plan Inter has for me, what would be the best option for me.
"[He explained] I'd begin my time at Inter as a member of the first team and clarified that everything regarding my future would be made after a joint decision. Always a consultation with both sides and based on mutual understanding.
"He explained everything about the team to me, the accommodation. Everything that needed to be analyzed and explained he did. And that completely explanatory contact, that analytic approach, was one of the key factors for me to make my decision."
How long have you signed for? Is there a buy-out clause in the contract?
"I have signed for four years and to be honest I don't have a clue if a buy-out clause is included or not because, I'm not interested in things like that.
"And, yes, what I agreed to is to play for the first team. To attend the pre-season camp with the first team and from there on we will see."
However, there can be no doubts as to what Vagiannidis' personal goal and ambition with this move is. The youngster is adamant that he has come to Inter to fight for a place in the first team.
"To tell you the truth, I wouldn't even discuss leaving Panathinaikos' first team, where I had an offer in my hands to renew my contract there. An offer which gave me a very important role in the first squad, in order to leave and go and play for a youth team.
"What I realized in my contacts with Inter's officials, is that I am going to be part of the first team. I am going there to claim a spot in first team squad."
Many of Europe's top clubs were rumored in chasing the coveted youngster but his choice fell on Inter pretty quickly after the Nerazzurri became a viable option.
"Monaco were very serious and at some point, and we were very close to a deal. Manchester City had indeed approached me, we had some discussions, it's true" he points out when asked about City's rumored interest.
"LASK Linz were also very persistent and they showed that they really wanted me. In general, there was interest from many many teams.
"But either at some point – for various reasons – we did not move on to the final stage of the negotiations. Or we did not agree with a club about the project they presented.
"[We didn't agree] on the project concerning my development so as to entice me more than, for example, what Panathinaikos offered for me to stay in Greece.
"But all the thoughts, all the comparisons, whatever I considered an option, all of that vanished immediately after Inter showed up and showed me how serious their interest was.
"[For me] all the other clubs automatically disappeared. After that, there was simply no other thoughts, no 'competition', only Inter.
"Even after I knew about Inter's proposal, I received enquiries by at least ten more clubs. But, as I told you, there was no debate anymore, there was nothing else to think about. In my mind, there was only Inter."
So what prompted this strong determination and desire to choose Inter above all these other clubs?
"What I wanted was opportunities, playing time. To play and evolve. But when a team like Inter comes along, you think differently.
"The magnitude of such a club is enormous. The history, the background. Everything counts. And, naturally, the chance for a young player to be able to train daily, even if only training, along such great players, is huge. You cannot deny such a chance, you can't say no to such a club."
Did you prefer a specific league? Did you follow the Serie A previously?
"Everything depended on the project that would be offered to me and whether or not it would be good for my development and help me to improve.
"But, retrospectively, yes, Italy was my number 1 choice. I have been learning Italian for 1.5 years, long before Inter emerged. Of course, if a really good project came from another country, I wouldn't say no, but certainly Italy was at the top of my list.
"Always [followed the Serie A], but even more so, especially lately, for obvious reasons. I like to watch football, especially at such a high level as the Serie A, but I really watch everything that involves football.
When asked to describe himself on the pitch, his strengths and weaknesses, the replies are as quick as they are concrete and to the point.
"I'm a pure right wing back, in every and any formation. I'm a good offensive wing back. I need to improve my crossing, but I believe that I am good without the ball.
"I can move well on the pitch and know how to work nicely and effectively with my teammates. I need to improve defensively. But I'm sure that by coming to play football at Serie A, the home of tactical innovation and proper defensive functionality, I will surely improve.
"I'll probably have to adapt physically to Serie A's demands, but I don't want to rush into things that will cause more trouble than do good.
"I am ready and willing to do anything [to succeed]. And I mean it. Whatever is asked of me, whatever is required in training, in preparation, in everyday life, [I'll do] everything that is needed to succeed.
"I do not know how I will do it, but what I am sure of is that there is no way that I will not do what I have to do and what I am asked to do. And even more."
The youngster cannot stress this point enough, revealing that since signing the contract he has been preparing himself physically for the day he arrives at Inter.
"My daily schedule now is adjusted in a way so that I can meet Inter's demands when I join the team. I'm prepared for the whole package, I train five hours a day, I do whatever is needed to be ready and to properly prepare myself.
"Everything in my daily life is already fully adapted to Inter, I don't think about anything of anything else.
Doesn't the thought of leaving your home at such a young age, affect you?
"I expect it to be difficult at the beginning, it's normal I guess, especially for someone like me who is very attached to his family, really close [to my family].
"And generally, I am a 'stay at home guy', a family guy. But I know that moving abroad, away from my family is something that I have to go through and I'm sure as time goes by it will only get better."
A youngster who describes himself as a stay at home family guy but isn't afraid of leaving the club he grew up at to embark on the adventure of a lifetime.
"I've been there [at Panathinaikos] for 10 years, since I was a little kid. Played for all the youth teams, and moved up to the first team last season.
"To be honest, I expected more opportunities this season, but I truly believe that everything, every experience, does some good in the end.
"Panathinaikos gave me a lot. The owner tried really hard to keep me there, but I had decided to leave as I knew that moving abroad would be the right step for my career."
 

Visa det här inlägget på Instagram

 
His close ties to his childhood club, Panathinaikos are still there not just emotionally but literally, as his younger brother, Aimilios, plays for the U-15 team.
"He's a midfielder and extremely talented. I'm trying to advise him as much as possible. I attend his games, discuss with him about what he can do to improve, where he should work and evolve. He's really good."
Let's imagine that we will have this conversation again in 1 year. What would you like to tell me after your first season at Inter?
"I would like to say that I am one of the two regular right backs in Inter's first team squad.
You would accept a back-up role?
"No, but it's something that I can accept in my first season [laughs]. Seriously speaking, the main thing that I'd like to be able to tell you then is that I feel like a better player, that I am a better player.
"That I would have improved every part of my game. Mentally, physically, tactically, everything. And I'm sure it will be like that because I will be among the best footballers in the world.
"You must improve when you're in such an environment, in such conditions, in such company and for me, that's the most important thing, improvement. Everything else will follow."
Do you have a favorite team outside of Greece? Who do you think is the best right back in the world?
"From now it's Inter, but before the Nerazzurri appeared in my life, it was Manchester United. And Borussia Dortmund's Achraf Hakimi. For me, he's the best right now."
Which famous player would you say your playing style is closest to?
"With Joao Cancelo's. In Greece everyone keeps telling me that I remind them of Giourkas Seitaridis. But I never saw him play.
Have you thought anything about playing for the Greek National Team?
"I'm not thinking about it yet, it hasn't even crossed my mind. All I think about right now, is Inter."
You're 19, you have to have some free time besides football. What do you do then?
"I like reading, I love literature. But the last book I read was non-fiction. It was Herodotus' 'Novels and Jokes.' Besides that, I love watching movies and going to the movies.
"The cinema is something I have truly missed going to during the lock down. I wanted to watch "Parasite", but I couldn't."
Did you watch the Last Dance? Did you have any idea who Michael Jordan was and the impact he had on basketball?
"Yes, I did [watch it]. Before the Last Dance, no, I was completely unaware [of his importance]. Watching the series I realized his greatness. Although, I must admit that I'm a huge Lebron fan."
Cristiano Ronaldo or Lionel Messi?
"Cristiano Ronaldo."
You realize that eventually you'll come against him on the pitch? And, what do you think? Will you ask for an autograph?
"Of course [I have realized this] but absolutely not [ask him for an autograph]. At least, not during the match [laughs]."