The Top Five Greatest African Players To Ever Play For Inter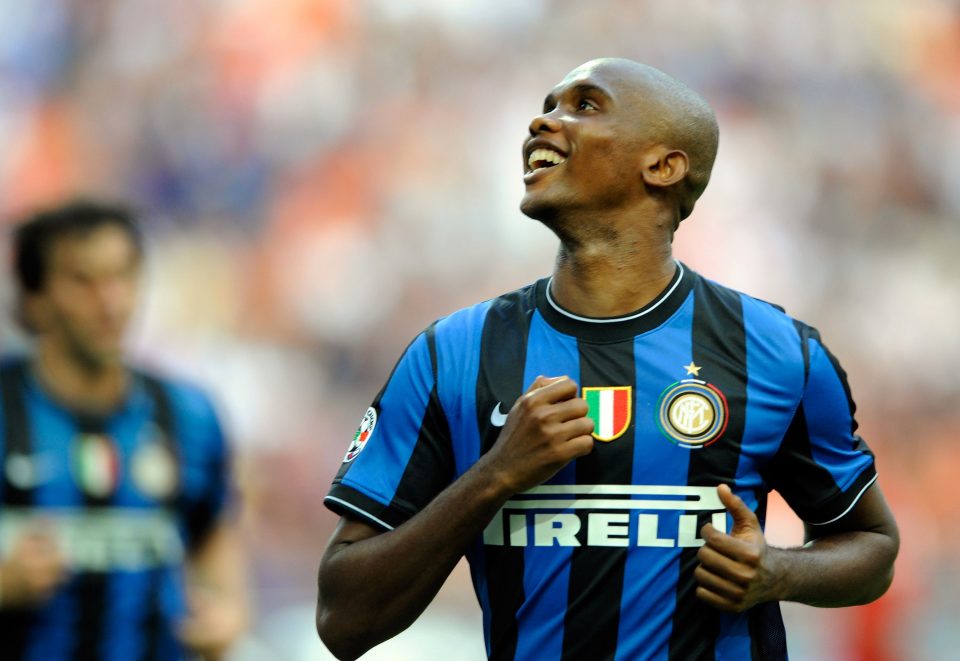 With Moroccan fullback Achraf Hakimi on his way to Inter from Real Madrid, SempreInter.com have asked the team at African Football HQ to take a look at five of the best Africans to have donned the Nerazzurri colors.
1. Samuel Eto'o – The Lion King From Cameroon
It's no surprise that Samuel Eto'o is first on this list. The Cameroonian is arguably the best African footballer of all time, let alone African to play for Internazionale.
Eto'o joined the Italian outfit from FC Barcelona in a mega transfer swap deal with Zlatan Ibrahimovic going the other way. In addition to the swap, Barcelona paid Inter a reported fee of £59 million. Inter got the better end of the deal as Zlatan failed to adjust to life in Spain while Eto'o immediately refound his goal scoring ways with Inter.
With Inter, Eto'o scored 53 goals in 102 games in all competitions. In his first season, he helped the club win a coveted league, cup and UEFA Champions League treble, in addition to the Italian Super Cup and Club World Cup. Another Coppa Italia followed the next season along with 37 goals.
After two relatively successful seasons with Inter, Eto'o took up an offer from Russian club Anzhi Makhachkala that made him the world's highest-paid player, with a salary of €20 million (after taxes) per season.
2. Obafemi Martins – The Nigerian King Of The Somersaults
Obafemi Martins came to Italy in 2000 to play for Serie C side A.C. Reggiana. After breaking into the first team Serie A sides Perugia and Inter made offers for the forward. The then 17-year-old joined the latter a year later for a €750,000 transfer fee. In his first seasons Martins scored 23 goals for the youth team, helping them win the Campionato Nazionale Primavera.
His performances with the youth team were rewarded with a promotion to the first team the next season. Martins oddly made as many appearances in the UEFA Champions League as he did in the league in the 2002/03 season under Hector Cuper. His first goal in the Champions League, a cool 1v1 conversion against Bayer 04, was followed by an iconic celebration where he took off his shirt and performed somersaults. UEFA even used footage of his celebration to promote the Champions League.
Martins scored 46 times in 126 appearances in the next three seasons, but Inter desired an increased scoring output from their striker. After Argentinian Hernán Crespo was brought in on loan from Chelsea and the acquisition of Zlatan Ibrahimovic, Martins was sold to Newcastle United in 2006.
3. Taribo West – The Cult Hero Clergyman From Port Harcourt
Football Manager cult hero Taribo West is one of the greatest Africans to have graced Serie A. He featured for the Super Eagles in two World Cups and won the Olympic gold medal in 1996. He joined Internazionale from Auxerre in 1997.
He scored the winner in their UEFA Cup quarter-final against Schalke in his debut season, the year they won the competition. In his second season he made 21 appearances, although that was all his time with Inter had in store for him as he fell out of favor with the management in his third season with the club and was transferred to arch rivals Milan in the winter window.
West recently claimed that the mafia put a stop to his time in Milan, as they could not accept an African playing at the expense of Italian club legends Paolo Maldini and Alessandro Costacurta.
4. Mohamed Kallon – The Small Kallon By Nickname Only
Sierra Leone legend Kallon is the second-highest African goalscorer in Serie A history (39). He was signed by Internazionale in 1995 (aged 16) but was loaned out four times.
By 2001, Inter were finally ready to take a chance on Kallon. Injuries to Ronaldo and Recoba saw Kallon play 29 Serie A matches, scoring 9 goals as the team's second-highest scorer. Unfortunately for Kallon and Inter, they narrowly missed out on the league title and a UEFA Cup final appearance.
Injuries and an eight-month drug suspension saw him play significantly less in the next two seasons before he was sold to AS Monaco.
5. Nwankwo Kanu – The Biggest African "What If" At Inter
Kanu joined Inter in 1996 from Ajax at what was supposed to be the pinnacle of his career. The summer he joined, Kanu captained Nigeria to gold at the Olympics. Additionally, Kanu was named the African Footballer of the Year for his exploits with Ajax and Nigeria.
Unfortunately, when Kanu arrived from the Olympics for his medical, a serious heart defect was revealed. He underwent surgery in November 1996 to replace an aortic valve and did not return until April 1997.
The next season Kanu was slowly introduced to the side, making 11 appearances in the league (scoring once) and five appearances in continental competitions as Inter won the UEFA Cup. The following season Kanu only made one appearance in the first few months of the season before being signed by Arsenal in February for approximately £4.15 million.
Follow African Football HQ on Twitter