What We Learned From Inter This Week: "Alexis Sanchez Must Be Signed But Only On The Right Terms"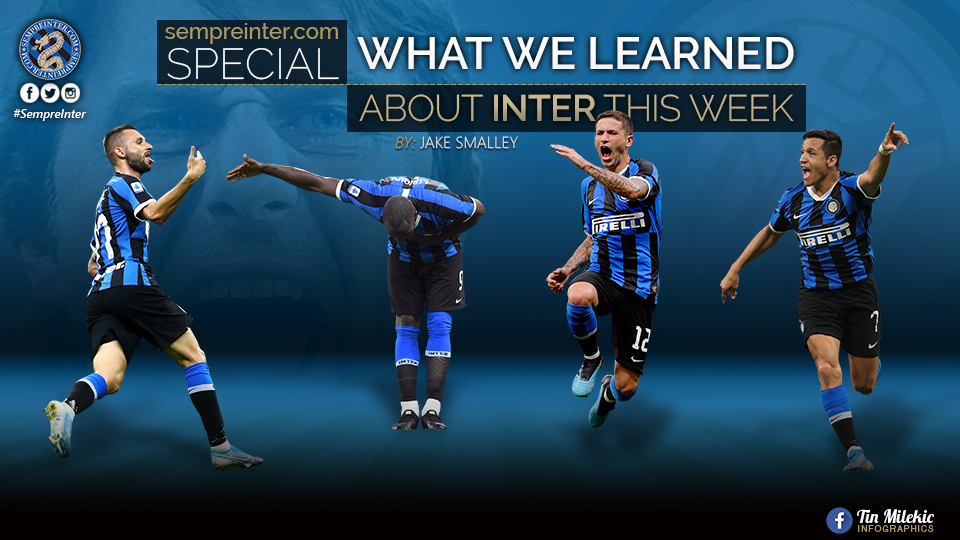 Inter made their way into this week knowing that they had the slightest chance of winning the Scudetto following Juventus' defeat against Milan and 3-3 draw with Sassuolo.
First up was a trip to minnows SPAL who Inter dispatched with relative ease through goals from Alexis Sanchez, Roberto Gagliardini, Antonio Candreva and Cristiano Biraghi.
The fixture pile up has been tough on Antonio Conte's men and Sunday's trip to Rome to play Roma proved a step too far as Inter limped to a 2-2 draw following a late Romelu Lukaku penalty.
Here's what we learned about the Nerazzuri this week.
Alexis Sanchez Must Be Signed But Only On The Right Terms
Alexis Sanchez has been Inter's best player since the restart. His seven assists in league action is the best any player has managed in black and blue this term and the Chilean's performances have drawn rave reviews from manager and journalists alike.
Manchester United, the player's parent club, have been vocal about not wanting him to extend his stay past August so they don't have to face him in the Europa League which is a stumbling block.
However, the emergence at Old Trafford of Mason Greenwood surely means Sanchez's days in Salford are over. Inter should look to secure a cut price deal for a man entering the latter years of his career but it may take some bartering to reduce his astronomical wages.
Cristiano Biraghi Ain't All Bad
Yes we can look back to Dortmund and look at how Biraghi was destroyed by Inter's new man Achraf Hakimi but he has proven over the last six weeks that he could make a very useful squad player.
Kwadwo Asamoah has disappeared off the face of the earth and Ashley Young has still not agreed a permanent stay at San Siro beyond the summer so the left sided slot is a question mark going into next season.
The situation with Dalbert going to Fiorentina the other way is a situation that also needs resolving but the Brazilian seems to have impressed the Viola which gives Inter a good bargaining chip.
Biraghi, the lifelong Inter fan, would make a great back up wing back and a strong squad player next season. A deal involving Dalbert should be considered.
Marcelo Brozovic Is No Number 10
The Croat is arguably the best pivot playing midfielder in Serie A.
Since the arrival of Luciano Spaletti in 2017, Brozovic has gone from nearly man to key man.
When he doesn't play the Nerazzuri aren't the same team. He makes Inter tick and drives them forward with his link up play between defence and attack.
The role in the centre is his but not further forward. Conte now has Eriksen for that so please play him there. The Roma game proved that Inter need Brozovic further back and it is so glaringly obvious that Eriksen won't get any better unless he plays.
The Lautaro Martinez Saga Goes On
The Barcelona rumours aren't going to go away until the club either totally remove it and deny that they will negotiate or they actively explore the deal.
It's no coincidence since the talk started that Lautaro looks devoid of the spark he had earlier in the season.
Just one goal in his last 13 appearances tells a story of a man lost and perhaps a few games away from the spotlight now that Lukaku is fully fit may do him some good.
On the pitch he needs a break but the speculation needs putting to bed once and for all to allow the player and the club to move on.
Next Season's Transfer Targets
With Achraf Hakimi a done deal, Inter have started their summer recruitment drive excellently but how the rest of the summer will pan out is totally reliant on departures.
With Champions League football confirmed with a point in Rome, the club are free to spend in line with last summers style of recruitment and they appear a much more attractive proposition to players on the move.
Sandro Tonali seems likely but a left sided wing back and a striker must be the priority.
The true question remains what of Joao Mario, Dalbert, Ivan Perisic and Radja Nainggolan.
All of these men are expensive and are potential revenue bringers but only if they are marketed correctly.
A case could be kept for retaining Nainggolan and he certainly could be useful next year instead of buying another midfielder but all of the others must go.
In the coming weeks hopefully we should hear more on the futures of these men which should allow Inter to press on with their recruitment towards next year's Scudetto charge.