What We Learned From Inter This Week: "Antonio Conte Looks Settled – Long May It Continue"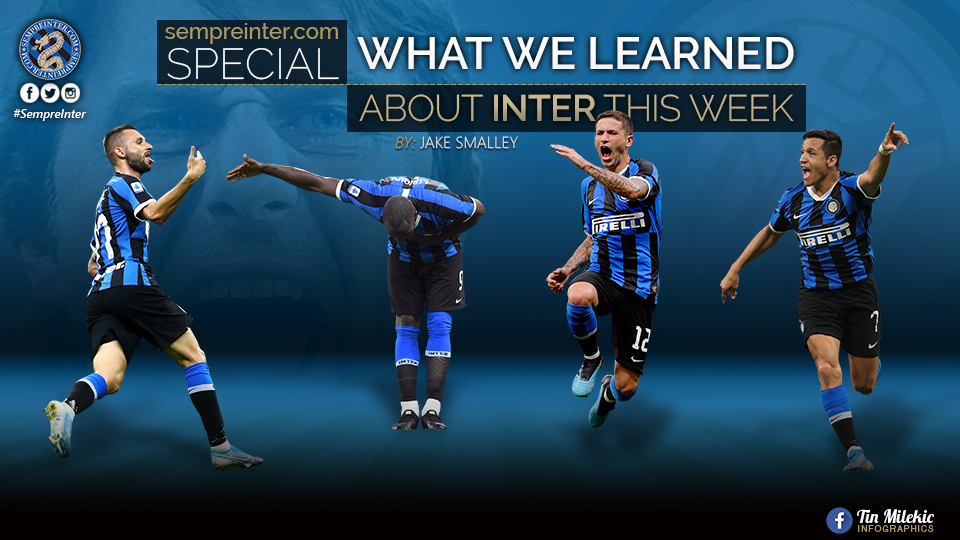 With Serie A out the way with until September, Inter find themselves in a condensed version of the Europa League. Being played in a European Championship or World Cup style tournament, Inter have to balance games every few days in the hope of lifting their first European trophy since 2010.
Here's what we learned from Inter's Europa League journey in the past week.
Antonio Conte Looks Settled – Long May It Continue
After all of last week's hullabaloo about Conte, he looks in a far better place.
The dusts seems to have settled since his mad rant after the win over Atalanta where he took aim at the club's hierarchy.
However, for the time being, all seems to be calm with Conte seen laughing with the players prior to the win over Getafe whilst taking part in a rondo in training.
Conte and the club seem to have diverted media attention away after the mini spat and long may that continue.
Two Vastly Different Types Of Opposition But With The Same Outcome
Victories in the past week over Getafe and Bayer Leverkusen have shown Inter's flexibility.
A tough grind against a plucky Getafe, who have made life difficult for the majority of La Liga this year, was no mean feat.
A quick out the blocks start against Leverkusen certainly helped but Inter showed a level of tenacity to not allow Leverkusen back in after they pulled one back through Kai Havertz.
Inter have demonstrated a real will to win over the last two and have shown they have the backbone to have a real go at winning the competition.
Both Shakhtar And Basel Are Beatable
Leverkusen on paper represented Inter's toughest opponent on that side of the draw and Inter have dispensed with them with relative ease.
Ukrainian side Shakhtar or Swiss side Basel will be Inter's nemesis in the semi finals and both of those sides are certainly beatable.
They won't be easy fixtures by any means as every team who has reached this stage deserves respect, but if Inter want a chance to reach the final, they should be beating these two.
Inter's Quality In Attack Makes Them The Team To Fear
SempreInter and the Italian media have run out of superlatives for Romelu Lukaku this term.
There simply isn't a striker better in the competition and if Inter are to win the trophy, it will be largely down to big Rom.
Alongside his slightly less consistent partner in Lautaro Martinez, Lukaku is part of arguably the best attack in the competition and certainly one that should still be in the Champions League.
Inter have Stefan De Vrij and Samir Handanovic in good form keeping the back door shut but their menacing attack has so far shown no mercy in the Europa League.
Manchester United, Sevilla or Wolves Pose Threat To Inter For The Crown
Penalty specialists Manchester United, Spanish tiki taka disciples Sevilla and Nuno's Portuguese Wolves stand in the way of Inter.
All three sides pose threat to Inter with all three showing excellent form throughout the back end of the season and through the competition.
Inter will have to be at the best to beat all three and will have to keep that same backbone and resilience that has seen them win games over Getafe and Leverkusen in the past week.
Inter have a huge chance of winning their first piece of silverware in nearly a decade and in a competition held dear to the club. Basel or Shakhtar are next but one eye must be kept on the aforementioned three with regards to taking the crown overall.