Feature – Romelu Lukaku Wins The 2019/2020 SempreInter.Com Inter Player Of The Season Award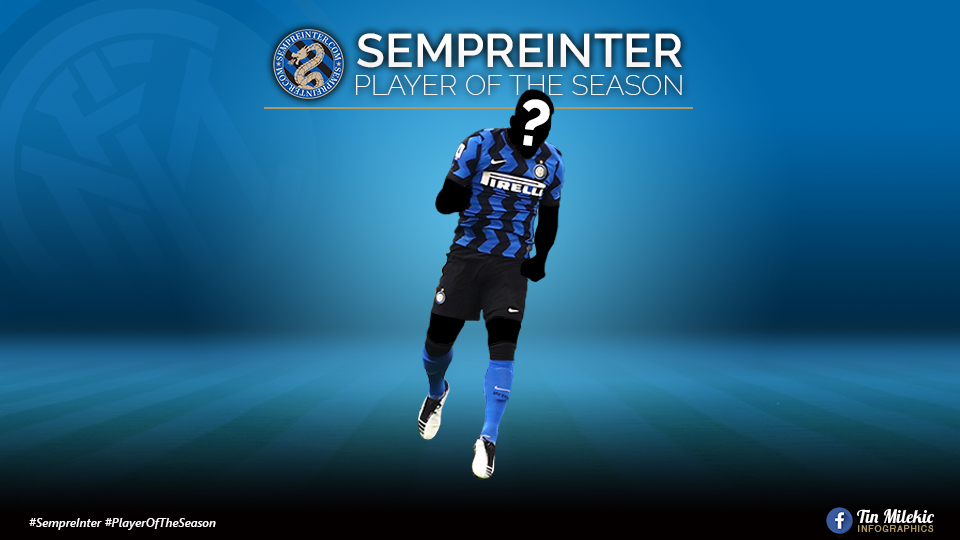 In a season that has had plenty of highs and lows and a 3-month gap in the middle, very few players around the world have managed to keep their performance levels up. One of that select group of players is Romelu Lukaku who is undoubtedly the player of the season for Inter in his first year at the club.
What makes this more remarkable is how the transfer saga of Lukaku unfolded last summer as he was in the middle of a tug of war between Inter and their arch-rivals Juventus. Antonio Conte knew what he could do with Big Rom and his growth throughout the season has even turned the few naysayers into fans.
Lukaku's 34 goals comes very close to matching the great UEFA cup winning season of the original Ronaldo back in 1999. Not just about the goals, Romelu has laid out 8 assists for his teammates and never did he go more than 3 matches without scoring which is testament to his concentration and tactical understanding of the game. Nobody on Inter's squad has played a part in more games than Lukaku.
The reasons for his success this season are in his stats: 53% of his shots were on target, 70% of his recoveries are when pressing in the opponent's half, 3 out of 4 passes reached a team-mate which is very impressive for an attacker that has been double and triple marked by many defenders.
These numbers further show how Conte's style of football suits him to the letter and Inter fans will be hoping that this continues until the end of time.
His season started with a goal against Lecce, but little did Interisti know he was just getting warmed up. Lukaku is still waiting for his first Inter hat-trick, but he cored 8 braces in the season gone by. Lukaku managed to score in both Milan derbies and was instrumental in the wins against Napoli in the league.
When you add this up to his off the field ability to unite and convey his positivity in front of the press, this transfer might be one of the most successful of all time for the Nerazzurri. In the end his average rating on SempreInter.com is 7,4 after winning the most Man of The Match awards, with 10.
Coming in second place this season is none other than Inter's defensive wall, Stefan De Vrij. He was the signing of the season last time around and has gotten 1 better than last season where he was rated third. One of the key players in Conte's system, Stefan made 45 appearances through this grueling season.
He managed to double his goal scoring (4) and assist tally (2) from last season and sparkled in almost every game from the heart of Inter's defense, which is why he had 5 player of the match awards in the season gone by, tying him in third with Marcelo Brozovic, getting an average rating of 7,2 on SempreInter.com.
His most noteworthy goal this season was the one that put Inter ahead 3-2 in the Derby Della Madonnina, capping a remarkable come back for Inter who were down 2-0 at half time to an Ibrahimović inspired Milan. Inter eventually went on to win the game 4-2.
Stefan's other stellar performance came against Dortmund at home where he was brilliant in defense and managed to lay off an assist to Lautaro. His tactical nous also came to the fore as he was almost always a step ahead of his opponents which is demonstrated by the few (7) bookings he received.
De Vrij's ability to pass the ball calmly and keep his concentration going even when under pressure is very under-rated and with Conte's system he was clearly in his most comfortable position and role and it showed.
He was the only certainty in defense for Conte as his usual partners in crime suffered a bit from lack of form and/or fitness. De Vrij is crucial to Inter's fortunes as the club takes the next step in its growth.
Rounding off the top 3 is none other than El Toro, Lautaro Martinez. Everyone expected Lautaro to be a great player after a decent start to his career in Inter colors last season where he scored 7 and assisted 2 goals. What nobody saw coming is how soon Lautaro was adapting to life with Romelu Lukaku as his strike partner.
Lautaro's season didn't start as well as his strike partner, however as the partnership grew, the goals started to come. Lautaro managed to almost quadruple his goal tally this season and that included 5 in 6 games at the highest level, i.e. the Champions League.
This led to a lot of big clubs showing interest in him. The fact that he still makes the top 3 despite having a bad run of form just before the enforced lockdown shows how highly rated his performances were before and after the dip.
El Toro managed to stay true to his name and chased down opposing defenders to make more than 100 recoveries just in the opponent's half. His partnership with Lukaku has benefited the team as the runs he made opened defenses up for his teammates plenty of times during the season.
His best performances this season were in continental competitions especially the ones in Prague scoring a brace and against Shakhtar in the semifinal of the Europa League. Lautaro also managed to score at the Nou Camp and scored Inter's only goal against Juventus this season.
In the end he was noted for 8 Man Of The Match performances averaging a 7,1 rating on SempreInter.com.
Considering his age and the ability he has shown, Lautaro is fast on the way to becoming a global household name.
A special shout-out to young guns Nicolo Barella and Alessandro Bastoni who rounded of the top 5 this season.
What do you think? We want to hear from you.
Let us know in the comments below or hit us up on Twitter and Facebook.