What We Learned From Inter This Week: Big Up Big Rom & Keep Lautaro Martinez At All Costs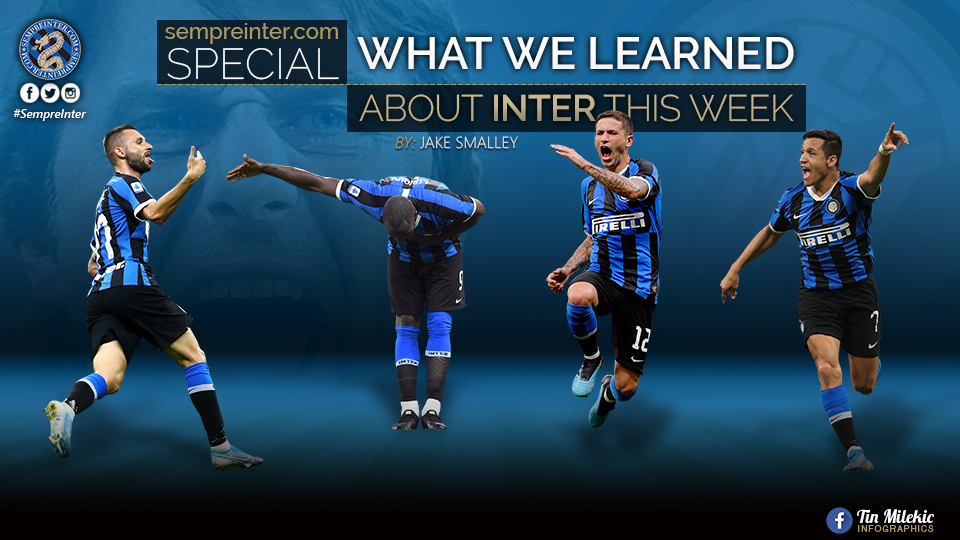 So near yet so far. Inter ended their 2019/20 campaign with an agonising defeat at the hands of Sevilla in the Europa League final.
Despite leading and then having to come back from behind, Antonio Conte's men were defeated via a fluke Romelu Lukaku own goal, leaving the Nerazzuri waiting on their hunt for silverware.
Here's what we learned this week from a tough to take final defeat.
Taxi For Roberto Gagliardini
At points it's been totally fair to fight for the right to give the former Atalanta man a chance.
His performance in last year's Derby was excellent yet Spaletti benched him and he proved a useful squad member at times under the ex-Roma boss but he has had his chance.
A significant outlay was made on the former Atalanta man back in January 2017 and since then all Interisti have been hoping he can kick on.
Sadly, three years on we have no real evidence to suggest he has and based on recent performances, including the final, he needs moving on.
His ridiculous shirt pull caused the free kick that spawned Sevilla's winner and he simply didn't match the level required in the midfield.
Torino or Genoa would be a good fit for him.
Big Up Big Rom
It would be typical of poor Romelu Lukaku that he would have the suffer the ingenuity of scoring an own goal that costs his team the final.
Totally a fluke but so costly, Lukaku cancelled out his earlier goal with a bonkers swipe that sliced over Samir Handanovic and into the Köln net.
However, that cannot be his crowning moment and let us focus on the fact his penalty gave him 34 goals for the season, equalling Brazilian Ronaldo's best tally.
His goal also extended his own record of of scoring in eleven consecutive Europa League games.
Let us shield big Rom from all the hate and disappointment as he has more than made up for it with a phenomenal debut season.
Lacking In Width & Depth
Inter lacked the creative output to see out the game on Friday evening.
Their inability to break Sevilla down cost them dearly and that was simply down to a lack of creativity from midfield and notably from the wing back positions.
Danilo D'Ambrosio fought like a Trojan but simply did not effect the game in an attacking sense and at times it was easy to forget Ashley Young was even playing because he was having to track Jesus Navas.
Hakimi should help this next term but the top of Suning's shopping list needs to be an attacking left sided wing back.
Robin Gosens please.
Keep Lautaro Martinez At All Costs
Unless someone pays that €111 million, Lautaro goes nowhere.
Next term, regardless of the managerial situation et al, Inter will be a force and to make sure they suffer no more disappointment in the form of Friday, they need Lautaro and Lukaku together.
Despite having a quiet game on Friday, the Argentine battled and won his fair share against much bigger opponents.
His performance in the semi was arguably his best of the season and it's clear to see that him and Lukaku is as good of a strike force as any out there in European football right now.
Unless Inter get an offer they simply cannot refuse, they need to keep the front two the same as it's the foundation for bringing in the silverware that the club so badly crave.
Antonio Conte?
By the time this article is published, we may no longer have Antonio in charge of Inter.
His comments after the final has left all Interisti feeling 50/50 about whether or not he will be managing their team next term.
It leaves so many things up in the air.
Hakimi has signed to play in Conte's 3-5-2, Lukaku has all the faith of Conte and he has been a mentor to Barella.
On the other hand, Eriksen may get more game time under someone else as might the once dubbed future captain Milan Skriniar.
Will it be 3-5-2 next term who knows?
We will only find out by the end of the week given the sources close to Inter's feedback on the matter but the uncertainty must be killing the squad.
Max Allegri seems the string favourite to replace Conte as he did at Juve under Marotta five summers ago.
One thing we do know though is that under Suning and Marotta and with the squad they have built, Conte or no Conte, Inter are in a far better place to aim for Scudetto and European glory than any place in the last decade.
Some of that you can attribute to Conte and this year has largely been a success under him but the building blocks are there should he be replaced.
It is going to be an interesting week for Inter fans but the club has certainly been in worse situations in the last decade.