#InterStats Preview – Benevento Vs Inter: Nerazzurri To Rely On Lautaro Martinez To Lead The Way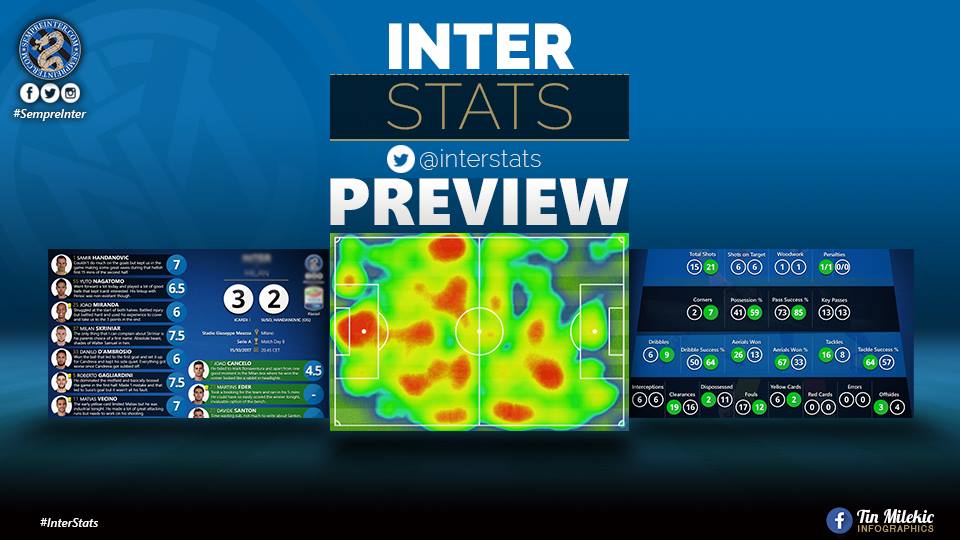 Tomorrow night Inter head to Stadio Ciro Vigorito to face Serie A newcomers Benevento and it marks the 3rd meeting between these two clubs in league football, the previous two meetings being held in the 2017/18 season. 
This of course means that this is Benevento's second time in the Serie A ever. Benevento are a club who were originally founded in 1929, but after some financial difficulties, were re-founded in 2005, and have had a fairly prosperous time in Italian Calcio.
Benevento were the outright winners of Serie B last season, finishing an impressive 20 points above second place Crotone.  The side were also the best goal scorers in the league last year scoring 67 goals and conceding only 27.
Benevento's highest scorer last year is a player many Interisti will be familiar with, as he has scored against the Nerazzurri a few times in the past, Marco Sau.
The former Cagliari striker finished last season in Serie B with 12 goals, and his experience of top flight football will prove very helpful indeed for his side, as they take on one of the leagues toughest opponents. Benevento won their opening game of the season against Sampdoria away from home, final result being 2-3.
Incidentally, back in 2017, Benevento played their first ever match in top flight football, their opponents? Sampdoria.  Only on this occasion they were less fortunate and suffered a 2-1 defeat at their home ground. So if we are to draw anything from this, then things look a wee bit better for Gli Stregoni than in the past.
Head coach Filippo Inzaghi will be looking to grab a surprise result against a side who he has plenty of experience of playing against from his days as a player for AC Milan, and will look for any opportunity to get one over his old rivals.
Tomorrow's visitors, Inter, head into this match after a very Pazza Inter result against Fiorentina at home last weekend. The match finished 4-3 to Inter, with two goals coming 5 minutes from the end, and winning the match.
Inter also have the upper hand with the 2 previous meetings between tonight's teams, back in the 17/18 season, inter won both matches that year against Benevento, 1-2 and 2-0.
Inter should be feeling confident heading into tonight's match, with the likes of Lautaro Martinez and Romelu Lukaku both scoring in their opening match, the likes of Hakimi and Vidal possibly making their full debut, after appearing from the bench in the first game.
Antonio Conte, Inter's head coach, definitely has plenty to think about when it comes to his starting eleven, considering in the last match, he used 5 substitutions, of which were, Radja Nainngolan, Arturo Vidal, Achraf Hakimi, Alexis Sanchez and Stefano Sensi.
All of which would be regular starters for most of, if not all, of the clubs in the league, and having strength in depth like this can be very helpful, but also provide some headaches when it comes to choosing your starting eleven.
We should expect Inter to head into this match with a very positive mindset and attack from the off, and look for Lukaku or Lautaro grabbing a goal or two tonight, as they will most likely be looking to set the standard for the race for capocannoniere.
Benevento have a few players who can make an impact tomorrow night, with the likes of Marco Sau, Gianluca Caprari and Gianluca Lapadula. Either of these forwards can score given the chance, and they have the ability to turn the game on its head.
A special Shoutout goes to Inter Academy product Luca Caldirola, now playing for the enemy, Benevento, and scored two goals in their Serie A opener against Sampdoria, and might look to bag one against the club who raised him.
This definitely should be one to watch, so make sure you set your alarm and get ready for some classic calcio tomorrow evening.
Hit us up on InterStats & SempreInter on Twitter using #InterStats before, during and after the game for coverage of the fixture.