#InterStats Preview – Inter v AC Milan: The Derby Della Madonnina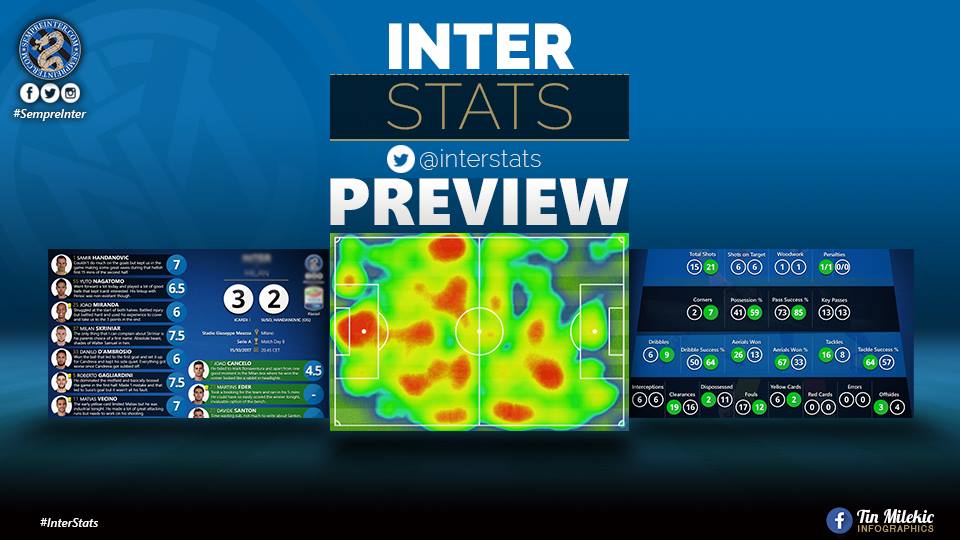 Welcome to the Derby della Madonninna. One of the fiercest and most famous football rivalries in the world. Over the decades these two sides have fought hard for the bragging rights and to turn the city of Milan into their team's colours. 
We have also been witness to postponements due to flares being thrown from the stands onto the pitch, fights break out between players on opposing teams and dramatic comebacks, to name just a few of the magical properties of this fixture.
Recently that honour has fallen to Interisti worldwide, as they have not been beaten by Milan since they lost 3-0 in the 2015/16 season.
Also, of the last 10 meetings between the two giants, Milan have only won one time, Inter took 3 points on 6 occasions, and the remaining 3 ending in a stalemate.
If wee look back to the very beginning, Inter also have the upper had when it comes to beating their cousins.  In total, they have faced off 176 times, Inter winning 68 of them and Milan winning 53.
When it comes to recent form, Milan have the slight upper hand, so far they have won all three of their league matches, and are yet to concede a goal, the only other team to achieve this are Napoli.
Whereas Inter have won 2 and drawn 1, scoring 10 goals and conceding 6.  There are only 6 other teams that have conceded more goals than Inter this season, but only 1 team who has scored more goals (Atalanta).
If Milan are to get anything from this match, then they will likely be relying on their ability to defend and keep a clean sheet, against a difficult opponent who is scoring for fun right now.
Of Inter's 10 goals this season, 6 of them have come from their two strikers Romelu Lukaku and Lautaro Martinez, who have 3 goals each. Lukaku has good form scoring against Milan, in his debut season last year, he bagged 2 goals, one in each fixture, while Lautaro has only managed one goal against Milan, scoring a penalty in the 3-2 win in 18/19.
Inter will need these two to be fully focused for the task at hand, and Conte will need to get them fired up in order to get them scoring tonight.
Milan's main threats are a mixture of youth and experience, the former coming in the form of Leao, who has 2 goals to his name so far, and with this being his second season in Italy, will be looking to build on the promise he showed last year and start fulfilling the potential many have touted him to have.
The latter, more experienced player should be no stranger to Interisti, Zlatan Ibrahimovic. The Swedish superstar is now 39 years old and has looked like he has not aged a bit as he continues to lead by example for his side.
Zlatan has bagged 2 goals for himself this season, and has form of scoring against Inter too. As a Milan player, Zlatan has played against his former employers Inter 4 times now, and has scored 4 times.
Although he averages a goal a game against Inter, he has only managed to beat them once, and has lost the last 3 games he has played against Inter.
Obviously, form means very little when it comes to a derby, and anything can happen. One thing that can be guaranteed is that it will be another classic and anything can happen.
Make sure you don't miss out, as although the tifosi won't be there, there are still sure to be plenty of fireworks.
Hit us up on InterStats & SempreInter on Twitter using #InterStats before, during and after the game for coverage of the fixture.