What We Learned From Inter This Week: "Ivan Perisic Is NOT A Wing-Back"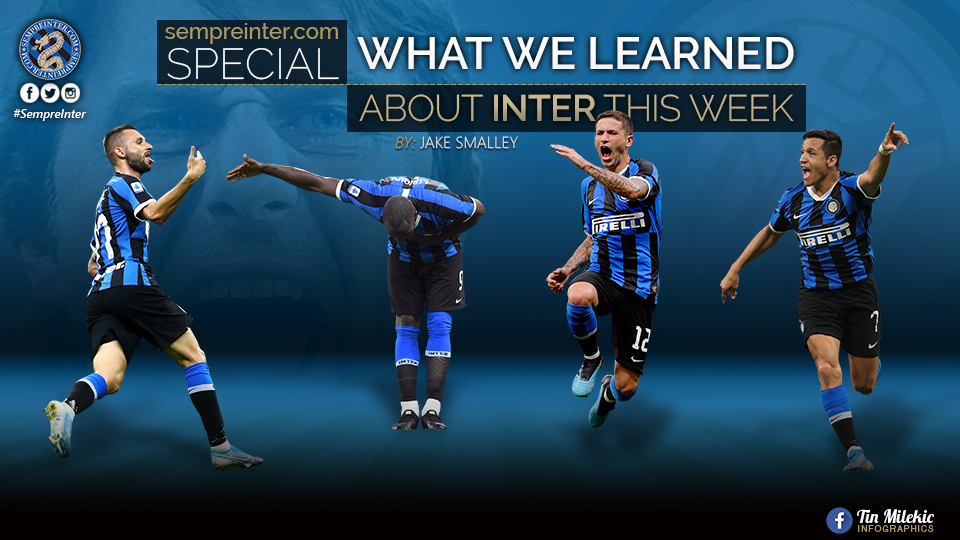 Inter found themselves on the road over the past week with trips to Genoa in Serie A and a trip to Ukraine to face Shakhtar in the Champions League.
A win in Genoa put them back on the winning trail following the derby defeat last weekend. This meant they hit midweek with an extra bounce in their step ahead of a must win game against Shakhtar.
However a lacklustre 0-0 has given them much work to do to qualify in the Champions League for the knockout stages.
Here is what we picked out from a topsy turvy week for Inter.
Champions League Dreams Are Going To Be Shattered Again
After last week's draw with Gladbach, Inter knew that they had to bring three points back from the Ukraine this week given they next faced a double header with group favourites Real Madrid.
They were unlucky not to bring back all three with both Niccolò Barella and Romelu Lukaku hitting the woodwork and Lautaro Martinez inexplicably missing an open goal.
However, we must look at the big picture.
What is the point in qualifying for the Champions League to end up in the Europa League?
Inter are in danger of becoming a new Sevilla, except Sevilla actually win the Europa League.
The Nerazzuri now need to pick up at least one win over Madrid and beat Shakhtar and Gladbach to be sure of progress and since they haven't beaten the latter two so far, that is a tall ask.
To establish themselves back at the top end of European football, which their spending signals their intentions of doing, the club need to get to the last eight at least, something which now looks tough.
Stefano Sensi Injured Again
Stefano Sensi started last season on fire. His performances were to drawer and if truth be told Antonio Conte hasn't found anyone to replace his link up between midfield and attack in his absence.
His loan from Sassuolo was redeemed in the summer with Inter paying €25million to keep him permanently.
However his sole contribution this term has been a meek sending off against Lazio and he once again finds himself on the treatment table, where he spent most of last season.
His poor injury record leaves the decision to sign him permanently an interesting one.
Sensi so far has provided a serious question mark over whether it is worth the gamble to purchase him and at the moment his latest setback proves it perhaps wasn't the best idea.
Ivan Perisic Is Not A Wing-Back
The Croat is simply playing at the moment due to his heroics on loan at Bayern Munich last term.
Conte is simply not taking into account that the second Ivan Perisic puts on blue and black he loses around 25% of all of his footballing ability, unless he's crossing for Mauro Icardi.
Perisic and Inter needed a clean break in the summer but with Bayern unwilling to pay his loan buyout clause and given his form for Bayern, it is understandable that Inter have given him another shot.
However, he simply isn't defensive minded enough to play wing back and his attacking threat has been little to zero given him having to be up and down constantly.
Inter may have run out of money in terms their spending and thought it was worth a shot but it is now an area on the pitch that needs upgrading. Until then, Ashley Young needs to start there.
The Attacking Midfielder Conundrum
This problem seems like it is never going to go away.
Christian Eriksen got some precious game time this week but it looked almost as if he was a square peg in a round hole with him struggling to link with his team mates.
Conte tried Barella in the role but the youngster is much better served further back with his all action displays helping break play up plus he isn't a goal scoring threat.
One man who could perhaps solve this issue is Radja Nainggolan.
The Belgian is now definitely an Inter player until at least January and he looked sharp when he came on against Genoa.
Nainggolan really is the type of player Conte should want in that role on paper as he is so well rounded. His ability to break up play as well as attack with tenacity makes him versatile, plus he is over 30 which satisfies the manager's need for experience.
Perhaps a start in the role against Parma at the weekend could give us a better idea of whether Nainggolan could do the job.
The Antonio Conte Gamble Is Rearing Its Ugly Side Again
The best paid coach in Serie A by some distance has been backed by Suning and Inter as a club more than any coach in the last decade by some distance.
His trophy laden reputation has given him a mercurial status which has earned him the right to a top job like Inter.
However, his over reliance and constant demand for older players or 'his' players may cost Inter in the long term if he isn't successful.
Inter were looking like title candidates and arguably should have won the league last term but this year they haven't quit yet hit the ground running.
They also look like they are going to struggle in the Champions League also.
Both of these statements reek of a lack of improvement despite Conte's requests for the likes of Arturo Vidal and Aleksandar Kolarov.
Conte needs to get this team firing or he and the club are going to end up with eggs on their faces.