Player Ratings Inter 2 – 2 Parma: Woeful Finishing Cost Nerazzurri The Win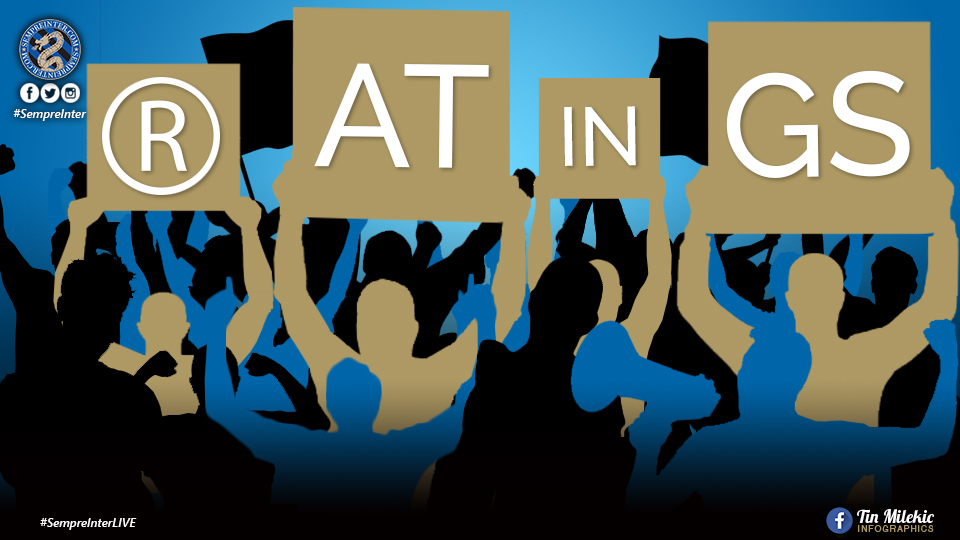 Another Inter performance that has been repeated over and over again already this season. Inter had a lot of the ball and the play without creating any important chances, and the few created were squandered.
Parma then scored their first chance and Inter had to throw the kitchen sink which led to another goal by Parma. Brozovic came on and continued his form from the Shakhtar match to score and keep Inter in the game. It took a last gasp header from Perisic for Inter to save a point.
Samir Handanovic – 5: Nothing to save in the first half at all as Parma decided to sit back and invite Inter pressure. Parma had 3 shots on target, 2 of them resulted in goals
Stefan De Vrij – 5: Conte finally tried De Vrij in a different role and it didn't really go to plan. Let Gervinho free twice in the second half and the Ivorian punished Inter
Andrea Ranocchia – 6: No major defensive work to do for Ranocchia during the game. Led the defence well and got his basics absolutely spot on. Should have scored.
Aleksandar Kolarov – 6: Not much to do defensively and raided the Parma half without much success until the last minute when his inch perfect free kick led to the equalizer.
Achraf Hakimi – 5.5: Lot of promise but the quality final ball was lacking. Switched wings but still couldn't get the impact he did in the first few games. Needs to improve.
Nicolo Barella – 6: As usual provided lots of quantity and quality on the ball. Always the first to cover spaces and the first to help out a team mate. Not enough help.
Roberto Gagliardini – 5.5: Nice to see Roberto back in action after the Covid enforced absence. Provided a lot of quantity but the final ball or shot has never been his forte.
Matteo Darmian – 5.5: Matteo focused more on defense than attack for some reason as Parma never really challenged Inter in attack. Didn't ever look uncomfortable.
Christian Eriksen – 5.5: Involved a lot especially in the first half and tried to open a lot of space with his passing but couldn't make that telling pass that mattered. No impact.
Lautaro Martinez – 5.5: Lautaro did not have much luck In front of goal. Tried to get involved and the effort was not lacking but the extra bit of quality was missing all night.
Ivan Perisic – 6: Perisic seemed like Conte was trying to fit a round peg in a Lukaku shaped hole. Didn't have anywhere close to the impact required until injury time.
Arturo Vidal – 5.5: Vidal was brought on as Inter went two goals behind. Gave Conte some sort of control in the midfield and should have won the game at the end.
Marcelo Brozovic – 6: Crucial goal within 5 mins of coming on. Brozovic showed some impact and form against Shakhtar and carried it into the is game. Gave it his all
Andrea Pinamonti – 5.5: Tried to hold up the ball and invite fouls and free kicks. The last one led to the equalizer however his impact is more needed in the box. Not enough.
Radja Nainggolan – 5.5: Looked rusty from the moment he came on. Had a wayward shot and a few poor passes. Ran a lot but could not stamp his intensity on the game.
Ashley Young – 5: Had a lot of possession after coming on the last 15 mins or so. Usually produces a lot of chances but tonight wasn't meant to be for Ashley.
Antonio Conte – 4: For someone who is a highly rated tactician, it is a bit shocking to see how Conte's teams don't have an answer to teams sitting back deep in their box.
Mauro Piccinini – 5: Should have looked at the screen on the foul on Perisic. Apart from that got all major decisions right considering he was supposed to be the 4th ref.
Inter – 4.5: Another 2 points dropped by Inter who look timid and can only respond when they go down by a goal or two. Need to develop big team mentality.
Agree? Disagree?
Let us know in the comments below or hit us up on Twitter and Facebook.