Player Ratings Inter 4 – 2 Torino: From Delirium To Euphoria In A Couple Of Minutes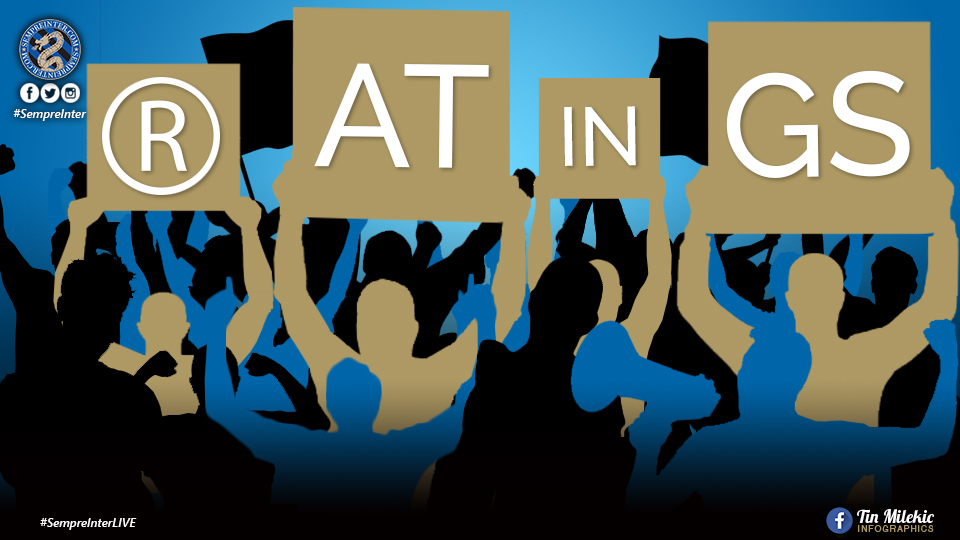 Inter looked tired and rusty in the first half and thought they had survived the multiple counters but got caught right at the end to go in a goal down.
Any other coach and team would surely have made changes and looked hungrier out of the dressing room but more of the same continued and VAR rightfully assigned a penalty to Torino that Ansaldi converted.
This usually means that the rest of the match would be frustrating but the players rallied to score two goals in 3 minutes. Inter didn't look back and the changes all made a huge impact.
Samir Handanovic – 5.5: Made some very important interceptions and saves in the first half but could not do much on the goals. Much better from Inter's captain today.
Danilo D'Ambrosio – 5: Struggled when Torino attacked with any sort of speed as he was pushing up to help the attacking moves. Should have been taken off at half time.
Andrea Ranocchia – 5: Just like D'Ambrosio, Zaza gave him a lot of trouble in the first half. Torino found a lot of space to run at Andrea and that usually means trouble.
Alessandro Bastoni – 5.5: Man marked Lewandowski out of the game for Italy but struggled to contain Zaza. On the 3rd time Zaza beat him, it cost Inter a goal close to halftime.
Achraf Hakimi – 5.5: Looked lost especially in the first half. Did not try to run at Torino and waited to combine without any success. Then burst into life as Skriniar came on.
Nicolo Barella – 6: Nico looked tired as he had a busy international break but was pushed up to high to make defensive contributions that he usually is very good at.
Arturo Vidal – 6: Conte tried Vidal at the central attacking midfielder position today and it did not work. Then Arturo was moved to a defensive position and it turned.
Roberto Gagliardini – 5.5: Another typical Gagliardini performance, lots of quantity but not enough quality. Should not be starting at a club as ambitious as Inter now.
Ashley Young – 4.5: Young showed his age against Singo who had the pace to trouble him on the counter. Gave away a penalty that could have cost Inter points. Poor.
Romelu Lukaku – 8: Could not get involved and looked rusty in the first half. Came into life and dominated Torino and it seemed like he was playing against school kids.
Alexis Sanchez – 7.5: Gave away the ball at the stroke of half time and Inter trailed. Tremendous mental strength shown and his grinta started the comeback Inter needed.
Lautaro Martinez – 6.5: Lautaro is back in form and it shows. Looked confident and hungry and often it means Inter will score goals. Much needed in the Champions League.
Milan Skriniar – 7: Skriniar came on like a hungry lion just after Inter went 2-0 behind. Torino were the piece of meat he was ready to devour. Defensive leader in form.
Stefan de Vrij – 6.5: Stefan came on to bring some calm in the center of defense for Conte and he did exactly that. The balance was restored and Inter made it count.
Ivan Perisic – 6.5: Came on for a struggling Ashley Young and ensured that Singo did not get a lot of space to run at. Brilliant pre-assist on the 4th goal to cap his game.
Radja Nainggolan – N/A: The fact that Radja came on before Eriksen says a lot about many things at Appiano. Hopefully, he gets fitter as there is a role for him under Conte.
Antonio Conte – 4: The tactics after the 1st half were amateurish. There were obvious gaps in Inter's play and especially on the counter, but it took 2 goals for it to change.
Federico La Penna – 6.5: For once the VAR was used properly. The only complaint would be that the yellow cards were a bit soft but overall, he kept good control of the game.
Inter – 5: Should have been an easy multiple goal win against a team decimated by COVID-19 and injuries to key players. Inter went to hell and came back in minutes.
Agree? Disagree?
Let us know in the comments below or hit us up on Twitter and Facebook.