Inter Striker Romelu Lukaku: "We're Inter, We Always Have To Fight To Win The Scudetto"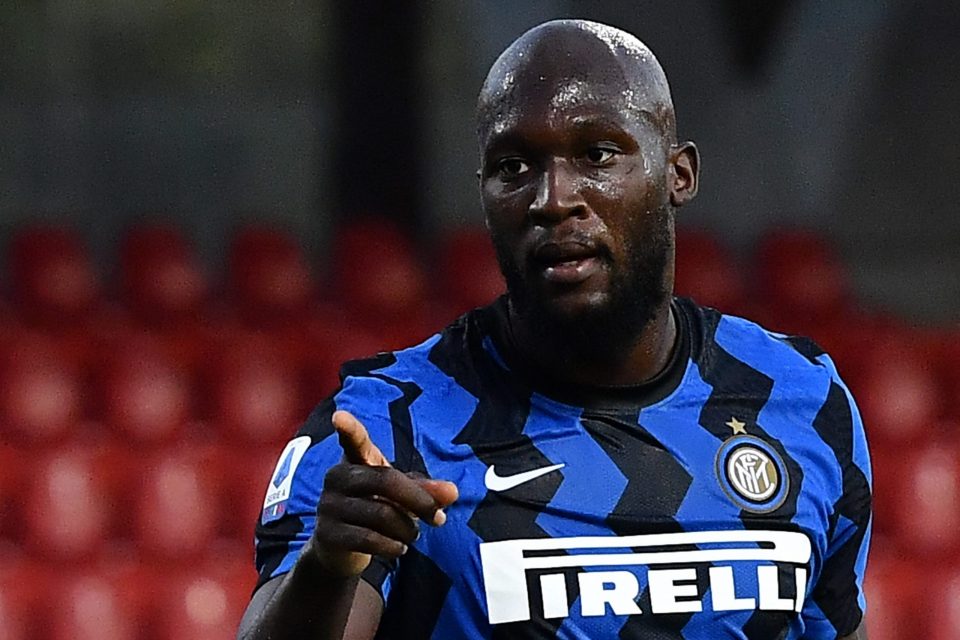 Inter and Belgian national team player striker Romelu Lukaku has stated that Inter must always be fighting to win the Serie A title.
"Winning in Italy is the most important thing, there is a big difference in the approach to matches compared to in England.
"Even tactically, here you can never make mistakes," he explained in an interview with French magazine France Football, which appeared in the latest edition which was released today.
"Every Inter player knows what to do, all movements are carefully studied and if you make a mistake, you jeopardise the entire system. Every ball counts, that's why I always talk about concentration."
He was then asked whether he stops to take a look at what the opposition are doing in matches: ""Yes, I try to understand where they can go wrong, when they lose the ball. Maybe I'll have to free up space for Lautaro or Alexis or I'll have to attack deep myself. These are movements we study before each match."
Lukaku was then asked about video analytics and whether they are something that he tries to take advantage of.
"Inter have created a Wyscout account for me and I use it a lot. We have two group video sessions before each match. I mix everything up, I watch the previous year's matches.
He was then asked about the differing play styles that he has played with at Inter from being a pure centre forward to a player who looks to attack the spaces.
"I am fast, I know how to dribble directly at an opponent, I can go left, I can go right but over the years I have evolved.
"In the national team, for example, we have a gameplan based on possession and this reduces space for the attackers. For this reason, I had to develop my game."
The former Chelsea forward then went on to reveal what Antonio Conte told him and reflected on the return to Chelsea that never transpired a few years ago.
"Conte told me: 'If you get good with your back to the goal, it's over. Nobody can stop you.' I remember he told me about it before the 2014 World Cup, just before he resigned from Juve, and then again when he was at Chelsea.
"At the time, Eden Hazard had acted as an intermediary, giving my number to Chelsea's sporting director, Michael Emenalo. Emenalo himself called me and said: 'Romelu, the coach who comes here wants you. Nobody else, only you.'
"A meeting was arranged in London, but I didn't know who the new Chelsea manager was. Once I got to the appointment I saw that it was Conte. Looking back, it could only be him."
He then spoke on working under Conte at Inter and what the first few months were like for him with the Nerazzurri club.
"I knew that sooner or later we would work together. When Italy beat us at Euro 2016, in a group stage match, I saw how his teams play and I understood that his football could be for me.
"In my first matches and three months here, I trained a lot to improve and advance my game. At each training session I was marked by Andrea Ranocchia and I would have to start the exercise from scratch if I failed."
Lukaku then went on to speak about how working closely with a manager or coaching staff can change a player.
"It's very important. Whenever I work on something, I learn quickly. Even with Henry, in the national team, I learned a lot with specific work.
"Mourinho taught me to work better and harder with the team, whether it was pressing or repositioning myself and look at what he's doing with Harry Kane."
Next he was asked how he manages to stay alert for the full 90 minutes despite the large workload that he carries out each and every match.
"I still think I'm physically strong enough so, if I prepare well, there are no problems. It's also a matter of mood. This Summer, for example, I only had eight days of vacation, but I never thought: 'Ah, I don't have enough rest' because it is precisely when you think this that you end up with injuries and the same is true during a game. We must be happy to play."
He was then asked whether or not this really make a difference: "Yes. Now I recover twice as fast as normal and waste less energy on the pitch. There are cycles to be respected, during which you have to 'level up' for two hours a day.
"You put on a mask because there is much less oxygen, you put on headphones and you rest. I also ordered some sort of cold tub and at home I have a personal physiotherapist, plus a leg machine."
Lukaku then went on to discuss his formidable partnership with Lautaro Martinez.
"Before joining Inter, I saw some of their matches. Lautaro was playing as a single striker and I immediately told myself that if he were playing in a pair he could explode.
"We talked a lot as soon as I arrived in Milan and we immediately became friends. there has never been conflict. We have found the right balance, aware that one day can be good for one and another day can be good for the other."
Lukaku was then asked about the difficulties Inter experienced in recent weeks with several of their results not going how they were expected to.
"I am aware that I have great responsibilities in this group, so I can't give up when it is difficult. It would create problems for the whole team but it's not just me. Here there are also people like Vidal, Barella or Sanchez. Lautaro and Bastoni also start to talk during matches. Our team is progressing mentally thanks to this type of attitude."
Next the former West Bromwich Albion player was asked if he has ever been angry on the pitch when at Inter.
"Of course, it has happened. For example, when we were down 2-0 down against Torino but we know that then a goal is enough to overturn everything. If mentally you get back into the game, then your body follows you too and for the opponent it's the end."
He then reflected on his first season at Inter in which he matched Il Fenomeno Ronaldo's debut season goal tally of 34 and he also spoke on his record for Belgium.
"Last year there was a lot of talk about it, but I went my own way. In terms of statistics and records, especially in the national team, I have an advantage I started very young.
"I have always been certain that I would become Belgium's record holder in terms of goals. But personal records in football must lead to team trophies. Ronaldo won a UEFA Cup here, I lost a final. My goal is to win team titles."
In conclusion he was asked if winning the Serie A title with Inter and European Championship with Belgium are in his sights for this season.
"As for Serie A, at the moment we have to think match after match. We are Inter, we always have to fight to win the Scudetto, it's the minimum. In March we will understand better.
"The same goes for the European Championship. I just hope that we will get to the competition without having any problems with injuries."