What We Learned From Inter This Week: "Make Romelu Lukaku The Captain"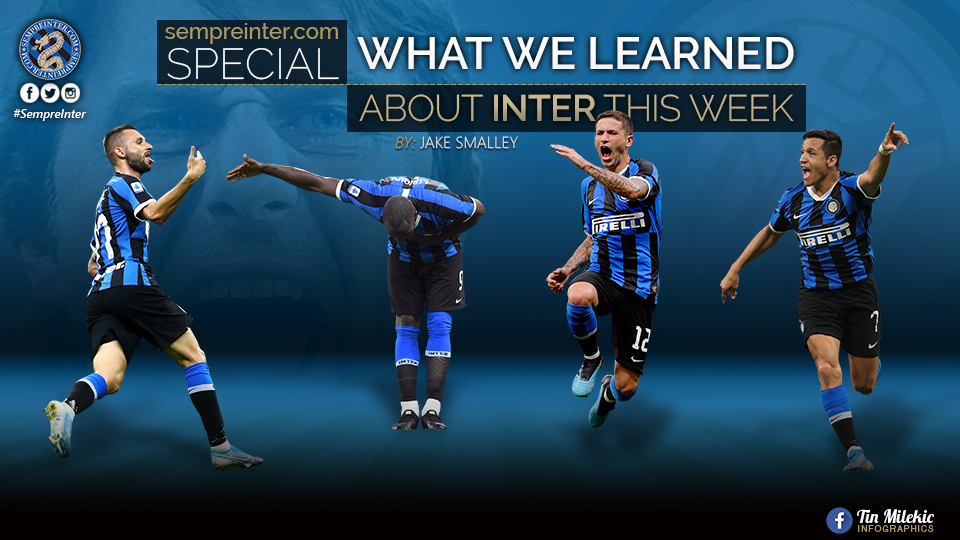 This week was arguably the most high pressure week of the season for Inter due to the sheer importance of their trip to Germany on Tuesday night.
The journey to the BMG Arena to face Borussia Monchengladbach had Inter's slim hopes of securing place in the knockout round at its forefront, with Antonio Conte's men knowing only a win would do.
Inter put in a strong performance and took the three points in a frantic 3-2 win, giving them a chance going into the last game of reaching the last 16.
Bologna traveled to San Siro on Saturday night to round off the week and made their way back home with nothing following a 3-1 victory for the Nerazzuri.
Here's what we learned this week.
Achraf Hakimi Needs Time
Achraf Hakimi might be one of Inter's most high profile signings in recent years and is definitely amongst world football's finest wing backs but let us not remember his tender age.
At just 22, the Moroccan international is adapting to a new league, new country and new language and finds himself in a side battling on all fronts.
His performance against Bologna was the type of a world class player and one that fans expected week in week out upon his arrival in the summer.
However, the consistency hasn't quite been there so far but let us not forget all of the aforementioned change that he must deal with at such a tender age.
Hakimi is world class. Just lay off him and we will see that weekly.
Christian Eriksen Needs To Be Taken Out Of The Spotlight Altogether
Christian Eriksen is clearly on his way.
It has been made clear by management that he is no longer needed so it is time to move on.
The player is being humiliated and his price is simply plummeting with every poor late cameo he makes.
Keep him out of the way to rest up ready for a January move so everyone can stop talking about it.
Make Romelu Lukaku Captain
Romelu Lukaku led valiantly from the front again in midweek with another brace seeing off Monchengladbach.
The big Belgian post match stated how he likes to lead and has had to have a few frank discussions with some players in the locker room this term.
Samir Handanovic is much more of a silent leader leading to the question of whether or not a more vocal and peak figure in Lukaku would be a better captain?
Putting too much expectation on him may be tough and he is only just over a year into his time at San Siro but it could be the making of him.
It is definitely a question worth contemplating.
Roberto Gagliardini Is Providing Use As A Presser
In terms of his pressing, Roberto Gagliardini this week has given Inter serious miles from his legs.
He covered more ground than any other Inter player in Germany on Tuesday night and spoke of his commitment to the cause.
Sure the former Atalanta man has had his critics of late but it it's only fair to give him his due after a week of solidity following his excellent goal at Sassuolo last week.
Stop the silly bookings and he might have made a niche for himself.
Marcelo Brozovic The Regista
Made by Spaletti and finally used successfully by Conte, Brozovic the regista is a thing of beauty.
The Croat can control the dynamic and the tempo of Inter's game from this area and it allows the two pressing midfielders freedom to track their men knowing Marcelo is holding the shape behind.
Following his return from Covid-19 this week, Brozovic has been nothing short of outstanding, in particular his assist for Hakimi against Bologna being his standout moment.
Since is arrival near on five years ago, Brozovic has never felt more at home as he has when played in that role and this week has shown prove of that.
For Conte's midfield to be on the front foot yet hold the ball, he must stay there.