#NerazzurriClassics – When Paul Ice & Ivan Zamorano Gifted Inter 3 Points Against Cagliari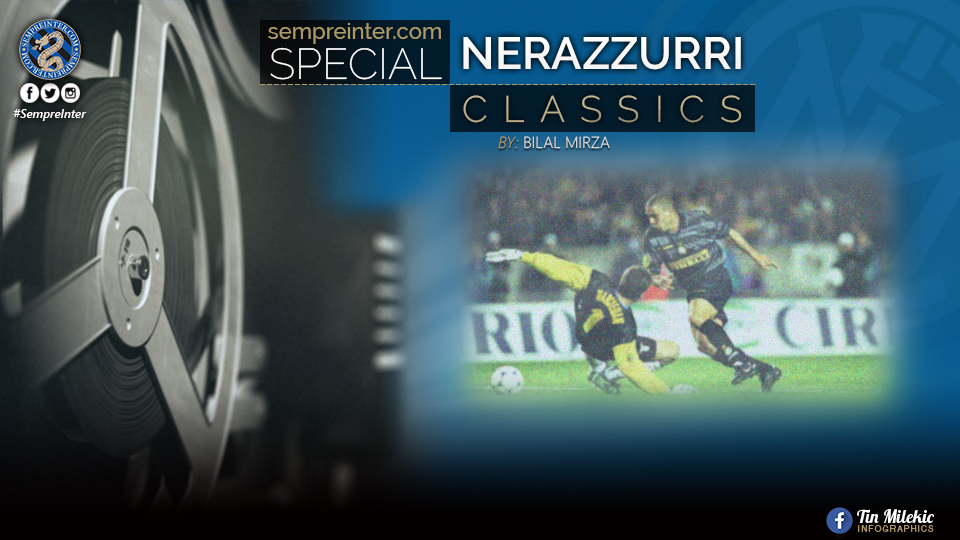 After starting the season in sparkling form, losing just one match through eight rounds, Inter went into a major slump and went winless for next six matches and winning only two out of possible twelve games.
As round twenty-eight trip to Sardegna approached, Roy Hodgson led Nerazzurri side were desperate to turn the season around.
Cagliari, under the management of Carlo Mazzone, had turned around a disastrous start which led to the dismissal of manager Gregorio Perez in first half of the season.
Under the new management, Cagliari had turned around their season and managed to pull themselves out of the Serie A cellar and were in a tough battle to avoid relegation against the likes of Napoli, Piacenza, Hellas Verona, Perugia and Reggiana.
With only six matches left in the season, there was no room for error and teams were treating every game as a must win game.
Inter Starting XI – Gianluca Pagliuca, Alessandro Pistone, Javier Zanetti, Fabio Galante, Massimo Paganin, Jocelyn Angloma, Paul Ince, Aron Winter, Nicola Berti, Ivan Zamorano and the man, the myth, the legend … Marco Branca.
Cagliari Starting XI – Giorgio Sterchele, Giuseppe Pancaro, Lorenzo Minotti, Matteo Villa, Stefano Bettarini, Fabian O'Neill, Marco Sanna, Daniele Berretta, Dario Silva, Roberto Muzzi and Sandro Tovalieri.
Hodgson's men retained majority of the possession right from the start and were immediately faced with the low-block from Carlo Mazzone's side. As expected from a relegation battling side, Cagliari were very compact in defense, making it hard for Inter to create any chances through the middle.
However, with a prolific striker such as Zamorano at the top, Hodgson instructed his men to launch long passes from the back straight into the box to catch defenders off guard.
Nerazzurri wingers pushed up and looked for opportunities to cut inside while the fullbacks also pushed forward to add numbers in attack and cross the ball towards the center for Branca and Zamorano.
As half-time approached with score remaining at 0-0, Hodgson's longball tactic paid off when a perfectly placed pass from the back straight to the rising head of Ivan Zamorano, headed home Inter's first goal of the matching giving the visitors a crucial and well-deserved lead going into half-time.
As play resumed in second half, Cagliari's focus was simply winning the ball back and hitting the visitors on the counter. Hodgson's men continued applying pressure in attack by committing more men forward, trying to create a numerical advantage.
Seeing this approach, Mazzone's side focused on winning the ball back and spring boarding to counter-attack and catch defense out of position. This created few close opportunities and on one such occasion, a headed ball struck off Pagliuca's left goal post.
However, before home side could score the equalizer, Inter added a second on Paul Ince's bicycle kick following a cross from the Javier Zanetti. With a comfortable 2-0 lead away, Inter were looking to hold-on to the win and get back in their winning ways.
The problem with that approach was that players stopped attacking and sat back in defense inviting pressure from the home side who were eager to level the game.
As the game edged closer to the finish line, Cagliari managed to pull one back as Sandro Tovalieri headed home a beautiful curling cross from the left wing, leaving no chance for Pagliuca to save the shot.
With the game heading towards the dying seconds of the match, and home side down by just 1 goal, the crowd were behind Cagliari, cheering and motivating their side to push for an equalizing goal.
However, the score remained unchanged as Nerazzurri walked away from Sardegna with the three points to get back their winning ways and hunt for the elusive scudetto.