Inter Legend Sandro Mazzola: "I'd Continue With Conte, Inter Have The Qualities To Fight Until The End"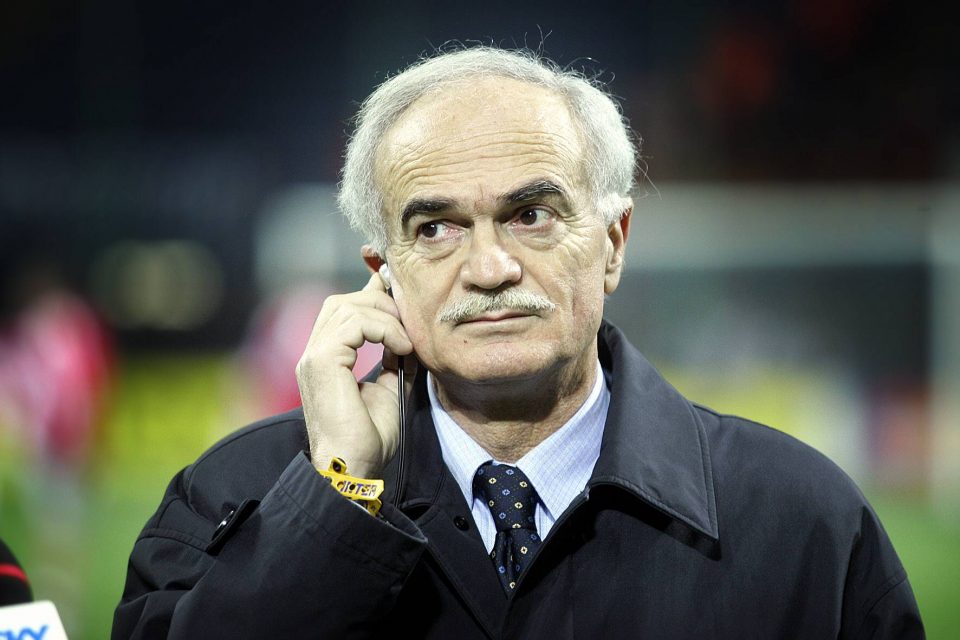 Legendary Inter player Sandro Mazzola has shared his belief that this Inter cannot be described as a failure despite their elimination from the UEFA Champions League and all European competitions earlier on this week.
"Can Inter be considered a failure? No, because getting there is always an important thing but a huge disappointment, yes," he explained in an interview with Italian news outlet FCInter1908.it.
He was then asked how he would explain that Inter seemed to lack the necessary determination and desire to get the result they needed in the match.
"It is always difficult to say. I have played many games of this kind, and I can say that maybe before the game, in the locker room and on the pitch, you think in a certain way.
"Then, at some point, you may suddenly start thinking that you are weaker than your opponents. This is the worst thing, because then maybe you get to the ball a moment later, you can't dribble when you should at least try. This is how the game is lost.
"These are things that happen to everyone. Only when they happen to us do we remember everything. It is something that happens, there is little you can do.
"It happened to me too, and I can assure you that in the following days you do nothing but think about that game. 'Why didn't I get on that ball? Why did this happen? ' You just can't give yourself a definitive answer."
He was then asked who is more at fault, the players or Inter manager Antonio Conte.
"It is too easy to criticise now. You have to be there, experience the locker room. I am not keen on the idea of always criticising. I certainly defend Conte's work, it's still positive. You know how the games start, but not how they end."
Mazzola was then asked whether or not he agrees with what Fabio Capello had to say when he said that great coaches know when to change things.
"I think that Inter could also won the game given how they had set up for the match. It is too easy to point fingers after the game. You have to be there, live it, decide in that moment. Sometimes you don't decide because you believe you are right. Sometimes it makes you win games, other times it makes you lose."
Next the Grande Inter hero was asked if Inter are now condemned to having to win the Serie A title this season.
"Let's delete this thing. No, no, no, no. As an Interista, I don't want to hear this. Continuing to put pressure can only create problems. It is logical that the fans say this, but someone who has experienced many matches of this type thinks in a different way."
Mazzola then shared how he thinks Inter can recover from such a major fall based on his experience in football.
"We had a system. Herrera showed us the game plan, interrupting every now and then to let us speak and analyse the errors. The first few times, we said he was crazy, 'This is a pain in the ass…', we said. Then, after a while, we came to the conclusion that he was right, because analysing the errors gave us more clarity for the future as well. Talking to each other is always the best thing."
Mazzola proceeded to discuss Christian Eriksen and whether or Conte is wrong not to play Christian Eriksen more.
"We are not at training or in the locker room. The coach is not an idiot. He can be wrong, of course, but he always confronts his coaches and evaluates things day by day. So, I don't feel like blaming him."
Next he was asked whether or not he would stick with Conte or replace him and whether Conte is really the right man to help Inter to win the Scudetto.
"I would continue with Conte. He has character. In my opinion he's worth it. Is he the right man? That's what I think. Inter have the qualities to fight until the end."
In conclusion he was asked about the fact that following their elimination from European competition, Inter will only have to play one game a week for the most part excluding the odd mid-week Serie A or Coppa Italia fixture.
"At first the players will think back to what happened, and it will be tough but then, when the results come back, it will certainly become an advantage."