What We Learned From Inter This Week: "So Good To Have Stefano Sensi Back"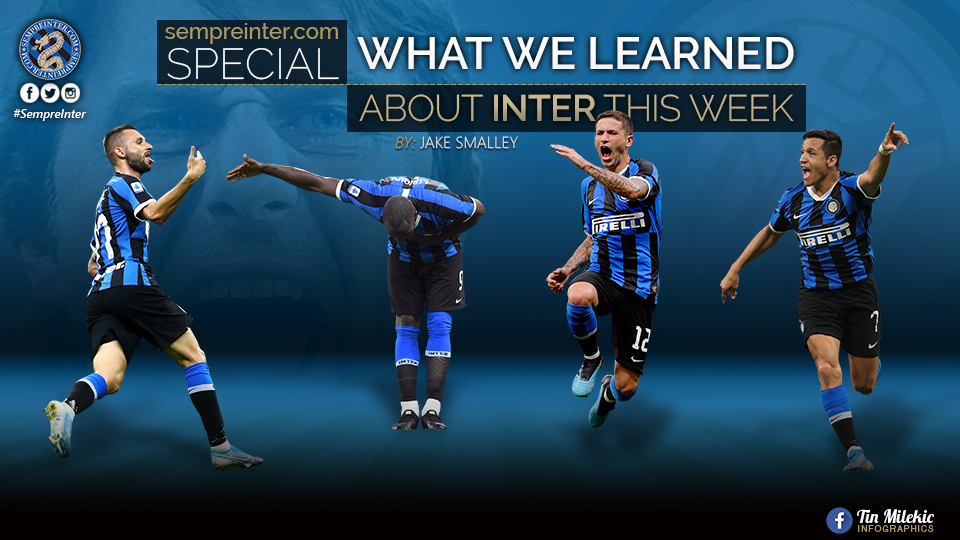 Inter crashed out of the Champions League in midweek at the first hurdle for the third year running. The poor campaign was questioned by journalists in Italy and most brutally by Fabio Capello, to which Antonio Conte has not responded too kindly.
With just the league and potentially the Coppa Italia to focus on now, Inter found themselves in Sardinia facing Cagliari on Sunday morning which proved to be an almighty slog.
A plucky 3-1 win after being behind saw Inter back in the wins column but it wasn't without stress as the southerners nearly snuck a late equaliser through Natihan Nandez before Romelu Lukaku added a third on the break in second half stoppage time.
It has certainly been a week for the Nerazzuri that has seen a number of emotions. Let us analyse what we have learned from them this week.
The Midfield Has To Have A Creator
Whether it be Sensi, Eriksen or dropping Sanchez a tiny bit deeper, Inter must play with a link between midfield and attack.
The game against Shakhtar saw Conte play with three runners in the shape of Barella, Gagliardini and Brozovic and it meant a real lack of creativity.
Fast forward to the first half on Sunday and with Christian Eriksen in there Inter looked a threat.
They were positioned further up the field and had it not been for the heroics of Alessio Cragno is the Cagliari goal, Inter would have been 3-0 up at half time.
Couldn't be more obvious. Inter need creativity in the middle of the park.
Alexis Sanchez Needs To Play More
When called upon this term the experienced Chilean hasn't let the side down at all.
Why he wasn't introduced earlier against Shakhtar is totally bizarre but he made a decent account of himself in Sardinia.
Whether he's to be played as a striker or an attacking midfielder, Sanchez is a really handy squad member and must be used more.
So Good To Have Stefano Sensi Back
Having Stefano Sensi back gives Inter a new dimension.
His fitness issues have caused havoc for the little man's career and his time in blue and black after what was a hugely promising start last term.
Seeing him back on the field is met with a tinge of grief and worry as he goes into any tackle but his fluidity and quick movement have been sorely missed.
Hopefully we have now seen the last of his injury problems this term and he can find his feet in the side whilst being managed carefully by Mr. Conte.
Lautaro Martinez Is Mr Wasteful
If only Lautaro could finish.
The crossbar was his nemesis in midweek as he found himself just inches off sending Inter to the knockout stages in the first half.
However, he had numerous other opportunities in the game of which he should have done better with.
Often a poor touch let him down, which is becoming his Achilles heel, or a tame finish.
As much as the Argentine has enjoyed a substantial growth since the start or last season he still isn't quite the finished article.
Work on his finishing is needed to watch him realise his true potential and make him a 20 goal a season striker.
Antonio Conte Causing Yet More Problems
Once again Antonio Conte proved what a sore loser he can be with some bizarre post match comments following the side's Champions League exit.
Turning on Capello and journalists alike, Conte appeared rattled over suggestions he lacks a Plan B.
The Lecce born coach has quite rightly had some criticism over his poor European record as a coach and his inability to adapt to Shakhtar's defensive block.
Big picture is that Conte doesn't like being questioned. He is very stubborn and very fond of his 3-5-2 system and simply will not admit any liability for any mistakes or poor results.
This week has taught us that Conte must win the Scudetto or be deemed a failure this term. With no European distractions now the side can solely focus on winning domestic silverware which is the least they should be picking up given the outlay the club have made to bring him and his choice of players to the club.