Player Ratings Inter 1 – 0 Napoli: Nerazzurri Now 1 Point Behind AC Milan In The Top Of The Serie A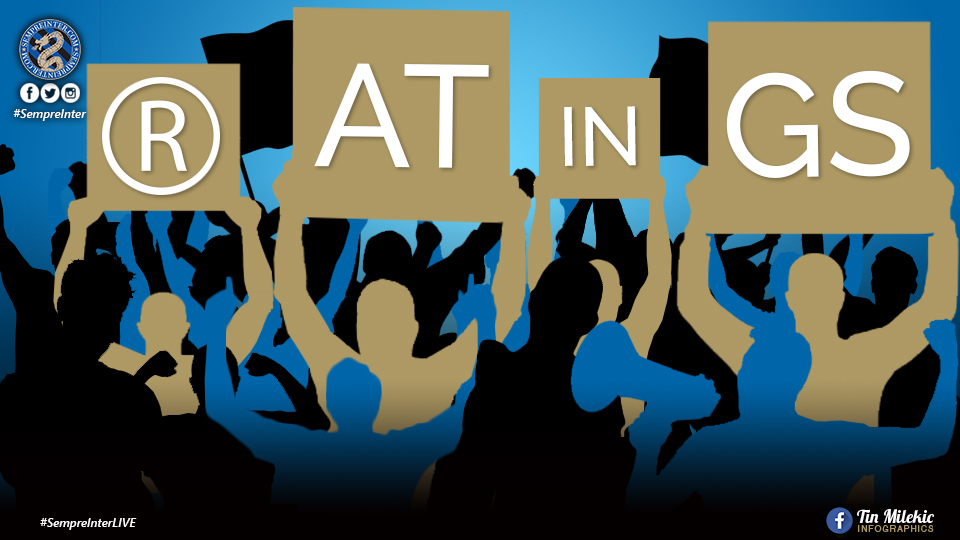 Just before kick off Interisti were greeted with news that Juventus and Atalanta had drawn their game. That only increased the importance of a game that was a highlight of the 12th round in Serie A.
Both teams played a fairly cagey first half without causing each other much damage. The second half looked much like another snooze fest and the game looked like a 0-0 draw, that is, until Darmian was fouled in the box by Ospina.
Lukaku put Inter ahead and with Insigne sent off for disagreeing with a shockingly poor Massa, it should have been plain sailing. Inter retreated and Samir had to dig deep and roll back the years to keep Inter in the lead:
Samir Handanovic – 8.5: Hardly anything to do in the first half. Samir's teammates locked up every Napoli avenue in the first half. World class saves in the second half. Super.
Milan Skriniar – 7: Another game and another demonstration of how to play on the right side of a 3-man defense in a 3-5-2. What a turnaround it has been for Skriniar.
Stefan De Vrij – 6.5: Mertens going off helped him as he did not need the pace so much. Petagna was very isolated and De Vrij made sure it stayed that way throughout.
Alessandro Bastoni – 6: Bastoni had one moment of worry in the first half, but not much before or after that. Did not do enough in the attacking phase with the ball tonight.
Matteo Darmian – 6.5: Darmian played with a lot of defensive caution even when a chance for an attacking pass presented himself. Great positioning got the winning pen.
Nicolo Barella – 7: Nicolo is almost involved in everything Inter do offensively and defensively. Runs like there is no tomorrow and shows his quality every single game.
Marcelo Brozovic – 6.5: Frustrating game for Brozovic as many times he wanted to play a quick ball, but his teammates were not ready. Hopefully, his injury is not serious.
Roberto Gagliardini – 6: One great chance for Gagliardini in the first half but Ospina saved it. Provided the usual quantity he does as destroyer on the left side of the pitch.
Ashley Young – 6: Not much went through Young's flank either in attack or in defense. Played a few good crosses in and made some decent runs but that is about it.
Romelu Lukaku – 6.5: Barella and Brozovic constantly tried to find him with the ball at his feet but Koulibaly made sure Lukaku did not get it. Stone cold with the penalty.
Lautaro Martinez – 5.5: Missed perhaps Inter's best chance in the first half. His highs are incredibly high and once he loses confidence he struggles. Part of growing up.
Stefano Sensi – 6: 6 minutes after he came on, Inter decided to play defensively against Napoli with 10 men. Did not get to show his quality with the ball. Gave it all he had.
Achraf Hakimi – 5: Should have done more with the open spaces Napoli were providing. Gave the ball away too many times at the wrong time during the game.
Danilo D'Ambrosio – N/A: Much needed sub brought on by Conte as Politano was having his way on a tired Young's flank. Did his bit but Inter were inviting too much trouble.
Antonio Conte – 5.5: Tried to play safe and his plan succeeded till the 70th minute. Inter kept their shape and discipline until they were a goal and a man up. All subs were late.
Davide Massa – 4: This game was not tough to referee in, but Massa let too many obvious fouls go. Good use of VAR but lost control of the game at the end. Shocking.
Inter – 6.5: Finally, a clean sheet and a win against a big team. This win is worth more than 3 points. The only negative is how Inter failed to keep their composure.
Agree? Disagree?
Let us know in the comments below or hit us up on Twitter and Facebook.