#InterStats Preview – Roma Vs Inter: Keeping Giallorossi's Mkhitaryan Quiet The Key To 3 Points For The Nerazzurri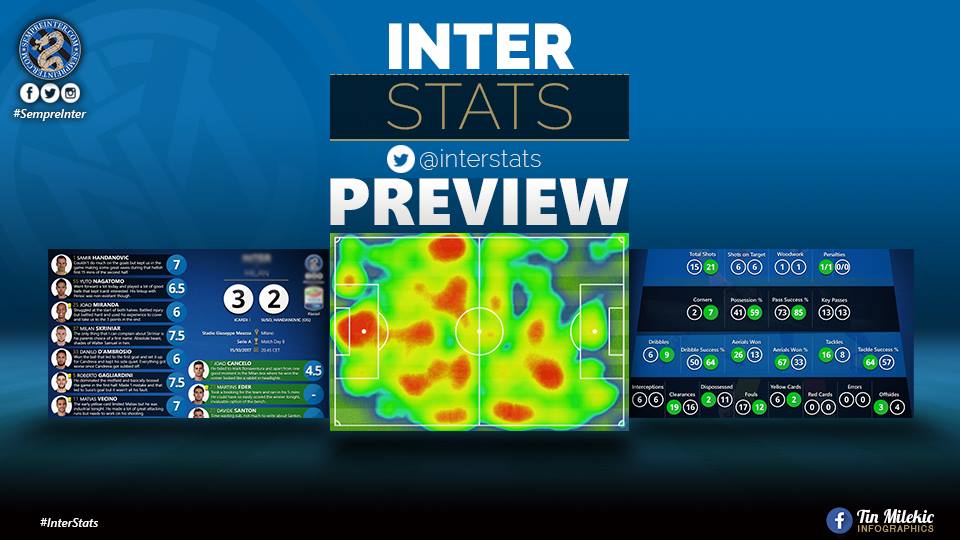 Inter head to the capital to take on an exciting Roma side at the Stadio Olimpico in Rome in the Serie A in a bid to keep the pressure on AC Milan in the race to win the Serie A title this season.
The Nerazzurri maintain 2nd spot in the league, one point behind leaders Ac Milan and are points ahead of the clash with Roma.
This fixture usually produces some fantastic performances from both sides. One of the most recent ones was the 4-2 win for Roma in the 14/15 season.
Scorers on that day for Roma were none other than Gervinho, the constant thorn in Inter's side, and unsurprisingly, a goal for Jose Holebas, his only goal for Roma.
The last 2 goals came from Miralem Pjanic and Inter's scorers that day were former captain Andrea Ranocchia and Dani Osvaldo. Since that fixture took place, the sides have played a further eleven times.
Roma's form in these recent times has been far from ideal as they have only come out as victors two times. Inter on the other hand have won 3 times, and the remaining six ending in a draw.
The last 5 meetings between the two sides have all ended in a stalemate, and neither side has been able to come out on top.
Historically, Roma have the upper hand being at their home ground, having beaten Inter 35 times and only lost 28.
Overall it is a different story, however, as Roma have only amassed 50 wins against Inter in the Serie A, whereas Inter have beaten Roma an impressive 73 times.
This does look to be an exciting match up, so let's look at the current form this season, and delve into some individual stats as well.
As mentioned earlier, Roma sit 3rd in the league, and have won 4 of their last 5 matches. In those 5 matches Roma have scored an impressive 11 goals and conceded 8 times in the process, 4 of which came in their defeat to Atalanta.
They have scored the third most goals in the league with 35, conceded the fifth least amount of goals with 21, and are playing some very exciting football.
Roma's top scorer so far is their star man of the year, midfielder Henrikh Mkhitaryan. The wide midfielder has had an impressive campaign so far, scoring 8 league goals, and 7 assists, putting him level best with Romelu Lukaku with 15 combined goals and assists in the league.
Looking towards the away side, Inter will be looking to stop the inevitable January blues this year, after suffering their 2-1 defeat to Sampdoria on Wednesday.
Inter remain in second place in the league, one point adrift of leaders Milan. Of the last 5 matches, Inter have similar form to Roma, 4 wins and one defeat.
In those five matches Inter have scored 12 times, but have conceded only 6. Impressive numbers from a side who have been far from convincing defensively this season.
Such is the standard set by Inters head coach Conte, a man who is known for having defensively solid teams, his side may have look a bit shaky at the back, but have still only conceded 21 times, level with Roma.
Normally these are good numbers, but having had the best defensive side last season, there appears to be something wrong this year.
On the other end of the scale things are looking much better. Inter are the top scorers in the league thus far, having scored 41 goals, 21 of which have come from Inter's front two players, Lukaku and Lautaro, 12 and 9 respectively.
Lukaku is in absolute fine form this year, and sits second in the top scorers chart behind Cristiano Ronaldo.
This match is certainly more important for Inter than it is for Roma, as Inter would like to keep the pressure on Milan and keep pushing for that top spot.
On the other hand Roma, are sitting in 3rd place which is a remarkable improvement over last year and would love to keep that momentum going, considering they are in the best form they have been in for some while.
Either way, even though the last five matches between these two sides have ended in a draw, that does not mean this will be a boring match up, as there is usually fireworks whenever these two titans of Calcio clash.
Hit us up on InterStats & SempreInter on Twitter using #InterStats before, during and after the game for coverage of the fixture.