Former Juventus & AC Milan Coach Fabio Capello: "Inter Are Still My Favourites To Win Serie A"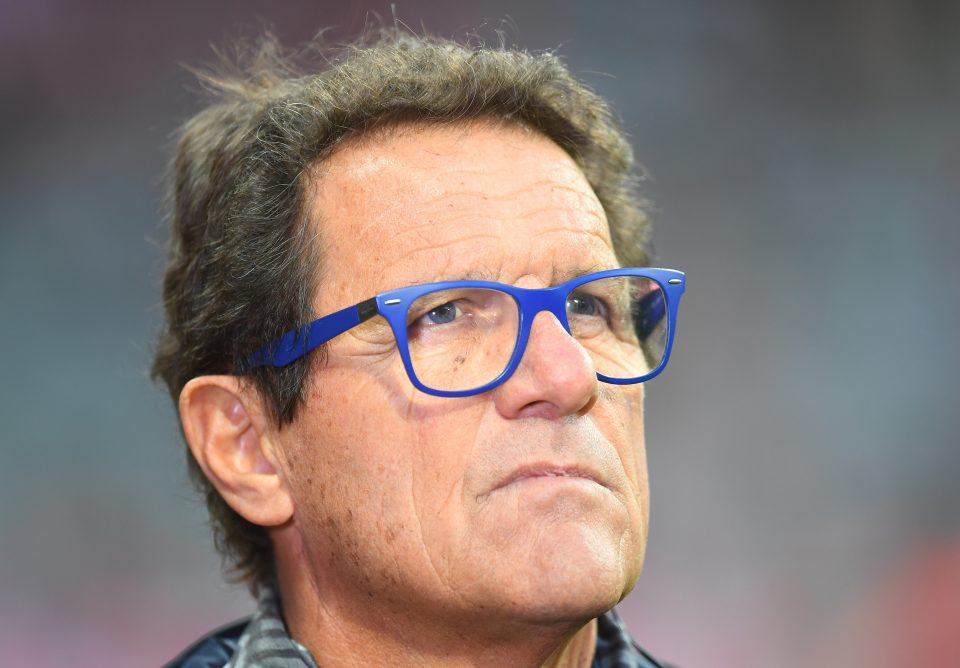 Inter are the best-equipped team to win the Serie A title this season, at least according to legendary Italian football manager Fabio Capello.
Antonio Conte's side have seen their Scudetto hopes dented in the past week with Wednesday's defeat at Sampdoria followed by a disappointing 2-2 draw against Roma on Sunday.
Speaking in an interview with Radio Anch'io Lo Sport, however, the former England national team coach confirmed he had not changed his mind on his pick for the title.
"Juventus are coming back, they are finding an identity and there are fewer problems with the game than in the first part of the season," he began, when asked to assess the major talking points from the latest round of matches in Serie A.
"It seems to me that the team has understood what Andrea Pirlo wants.
"He achieved a result practically without Cristiano Ronaldo because he was peripheral against Sassuolo.
"Juventus have never been in the running for the title this season but they could decide things with their game in hand with Napoli and the direct clash with Inter, who I chose as my favourite for the title.
"For me the Nerazzurri are the team with the deepest squad and number of players to be competitive in all matches.
"Plus Inter do not have to play in the European cups, therefore they can be fresh at all times."
He proceeded to sing the praises of AC Milan coach Stefano Pioli as well as his counterpart Conte.
"Each coach has their own characteristics and manages the team according to their own ideas," Capello continued.
"Each coach must understand where he is going to work and based on this make a small transformation.
"Pioli was at Inter, they have not put pressure on him at AC Milan and there is serenity and desire to do well, AC Milan are a young and fun team.
"He lost to Juve but it is as if he had won because the team played with great desire despite not having several players.
"Inter have great players, the management from Conte is important.
"He has always made anger his main belief, he is still doing it today."
Capello then went on to look ahead to this weekend's Derby D'Italia between Inter and Juventus at San Siro, which will be the first time that the two arch rivals lock horns this term.
"When Inter played against Sampdoria, the pitch was bad and it was a particular match, perhaps the right desire was lacking.
"Against Roma I saw an excellent Inter performance; in general, they are two teams that can win the title.
"Both had moments of confusion and played great football, the coaches have things to work on.
"You can't switch off and waste 20-25 minutes, you need to always be concentrated.
"The great teams don't make these mistakes.
"Inter-Juventus is very important for both sides: should the Nerazzurri win, they would keep the Bianconeri far from the top of the table."
Capello, who last managed Jiangsu FC a few years ago, then shared his views on the Inter squad.
"There is no reason to ask for more reinforcements.
"Now more than ever, since they only have the league to worry about.
"All coaches would be happy with this squad.
"It would be an incorrect request, even if it seems to me that Conte said he was fine [with no signings] as there are no economic resources."
The ex-AC Milan coach was also asked who he would rather have in his team between AC Milan's Zlatan Ibrahimovic and Inter's Romelu Lukaku.
"Both of them are doing well.
"They are players appreciated by their teammates, they make a difference and even when they don't do great things, they intimidate the opponents."
Capello also tipped Atalanta outcast Papu Gomez to do well wherever he ends up going: "He has great vision and quality.
"There are few players like him.
"He would like revenge, so he will certainly do well where he goes."