Ex-Inter Forward Antonio Cassano: "Antonio Conte Must Leave Nerazzurri If He Doesn't Win Trophies This Season"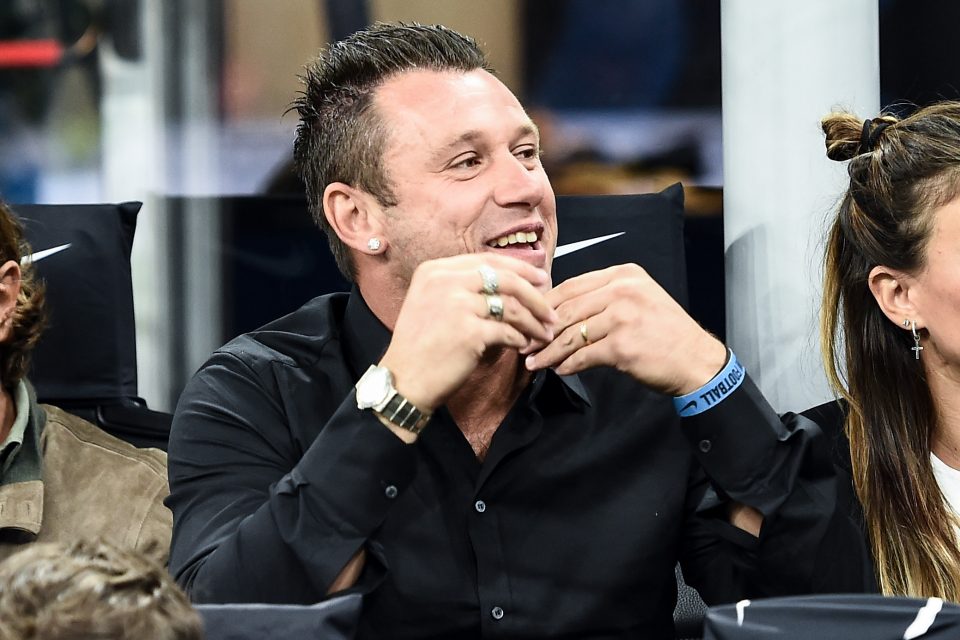 Antonio Cassano believes Antonio Conte 'will be forced to leave Inter' if he doesn't win any trophies this season.
The Nerazzurri secured a spot in the quarter-finals of the Coppa Italia yesterday with a 2-1 win at Fiorentina, courtesy of an extra-time header from Romelu Lukaku.
But they are three points off Serie A leaders AC Milan after Sunday's draw at Roma and have already suffered a humiliating exit in the Champions League group stage.
Speaking in interview with ex-Inter striker Christian Vieri's Twitch channel 'Bobo' TV, Cassano said: "Conte still gives these little speeches that bother me personally.
"If you ask me if he is a good coach I tell you yes, but at the moment he is not proving it.
"He is obliged to win otherwise he will be forced to leave next year."
Cassano had further harsh words for Conte when it came to his second-half substitutions during last weekend's match at the Stadio Olimpico, where Inter threw away a 2-1 win after dominating Roma for half an hour.
"If Inter had won the match no one would have been able to say anything because they played a very good match against a very strong team, who gave them space," he explained.
"As soon as you give Inter some space, they do what they want, but Loco Bielsa says that 'if you are winning a match the philosophy is to win'.
"If you are winning a game that you have in your hands and you take off Achraf Hakimi, which can even make sense, you cannot take off Lautaro Martinez for Ivan Perisic, who is a fish out of water in this team and has no role to play in it.
"You can't do that especially in a match like this.
"Perisic is a great player, who I like very much, but he has nothing to do with this Conte system.
"If you make those changes you ask the team to defend deep and don't leave their own half and at that point such a team, with very strong players including Alexis Sanchez, puts players out of place and make the other team understand that you are afraid.
"In matches you have to take risks, otherwise you are finished, they conceded a header and then they drew the match.
"Against Napoli, Inter had a very bad game, but many other people only looked at the result."
He then went on to ask the question about how many good games Inter have had and also touched on Inter's recent 2-1 loss versus Sampdoria.
"Out of the twenty or so games Inter have played, including those in the Champions League, how many good matches have they actually had with all the very good players they have?
"The team realise that if you don't win it becomes a massacre.
"Against Sampdoria when Inter were behind, we wondered why they weren't always the team who attacks.
"This team should play thirty metres higher up the field, they have the qualities to do it, why don't they do it?"
He then touched on last season and how things have went so far this season.
"Last year they had a good season, this year they were eliminated from European competition despite having very strong and stronger players than last year."
Cassano then went on to dismiss Conte's comments made in the past that no players arrived in the summer and he also shared what he was expecting to see from this Inter side.
"When Conte says sophisticated things to say that no players have arrived, it's not true.
"Hakimi arrived, Arturo Vidal and other top level players arrived too.
"I expect Inter up at the top and five points ahead of second place, but instead there is AC Milan and they are showing that with organisation and quality, they are a team who follows the coach and obtains deserved results."
Inter face Juventus in a crunch match at San Siro on Sunday which could go a long way to determining their ambitions for the remainder of the season.