Five Things We Learned From Inter This Week: "Why Not Play Christian Eriksen & Marcelo Brozovic In A Double Pivot?"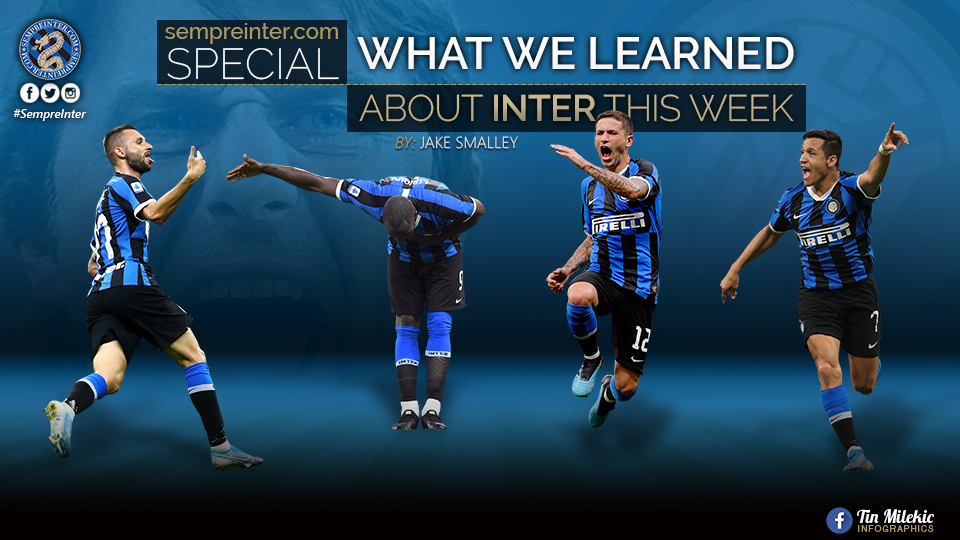 Inter spent this week on the road with trips to Rome and Florence on the agenda for both league and cup duties.
A tough game against Serie A's form side AS Roma saw Inter come away with a point after conceding a late goal from Gianluca Mancini.
Coppa Italia progress was secured by the skin of their teeth at the expense of Fiorentina through Romelu Lukaku's 119th minute winner away at the Artemio Franchi.
Here's what we learned from Inter this week.
Achraf Hakimi The Moroccan King
The marauding Moroccan put in one of his finest displays in Nerazzuri colours against Roma to keep up his recent excellent form.
A terrific left footed curling strike just after the hour mark put Inter in the driving seat and put Hakimi on to six league goals so far this term.
Since Maicon, no defender for Inter has scored that many in a full season and we find ourselves reaching the half way point which just shows how well Hakimi is begging to adapt.
If only Inter could have someone on the left hand side of the quality of Hakimi..
Christian Eriksen As A Regista?
Antonio Conte just one month prior stated that Christian Eriksen couldn't play in the regista role as the central pivot in Inter's midfield.
Fast forward to this week and he finds himself playing Eriksen in that role against Fiorentina.
A bizarre retraction from Conte has raised the idea that perhaps there is a place for Eriksen in a side lacking finance to improve it.
Playing deeper and being given more of the ball gives Eriksen the opportunity to be more creative.
The Dane's influence on the game would be more telling and this could allow him to make the most of his passing abilities to supply the wing backs and Romelu Lukaku with his back to goal.
However, his lack of mobility, unwillingness to press and weakness in tackling raises questions.
Perhaps time in that position could give Eriksen a chance to save his Inter career.
A double pivot alongside Brozovic with Barella doing the running further forward looks good on paper no?
Antonio Conte Paying Price For His Poor Signings
As Inter look to enter the January market, it seems possible that they are going to be investing very little.
Financial implications of coronavirus as well as question marks over the ownership situation have left Conte frustrated as he looks to add to his squad to bolster a Scudetto challenge.
Rodrigo De Paul, Leandro Paredes and Robin Gosens have been linked as possible solutions to problem areas but it now seems Inter are looking at a bargain basement level of transfer.
Eder and Graziano Pelle have been linked and one may suggest that Christian Eriksen's recent inclusion suggests that the manager knows he might have to make do with what he has.
Not only is a big outlay out of the question but not many Inter players are actual saleable assets.
The likes of fringe players in the form of Ivan Perisic, Andrea Pinamonti and the old guard of Aleksandr Kolarov are severely struggling for minutes but neither will command any sort of fee that Inter could reinvest.
Conte has blown his budget this year poorly with his recommendations. Perhaps a new Sporting Director and less power to Conte would be the best for the club.
Should Ionut Radu Be Played?
Back up keeper Ionut Radu was stopped from going out on loan this term so he could play second fiddle to the ageing Samir Handanovic.
Loans at Genoa and Parma have given him Serie A experience at his tender age so to throw him in wouldn't be too much of a step up.
Samir looks to be getting weaker by the game at the moment and Fiorentina in the Coppa Italia would've been a perfect to give the young Romanian a chance.
It could save Inter a lot of money to give him a chance.
If he turns out to be good as some of his early promise suggests then they can save on buying a new stopper but if he isn't up to it he's either cheap back up or a chance to make a few million of a fellow Serie A side.
Can't do any harm to give him minutes in a home tie against a lower table side soon.
Suning Could Leave Inter Soon
Rather surprising news has begun to emerge this week that Inter's primary investors Suning are looking at potential opportunities to sell stakes in the club.
It is not yet clear how concrete this appears or whether it is a full sale or just a partial sale where they can keep some control but it does raise a few eyebrows.
Suning have certainly outlined their credentials over the past with backing for the current manager and some very healthy improvement of the club's revenue streams.
President Steven Zhang is a major force at the club and always seems keen on appeasing the fans.
So it begs the question of how bad Inter's financial situation is if committed and productive owners are looking to sell?
As mentioned the club has invested heavily over the last twelve months in the playing and coaching staff.
This is all whilst living largely in a Covid climate where fan revenue has been sacrificed.
At a time where Inter on the pitch seem to be heading somewhere towards the top, a potential derailment in finance could loom which raises all sorts of uncertainty.
Could Conte cope without being able to buy all his preferred targets? Is this team that his perhaps three players short of being really strong able to find another gear without reinforcements?
Time will tell on this one. Watch this space.