Pirelli CEO Marco Tronchetti Provera: "Inter Wing-Back Achraf Hakimi Reminds Me Of Maicon"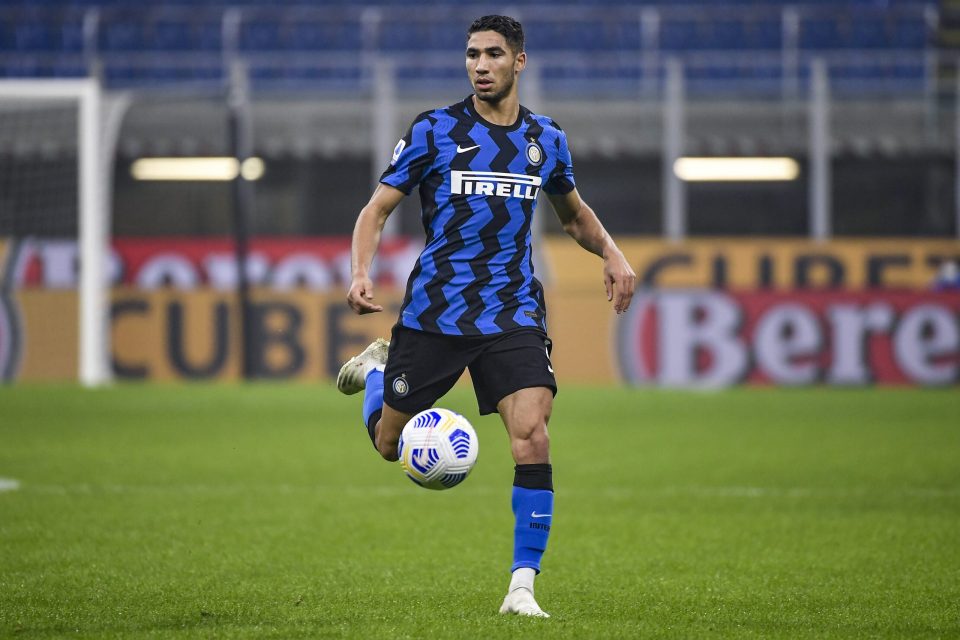 Achraf Hakimi is a worthy successor to Inter's treble-winning hero Maicon, according to Pirelli CEO and Nerazzurri supporter Marco Tronchetti Provera.
Hakimi produced another impressive performance on Sunday as Antonio Conte's side ran out 2-0 winners at home to Juventus in the Derby d'Italia.
Tronchetti Provera was impressed with several players' performances at San Siro but it was the Moroccan international for whom he reserved the highest praise today.
"When I see Hakimi he reminds me of Maicon, in fact he seems to be even faster than the Brazilian," he said on Rai's radio show GR Parlamento 'La Politica nel Pallone'.
"It was a really great Inter match.
"The result is important, but how Juventus were beaten also matters.
"Seeing a compact team, well organised on the pitch, with everyone's commitment and a very solid midfield was very satisfying.
"Arturo Vidal played an extraordinary match like everyone else, scoring a goal against his former team.
"When everything goes well, this also happens, like with the best movie scripts.
"Juve had a bad evening but Inter did not concede anything, they applied pressure in every part of the field and had 5-6 scoring chances.
"You couldn't ask for more than that."
Tronchetti then went on to share his thoughts on the Inter team as a whole, which now sits seven points clear of their arch rivals in the Serie A standings.
"This team, as long as they realise their potential because the emotional aspect is always very important, has extraordinary qualities.
"Inter have a full squad with a quality bench, so they can have a very positive path ahead of them.
"It is a team that can improve, they are solid in all departments, built with players who have defied expectations, for example the extraordinary Alessandro Bastoni and Nicolo Barella.
Tronchetti was then asked about the potential for Inter to go on and win a first Serie A title since the 2009-10 season and he touched on some rivals to Inter for the Scudetto crown.
"It's still early for everything," he argued.
"Inter certainly has the potential, but for example AC Milan has a team of very strong young players, who are going beyond expectations, and a player who can win games on his own, namely Zlatan Ibrahimovic.
"For Juve yesterday it was a bad evening, but the Bianconeri should never be underestimated as sometimes defeats lead to redemption.
"When we look at the Juve squad, we understand that the yardstick cannot be yesterday's match.
"We will see a different team in the following game and then there is Napoli, a fast team with great quality.
"Nothing is decided, everything can change in two to three weeks.
"For sure, seeing AC Milan at the top, even with its Milanese cousins, makes everyone happy."
Tronchetti, who has been involved at Pirelli for 29 years, concluded by expressing his thoughts on the recent rumours of a name change for Inter, rumours that were rubbished earlier today by Inter chief executive Alessandro Antonello.
"I am always tied to tradition, even if it is true that abroad, to distinguish the two teams, we are already talking about Inter Milan and AC Milan.
"For me, however, Inter is Inter and will continue to be Inter."