Ex-Nerazzurri Defender Massimo Paganin: "Christian Eriksen's Milan Derby Winner Could Be Turning Point In His & Inter's Seasons"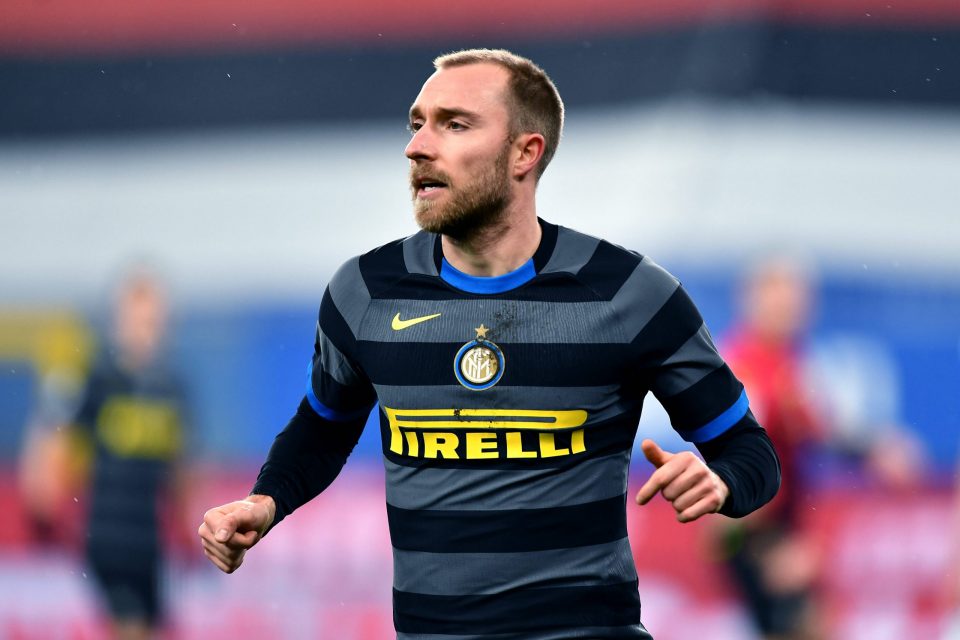 Christian Eriksen's free-kick winner against AC Milan on Tuesday could represent a turning point in his and Inter's season, according to the Nerazzurri's former defender Massimo Paganin.
The Denmark international came on with a few minutes to spare of normal time and deep into stoppage time he scored what Paganin believed to be a 'perfect' free-kick, which secured Antonio Conte's side their spot in the Coppa Italia semi-finals.
Eriksen had failed to score a single goal (or provide any assists) in all competitions this season before the 2-1 win at San Siro, but it could be that his 97th-minute strike kick-starts the 28-year-old's campaign.
"I think Eriksen deserved the goal," Paganin told Inter's official club broadcaster Inter TV.
"I thought to myself: 'If you score from this free-kick it is the turning point of your season and Inter's.'
"It had not been since 2018 that we had last scored from a free-kick and Eriken has superior technical qualities to Aleksandar Kolarov, even though he is strong too.
"It was a perfect free-kick, as he approached the ball he was already visualising where he was supposed to kick it.
"It takes a lot of skill, he knows he has it.
"As a player he has never been questioned.
"Conte always expects a little more from him.
"He came on during the game and did very well.
"There was a need to build from the back with a different quality, Conte opted for this option after Marcelo Brozovic had already been booked."
Paganin, who spent four years with Inter between 1993 and 1997, also spoke on the Inter team as a whole.
"Inter have become more of a team recently," he argued.
"They are more effective, more able to change the course of a game.
"They were already controlling the game before Zlatan Ibrahimovic was sent off and after the quarrel he had with Romelu Lukaku there was a turning point.
"The team was good at controlling the game and Conte did a good job in the dressing room aswell."
Paganin then went on to argue that there was more to Inter winning than Ibrahimovic being sent off during the second half of the clash at San Siro.
"It was a great team performance after going down by a goal.
"It was not just Ibra's dismissal that led to Inter's win though.
"The match was very well prepared by the Nerazzurri.
"After the match with Udinese, I felt a little discouraged.
"The Coppa Italia becomes important, if you eliminate Fiorentina first and then Milan you're on a path to win it.
"You have to go through difficult periods in order to improve and Inter are doing it.
"The midfielders were very good, Inter also had success when they switched to a back four.
"When you have midfielders who know how to clear the passing lines you have an advantage."
Inter will play their other arch rivals Juventus in a two-legged semi-final, with the first leg taking place at San Siro on Tuesday.
Conte will be without both Romelu Lukaku and Achraf Hakimi for the game in Milan, after the pair both picked up one-match suspensions with bookings against AC Milan.