Ex-Inter Forward Julio Cruz: "Playing At San Siro Is Special, Massimo Moratti Like A Father"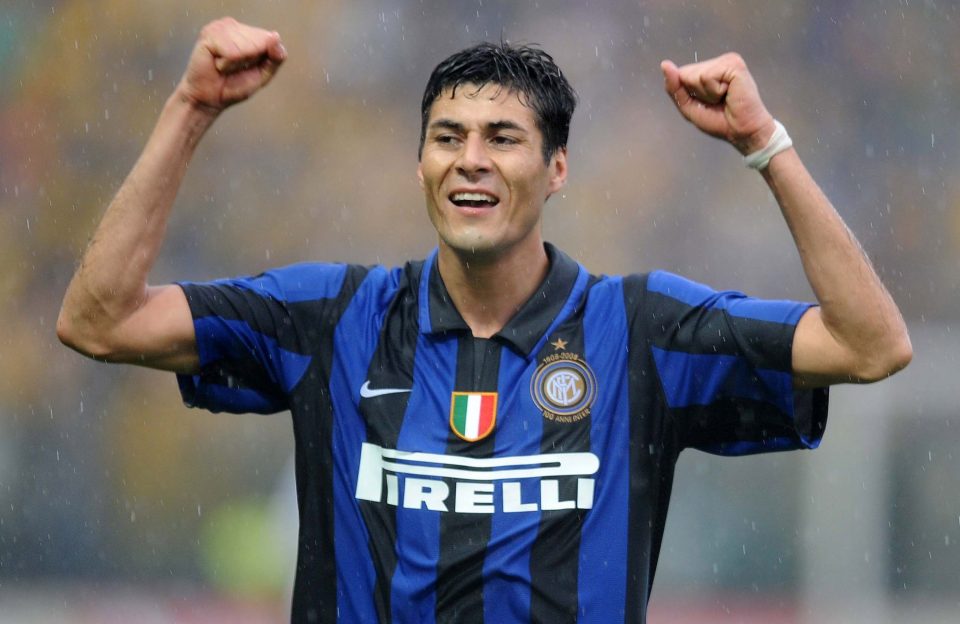 Inter's players are truly privileged to play in a stadium like San Siro, according to the Nerazzurri's former striker Julio Cruz.
Antonio Conte's side are due to face AC Milan at the Stadio Giuseppe Meazza in a pivotal Milan derby on Sunday, albeit the absence of supporters will detract from the spectacle.
Cruz, who scored 75 goals in a six-year spell with the Nerazzurri, believes there's something about that stadium which sets it apart from all the rest.
"Playing at San Siro is a special thing," he told PassioneInter.com in an extended interview on Thursday.
"I've played in many important stadiums, but at San Siro, when the fans start cheering, singing and jumping, it really fires you up.
"The best thing for a footballer is to hear the fans chant his name and cheer on the team.
"I am happy to have played for Inter in those years."
El Jardinero joined Inter from Bologna in the summer of 2003 and went on to enjoy the most successful period of his career in Milan.
He recalled the excitement of being able to sign for Hector Cuper's side in a deal worth a reported €9.5 million.
"At that moment I was very excited as Inter were an important team with an Argentine coach in charge in Cuper," Cruz explained.
"I was very motivated to go to one of the biggest three clubs in Italy, also because it was a challenge, given that at that moment Inter weren't winning titles."
Cuper was sacked in October 2003 after a poor start to their Serie A campaign, but not before Inter had recorded a famous 3-0 win at Arsenal in the UEFA Champions League group stage.
Cruz opened the scoring at Highbury before Andy van der Meyde and Obafemi Martins joined him on the score-sheet.
"It was wonderful, it was my first start in the Champions League against a very strong team," Cruz remembered.
"I remember that I had 100% confidence and concentration, we played a perfect match.
"That opening goal I scored didn't just break the deadlock, it also unleashed me on a personal level.
"I had great motivation and that goal immediately gave me confidence."
Cruz then proceeded to discuss the many strike partners he played with during his spell at Inter, for whom he made 197 appearances in all competitions.
"I played with great forwards and I always felt good," he continued.
"I always tried to help not only the team, but also my teammates, adapting to them.
"I tried to exploit the strengths of Martins, Adriano, Hernan Crespo, Zlatan Ibrahimovic and Christian Vieri and I think I succeeded, since I got along well with everyone."
Cruz also spoke about his final two coaches at Inter, Jose Mourinho and Roberto Mancini.
"I worked under Mourinho the year before the treble season, because then I went to Lazio," he reminded readers.
"Mourinho inherited a team that was already competitive, because Mancini had done a great job in previous years.
"Mancini had unlocked a team that hadn't been able to win titles for years, that hadn't been able to win the games that mattered.
"So José had a good team, to which he was able to add his great work and get the treble."
The former Argentina international also paid tribute to Massimo Moratti, explaining what Inter's ex-owner and president meant to him on a personal level.
"Moratti more than a president for me was a father and a friend," Cruz added.
"With him I had many good moments off the pitch.
"I got to know his family, I had a very nice relationship with Bedy and with his wife Milly.
"I had some wonderful moments with them, both at Inter and away from Inter.
"He is a special person, he has given Inter not only a lot of money, but also a lot of time, being rewarded by the successes."
As part of the same interview, Cruz also spoke about the current Inter side and their chances of clinching this season's Serie A title.
The 46-year-old said victory in Sunday's derby would take the Nerazzurri a long way towards winning the Scudetto, while also advising Lautaro Martinez to remain at the club long-term.