Inter Coach Antonio Conte: "Win Over AC Milan Christian Eriksen's Best Performance At Club"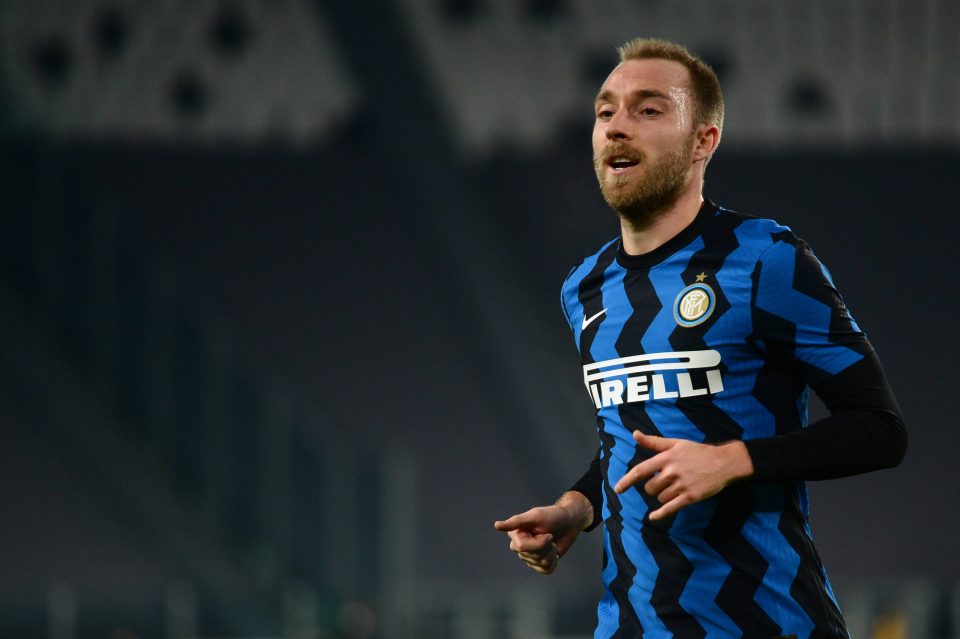 Inter coach Antonio Conte lavished praise on midfielder Christian Eriksen in the wake of a 3-0 win over AC Milan in the Derby della Madonnina today.
After a difficult start to his Inter career since joining from Tottenham Hotspur in January 2020, Eriksen has found form recently and was given a starting spot at the Stadio Giuseppe Meazza for the clash against the Rossoneri.
With goals from Lautaro Martinez and Romelu Lukaku sending the Nerazzurri four points clear at the top of the Serie A table, Conte pointed to the performance of Eriksen as crucial to victory.
"I told Christian that this was his best performance for the Nerazzurri so far," Conte declared in an interview with InterTV, the club's television channel.
"He did everything I asked of him, playing in a double pivot, going forward when necessary contributing decisively both in possession and without the ball.
"He can improve further, but the fact that he is stepping up is a positive for us. It fills me with pride and satisfaction and we certainly have an extra string to our bow. Just like [Ivan] Perisic, who returned to the club and is doing his best in a position he is unfamiliar with."
Conte also admitted that he was impressed with the way in which his side handled Milan's approach, as well as Inter's management of the game.
"I certainly expected a difficult match against a strong opponent. Congratulations to Milan and the excellent work they are doing. I am happy for my players and the satisfaction from the hard work we put in," Conte continued.
"From the stadium it was a strange atmosphere but at the same we felt stimulated and positive. This was an important win that gives us belief and encouragement. The next matches against Genoa and Parma will give us a real indication of where we are.
"Perhaps the most important thing lies in the awareness of the team. We had a great first half in which we could and should have scored a second goal. Milan started very well in the second half, finding some joy in those minutes in which Samir [Handanovic] made the difference. Then we were able to regain control of the match and consolidate victory."
The win sees Inter go top with just 15 matches remaining of the season, as they chase a first Scudetto since 2010, but Conte was keen to turn his attention to upcoming Serie A matches against Genoa and Parma.
"There are still 15 games remaining that we must treat as 15 finals. The matches against Genoa and Parma will help us to understand if this team has made a real step forward in terms of growth and arrogance, in a positive sense.
"Since [Davide] Ballardini's arrival, Genoa have been earning important results. Parma certainly do not deserve to be where they are in the table, so we will look at where we are again after these matches," Conte concluded.