Inter Vice-President Javier Zanetti: "Conte Doing A Great Job, Nerazzurri Deservedly Top Of Serie A"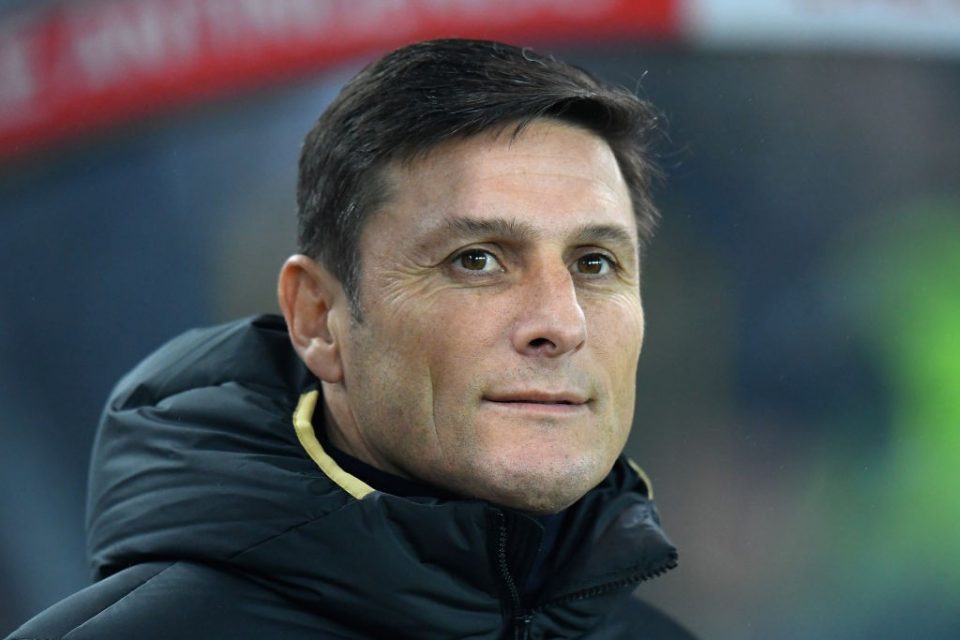 Javier Zanetti has sung the praises of Antonio Conte and his Inter players today following their excellent run of form in Serie A.
Inter are six points clear of city rivals AC Milan at the top of the table with just 12 games left.
Conte's side have won their last seven league games, with only two goals conceded in their last nine.
"Serie A is very difficult, there are still many games left and we have to continue like this," Zanetti explained in an interview with OnTime Sports, as quoted by FCInter1908.it.
"I believe that Conte together with the team is doing a great job."
Zanetti went on to reflect about Inter's historic treble win and admitted it is difficult to make comparisons with the current Inter side.
"2010 was a fantastic year because we managed to win the treble by winning the Champions League, but it is difficult to make a comparison, you always have to work to reach important goals.
"At the moment this group is doing very well, they are starting a journey that we hope will lead to them achieving important things.
"We are focused on finishing this season well and afterwards we will see what happens in future.
"Since Conte arrived the boys have improved, they are showing great consistency.
"At the moment we are first in the standings and it is thanks to them."
Zanetti, who has made the most appearances of all time for the Nerazzurri, was then asked if Juventus' elimination from the UEFA Champions League changes anything for Inter.
"We have to think about ourselves, we are focused on the next match which is the one against Torino, we only think about our matches," Pupi insisted.
"Cristiano Ronaldo? When great champions arrive in Italy, they certainly raise the level (of the league)."
On the subject of great players, Zanetti was then asked whether compatriot Lionel Messi could end up representing Inter in the future.
"We can't say that because Messi is a Barcelona player and we have to respect his career and his club.
"Right now we are focused on the group of players we have and we hope to finish this season in the best possible way.
"Out of respect for the players we have now, I don't like to talk about these things.
"I think Messi is happy at Barcelona and I think he will continue there."
In conclusion Zanetti spoke on Inter's prolific forward Romelu Lukaku and looked back on the team spirit he experienced under Jose Mourinho in Inter's historic treble-winning campaign.
"Lukaku is a great striker, he has improved a lot since he has been with us," Zanetti added.
"He is a very available guy and it's not just him.
"I think the group has been doing very well since they started this project and we must continue in this way.
"In 2010 a family was created, it was a group that wanted to win and with Mourinho we did a great job.
"Mourinho is a coach with great personality and experience and he managed to lead us to have great success."