Italian Journalist Paolo Condo: "Conte Has Revived Eriksen, Now Inter Midfielder Must Take More Responsibility"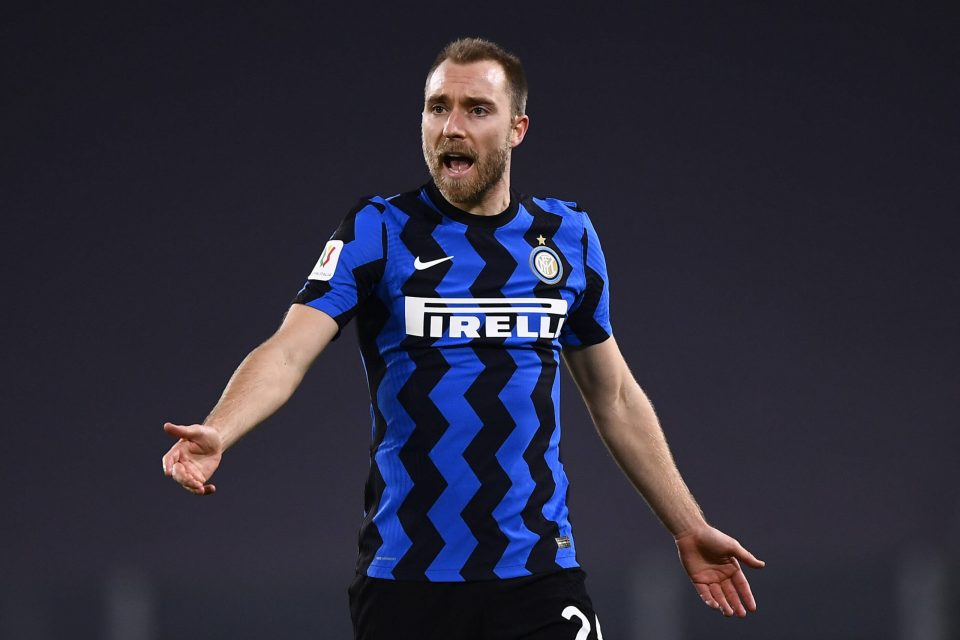 Antonio Conte still hasn't managed to get the best out of Christian Eriksen yet, at least according to one leading Italian journalist.
Eriksen has been able to transform things for himself at Inter in recent weeks, helping secure victory at Torino yesterday after coming on as a second-half substitute.
The Dane is receiving widespread praise now in the Italian media but La Repubblica's Paolo Condo still wants to see more from him.
"One of Conte's merits was to widen a small squad by reviving players like Christian Eriksen," Condo wrote in his column for Monday's print edition.
"The next step for Conte would be to convince Eriksen to take more responsibility in the team, because his one-touch game is illuminating but still too limited.
"When Eriksen was at Tottenham he always positioned himself on passing lines to receive the ball, whereas this version of Eriksen still remains 'hidden' behind his opponents."
Condo also reviewed Inter's last two performances against Torino and Atalanta, two games in which the Nerazzurri have picked up all three points but struggled to get a rhythm going.
"Inter for the second time in as many games were not made to pay, despite the fact that the match was complicated," he continued.
"They have therefore kept their rivals at a safe distance, but they have to ask themselves a few questions.
"Wins like this one over Torino, obtained thanks to Lautaro Martinez, are celebrated with the cliché: 'These are the wins obtained by playing badly which bring you the Scudetto.'
"That's not wrong, but only as long as those performances don't become the norm.
"Last week, Conte showed great humility against Atalanta, aware that on certain evenings the orchestra of Gian Piero Gasperini is difficult to resist.
"He pushed Inter back and waited for their one chance in attack to allow him to come away with the three points.
"There was no guarantee that this approach would pay off – and even the draw would have been a harmful result – but it was a gamble that Milan Skriniar's goal ensured was productive.
"Against Torino, on the other hand, there was no choice.
"Inter played the dominant game they should have played, but they did it badly, moving the ball slowly and coming up against the two defensive lines of Torino.
"They went ahead thanks to a naive mistake from Armando Izzo but then they lost their lead again.
"Then after Lautaro Martinez scored, they ran a few more risks."
Condo also went on to stress that while Inter do have a big gap on those below them, they cannot afford to forget about Juventus, who do have a game in hand and could close to within seven points by beating Napoli.
"These are signs of fatigue that are understandable after eight straight wins," he argued.
"These signs alone would not be enough to sound the alarm, especially after AC Milan's defeat which opened up a nine-point gap between first and second.
"But there is still a wounded Juventus and Inter must think about them.
"They are to face each other on the penultimate week of the season."