Five Things We Learned From Inter This Week: "Super Sensi & Magnificent Matteo"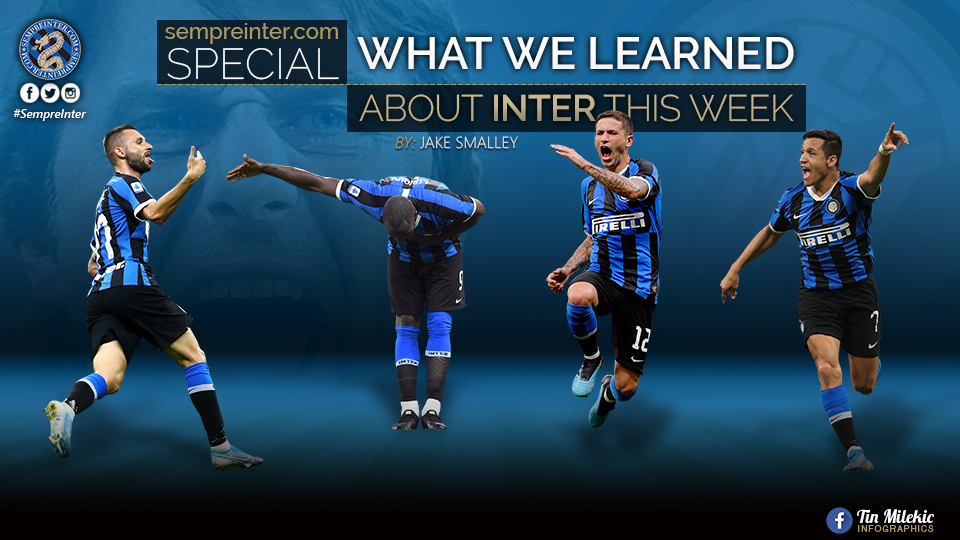 Inter carried on their impressive run of form with another win on Sunday, this time at the expense of relegation battling Cagliari.
A goal thirteen minutes from time from Matteo Darmian saw Inter take another step towards their nineteen Scudetto.
Here's what we learned from Inter this week.
1. Inter Good In & Out Of Possession
Wednesday's win over Sassuolo saw Inter have less than 30% possession and even against Cagliari they had just 47% despite being the home team.
Antonio Conte's men have truly become exceptional at keeping hold of the opposition despite not having as much of the ball.
Their impressive defensive line and transition on the counter makes them hugely dangerous and has been the foundation of their success, particularly since Christmas.
Inter's ability to counter and soak up pressure was at its height in both games this week.
2. Super Sensi
It was fantastic to see the return of Stefano Sensi to the starting XI against Cagliari.
After an excellent time on international duty with Italy, it appears than Sensi has fought his way back into the thoughts of Antonio Conte.
His injury record since arriving from Sassuolo in the summer of 2019 has been atrocious, leaving Conte no choice but to stack his midfield which has seen him move down the pecking order.
However, with a return to form and a relatively injury free period behind him, Sensi could be a key component for Inter as they look to cope against fatigue in the next few weeks.
3. Magnificent Matteo
Much has been made of the Manchester United contingent now making waves at San Siro.
After a solid term with Parma last year, Darmian has had an excellent campaign so far when called upon by Antonio Conte, especially in recent weeks with fatigue hitting the squad hard.
Against Cagliari on Sunday, the ex-Torino man scored the vital winner to cap off an excellent performance.
Every squad needs versatile depth and in this case Inter are lucky to have a player of his calibre to call upon.
A top week this week from Darmian.
4. Matias Vecino Back In The Fold
Another man who has missed almost all of the season is Matias Vecino and to see him back in the fold has been encouraging.
With Sensi and Vecino missing most of the season, recent games have reminded us of the strength in depth Inter have in this department.
Since his arrival under Luciano Spaletti nearly four years ago, Vecino has been solid, dependable and also capable of scoring some key goals.
To see him back in the fold is encouraging and he could really prove himself to be a solid squad player next term.
He certainly offers more than Gagliardini at both ends of the pitch.
5. Scudetto Number 19 Is Looking Securer By The Game
Two more wins by a one goal margin this week saw Inter enter the last eight games with an eleven point lead at the top of the table.
Milan and Juventus keep hanging in the distance but barring a remarkable collapse, Inter are showing signs that this is their year.
Their ability to win in different ways, trust in key players and also their defensive solidity have really come on leaps and bounds throughout the season and that is down to excellent management.
Conte and Marotta have kept the players in check all year despite financial worries, an early Champions League exit and also carrying the burden of a Europa League final defeat.
Inter really appear to have hit their stride and now are grinding out all types of wins. They simply just keep running and seemingly no one is going to catch them.