Five Things We Learned From Inter This Week: "Alessio Cragno, Juan Musso Or Marco Silvestri?"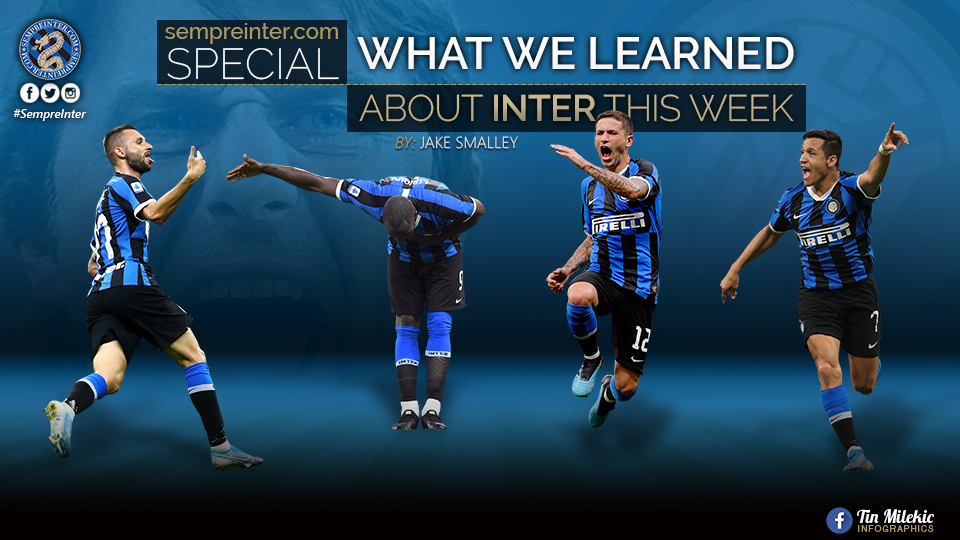 Inter put one hand on the Scudetto thanks to another Matteo Darmian masterclass bringing them the three points at home to an out of sorts Hellas Verona.
Following a frustrating draw at Spezia in midweek, the Nerazzuri were looking to bounce back and take advantage of Milan's defeat to Sassuolo.
A trying test against Ivan Juric's side threatened to peter out into a draw until former Torino man Darmian finished another Achraf Hakimi cross.
Here's what we learned from another week for Inter.
1)  Danilo D'Ambrosio Deserves A New Deal
Danilo D'Ambrosio has been a key and vital component to Inter's squad over the past couple of seasons.
Clutch goal after clutch goal and some match winning displays in derby games has seen D'Ambrosio transform from banter era victim to stalwart.
Despite spending a large portion of this term on the treatment table, D'Ambrosio has established himself as a key squad member.
Versatile, whole hearted and full of experience, the club would be daft to not offer the former Torino man a new deal.
Few players could fill the options he provides. Get on the phone Ausilo!
2) Rest Romelu Lukaku
Romelu Lukaku is looking very tired.
After an intense schedule and international football sprinkled on top, the big Belgian needs a real rest.
Given he is so key to Antonio Conte's playing style and the form he has been in, Lukaku has been one of the players to not see a spell on the sidelines to recuperate.
In the last week it has been clear to see that even against provincial sides he hasn't been firing on the same level.
Give Sanchez or Pinamonti the start at Crotone.
3) Alessio Cragno, Juan Musso or Marco Silvestri?
After another gaffe, Samir Handanovic reminded every Nerazzuri fan that his time as the side's starting keeper is coming to an end.
Cagliari's Alessio Cragno has been mentioned as a replacement and should his side succumb to relegation he could even be a cheap pickup.
Although short in stature, his shot stopping is up there with the best in the league. A deal of around €15million euros has been touted too so not a massive fee.
An even cheaper option could be Verona's Marco Silvestri who has been in excellent form for the Bentegodi outfit the past few seasons.
A leader and a shot stopper who is approaching his peak years, Silvestri could represent a good value deal.
A more expensive option might be Juan Musso of Udinese.
A former team mate of Lautaro Martinez at Racing, the Argentine stopper has signalled to his club that he wants to play Champions League football next term.
A fee of €30 million might be a bit steep given the club's finances so one of the other two maybe more realistic.
Let us know in the comments who your choice would be.
4) Super League Withdrawal Makes Sense
Despite not being the first to exit the farce that was the ESL this week, Inter have now backed away from the controversial competition.
With Florentino Perez's dream going up in smoke, Inter's position in the footballing world has been slightly restored.
Much to the upset of the club's faithful, it seemed as if Steven Zhang and the Suning group seemed keen on picking up some much needed cash from entry to the money pot.
Thankfully for the time being it seems as if the idea has gone dead and club's reputation hasn't been harmed too much.
Long live the art of competition. Don't think this is the last of it however..
5) Scudetto In Antonio Conte's Clutches
The club need just five points to hit Scudetto heaven and clinch their first league title in over a decade.
Despite a number of stuttering performances of late, their rivals continue to drop points whilst Inter find a way to win.
With Crotone and Sampdoria up next, six points will make the title secure.
Every Nerazzuri fan has been living and breathing for this moment for the past decade and finally its coming to fruition, barring a quite sensational collapse.
Enjoy it. Bask in it. Smile and sit back. It's coming.