Inter Vice-President Javier Zanetti: "Suning Could Have Sold Nerazzurri Mid-Season, Lautaro Martinez Will Get Even Better"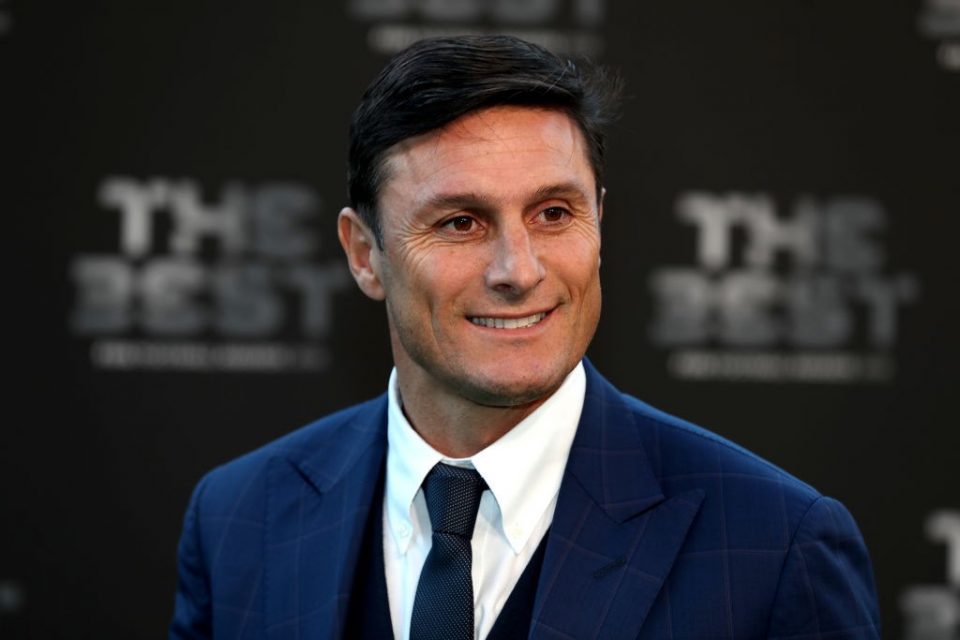 Inter's owners Suning really could have sold the Nerazzurri midway through this season, vice-president Javier Zanetti has revealed.
Suning have just become the first foreign owners to win Serie A and are reportedly set to secure a €250 million loan deal to help ease the club's financial concerns.
However, the Nerazzurri's majority shareholders were subject to intense speculation at the start of 2021 with rumours suggesting they were considering a sale.
In an interview with La Nacion today, Zanetti confirmed: "It's true that the club could have been sold halfway through the season.
"They have experienced and are still experiencing big financial problems.
"We're not the only ones to have problems, obviously, because the COVID-19 pandemic has generated lots of losses, but it's true that as a club we still need to improve.
"The coach and the players have done great work and it's visible: we reached the UEFA Europa League final and have won Serie A in the space of two years.
"But at the same time, the club must aspire to something more; it must improve lots of mechanisms, this is the reality."
Since this interview was published by La Nacion, Zanetti has distanced himself from the above comments and argued his words were 'misreported'.f
Speaking to La Nacion, Zanetti pulled no punches when it came to Inter's financial problems, providing a bleak outlook of what could lie ahead for the Nerazzurri in future years.
"The financial problems are continuing and it could take a couple of years to restore balance," Pupi admitted.
"I've read that Inter's deficit is €102 million, but I'd say it's a bit more than that.
"We'll need people back in the stadiums so that we can satisfy our sponsors… only when we're back to normality will we start growing again.
"The situation today is difficult, there's no point hiding it, but at least we're happy to have won the Serie A.
"We need this to be a starting point to make the next step; it should be the foundation if you really want to create something which lasts for a long time.
"A lot will depend on us though as a sporting club though, we will need to be very clear on our process."
Inter are hoping to bring in more revenue from their new stadium in conjunction with AC Milan, but talks are seemingly at a standstill with Milan's city council.
"It's a matter people have been talking about for two or three years, and we're still waiting for it to be defined," Zanetti explained.
"We need permission from the council and from a commission that is carrying out never-ending analyses.
"The COVID-19 pandemic probably hasn't helped for all the delays it's brought."
Antonio Conte has transformed Inter's fortunes since being appointed the Nerazzurri's head coach in 2019, having led them to a 19th scudetto in his second season.
"This project began with Conte two years ago and it's been a real satisfaction to see all this work bear fruit this season," Zanetti beamed.
"We've been through difficult moments which were pivotal for our development, they helped us mature and improve while giving us courage.
"This group had to overcome those difficult periods to be prepared to win.
"Losing the UEFA Europa League final and going out of the UEFA Champions League in the group stage were key, as well as losing important games in Serie A last season.
"Any group that really wants to improve has to go through these moments and learn how to handle them.
"The negative moments are the ones which confirm that what you're doing isn't enough, and this group has kept improving after understanding exactly that."
Asked what was so great about Conte specifically, Zanetti explained: "He is tireless and has changed the culture of work.
"His mentality has helped this group of players, lots of whom are young, gain belief that they can win something.
"There hasn't been a day since Conte arrived where he hasn't thought about how to improve the team; his merits go beyond having won the title after 11 years and ending Juventus' dominance.
"He has persuaded the group to follow him and dedicated himself to the cause like a full Interista."
Zanetti was also asked about Lautaro Martinez, whom he helped bring to Inter from Racing Club back in 2018.
El Toro set a new personal record for single goals in a Serie A campaign this year (15) and seemed to take the next step in his development as a striker.
"I'm very happy with Lautaro, when you sign a youngster from Argentina you dream that he'll have this kind of evolution," Zanetti admitted.
"We went to look for a 20-year-old guy and we didn't make a mistake.
"He spent the first season adapting and playing when necessary; in the second season he consolidated things and confirmed his talent; and in the third season (this season) he was a key player.
"Conte deserves credit for this as well, because he challenged Lautaro to strengthen himself.
"Do you remember when Conte said it would depend on Lautaro for whether he became a good or an elite player?
"Lauti took that advice wisely to become an elite forward, and we're talking about a 23-year-old who still has a lot to improve.
"We still haven't seen the best from Lautaro yet; Inter gave him time and he's taken his chance."
Zanetti was also asked whether it was inevitable that Lautaro, and many of his Inter teammates, would be subject to transfer speculation in the summer.
"When you have good players, it's very likely clubs will want to buy them from you," he added.
"Lautaro, Romelu Lukaku, Nicolo Barella… there are lots of players here who've improved and now Inter have some important economic assets.
"There are lots of youngsters here: Alessandro Bastoni is 22, Achraf Hakimi is 22, Barella is 24, Milan Skriniar is 26, Lukaku is 27, Lautaro is 23…
"There are six or seven players for which I ask myself: who wouldn't want them in their team?"