Inter Midfielder Christian Eriksen: "Best Moment Of My Career, I've Understood Antonio Conte's Methods Now"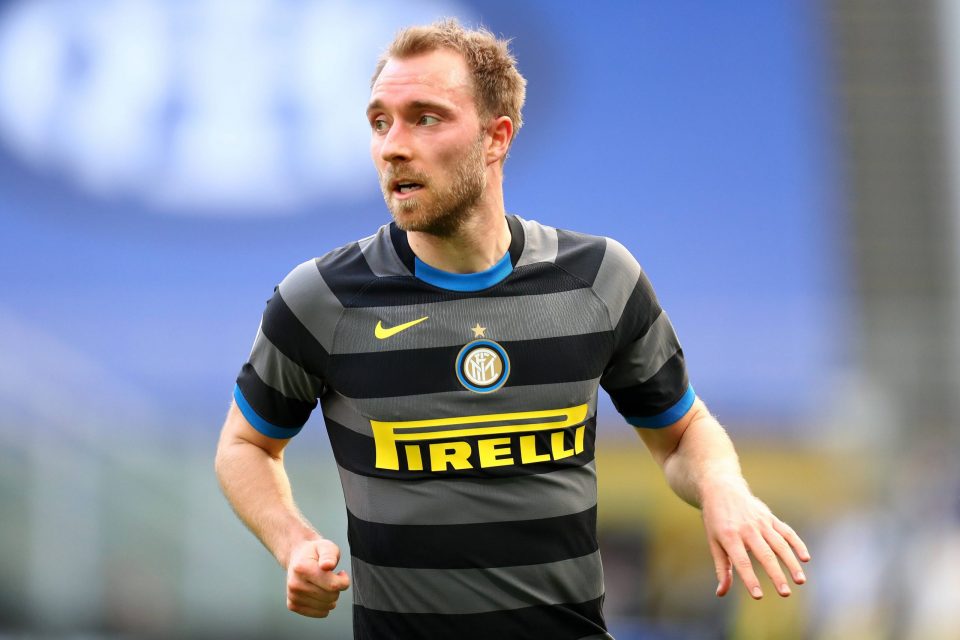 Christian Eriksen is determined to keep winning trophies for Inter after finally coming to terms with life under Antonio Conte.
Eriksen endured a torrid first year with the Nerazzurri following his move from Tottenham Hotspur, hardly ever getting the chance to start as Conte preferred other players.
Eventually, the Danish international nailed down a spot in Inter's midfield and has ended up being a key player in their Serie A title trumph.
Asked why it took so long to settle under Conte, Eriksen told Gazzetta dello Sport today: "I arrived at Inter with an open mind to learn.
"What I didn't understand at the start is that I always had to follow Conte's system, that I had to remember and execute all the moves he'd prepared for the team.
"Beforehand, I was more used to playing on intuition, I was free to make decisions in a split second based on what I saw on the pitch.
"But with Conte there's always a general plan to follow; you must be prepared, always know where your teammates are and where they could move.
"I had to learn all of this and adapt to a different tempo.
"Then in January we spoke together and I started playing more and proving I was capable."
Conte caused controversy earlier in the season by bringing on Eriksen as a very late substitute in certain games, giving the 29-year-old only a few minutes to make an impact.
Asked if he knew what was behind those substitutions, Eriksen said: "I spoke with the coach and I know he makes the best decisions for the team in that moment.
"If he played me that sparingly it's because, evidently, he thought I could be useful in those minutes, but there was nothing personal.
"It's clear I'd have wanted to play more, but I always respected his decisions.
"I knew I'd get my chance and that I'd need to take it, which is what I did."
Conte's future remains uncertain at Inter due to the club's well-documented financial problems, but Eriksen is hoping the former Juventus boss stays.
"He is extremely important for everyone, also for the way we play," Eriksen argued.
"We follow his instructions to the letter and you can see it on the pitch.
"We're all happy to have won with him, but it's not up to me to decide if he stays: that depends on him and the club."
Eriksen has won his first major trophy since 2013 this season, helping Inter to their first league title in 11 years.
"It was difficult for me to win before coming to Inter, but now on the other hand I'm perhaps living the best moment of my career.
"This scudetto is a good starting point… now we can continue and build a cycle."
Eriksen was at pains to make it clear he did not have grudges against anyone, assuring: "I just play football, sometimes it goes well and sometimes it doesn't.
"This sport changes very quickly, practically on a weekly basis; six months ago I was living a certain situation, but now we've won a trophy.
"I can only say I'm very happy to be at Inter."
Eriksen scored his first goal of the season in a 2-1 win over AC Milan in the Coppa Italia quarter-finals, a moment many have pinpointed as a turning point for his Inter career.
"It was only the turning point in terms of perceptions from the outside," the midfielder insisted.
"The goal against AC Milan perhaps changed the way in which others saw me, but it didn't change what we were thinking inside (the club).
"The situation changed when I had the chance to play more regularly and I gained the confidence of my teammates and the coach."
Eriksen was linked heavily with a return to Tottenham Hotspur in January, while Leicester City were another club reportedly offering him a route back to the Premier League.
"I could have been considered surplus to requirements at Inter six months ago, it's true, but now everything has changed," he admitted.
"Nobody can predict the future but I'm happy to stay here and to have a scudetto on my chest."
Eriksen also heaped yet more praise on Romelu Lukaku, a player he faced as a teammate while at Tottenham Hotspur.
"I had no doubts about Romelu when I was in the Premier League either, but in our system I consider him the best centre-forward there is," he added.
"He's remarkable, but now he's become even more dominant than before.
"It's better to have Lukaku as a teammate than as an opponent…"