Five Things We Learned From Inter This Season: "Romelu Lukaku Is The King Of Milan"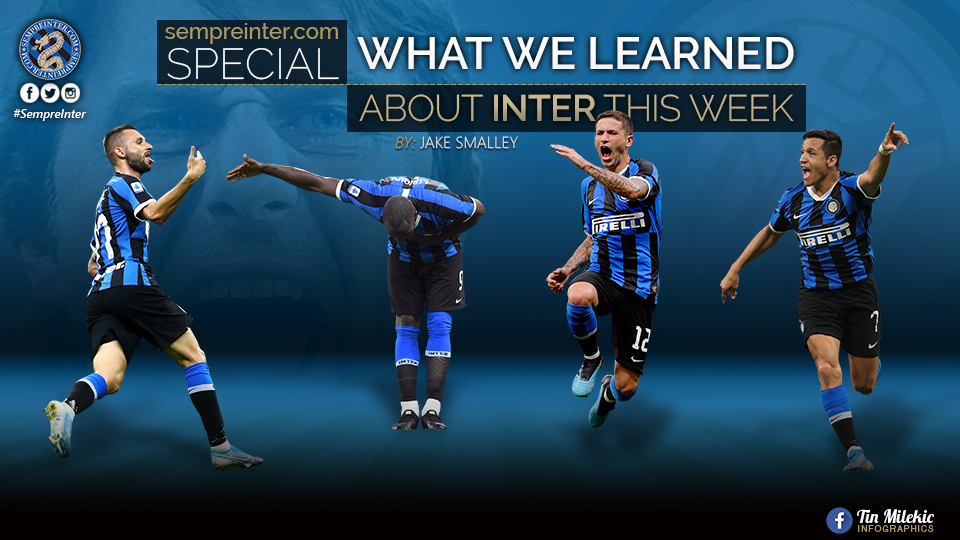 Inter were officially anointed as Scudetto winners on Sunday afternoon following their emphatic 5-1 victory over Udinese.
Ten months of hard work and ten years of pain have all led to this utopia.
Here are five things that we learned this season from Antonio Conte's Inter.
1) Trust in Antonio Conte
Following a disappointing Champions League campaign and a patchy start to the season in which Inter were leaking goals, the job done by Antonio Conte was being called into question.
After finishing a point behind Juventus and losing in the Europa League final in his first season, much was expected of Antonio Conte this term in terms of bringing Inter a trophy.
His decisions to stop switching up the defence and ditching Ashley Young and Roberto Gagliardini for Ivan Perisic and Christian Eriksen respectively turned out to be vital in bringing Inter the title.
A strong 3-5-2 system that clearly gets the best out of players such as Nicolo Barella, Achraf Hakimi and Romelu Lukaku has become the team to beat in Italy and earned many plaudits.
The true test for the man who has proved his doubters wrong this term is to excel in Europe next season.
2) Romelu Lukaku The Vital Cog In Inter's Success
After being battered into shape on arrival at Appiano Gentile by his manager via Andrea Rannochia, Romelu Lukaku has truly never looked back.
Consecutive twenty goal campaigns and vital goals in games against Milan and Lazio during a crucial run of games have outlined the big Belgian's place in the world's deadliest front men.
After a lacklustre spell at Manchester United and expectation weighing on his shoulders knowing that he had been bought to replace Mauro Icardi, Lukaku had plenty to prove.
However, this term has proved to be the champagne moment for Lukaku and he has truly been the vital player for the Nerazzuri.
Long live the king of Milano.
3) Italy Owe Inter
Italy will head to the European Championships this summer with two in form players in the shape of Alessandro Bastoni and Nicolo Barella.
The two men have arguably been the standout players in their position in Serie A this term and truly have established their place as some of Europe's top young players.
The national side have themselves a pair of players in top form hoping to carry their excellent form this season into the tournament.
Inter have created two monsters who should dazzle the stage this June in Azzuri colours.
4) Christian Eriksen Back From The Dead
Even just four months ago as the January transfer window banged on it looked very unlikely that Christian Eriksen would amount to anything whilst in Nerazzuri colours.
Banished by Antonio Conte and struggling to make any sort of impact in limited substitute appearances, a ticket back to England looked to be on the cards and Inter were looking to cut their losses.
However, a last minute free kick in the Coppa Italia against Milan seemed to change things and the Dane has never looked back.
He managed to earn a starting line up place after that game and has rolled on strong turning out a series of excellent performances since.
A man who looked totally down and out went on to achieve his goal in coming to Italy and winning silverware.
Wonder what a certain pundit on Sky Sports in the UK makes of his turn around?
5) Samir Handanovic And The Old Guard Finally Get Their Reward
After years of toiling through arguably the worst period in the club's history, the likes of Samir Handanovic, Danilo D'Ambrosio and Andrea Rannochia finally have their reward.
They have seen the days of Jonathan, Zdravko Kuzmanovic and Tomasso Rocchi and seen off the likes of Andrea Stramaccioni, Walter Mazzari and Frank De Boer and now they have their glory.
Questions have been asked at length about all three men over the last decade but each one of them has come back to prove each and every one of their doubters and hang about long enough to become champions.
The Scudetto a worthy reward for each one of these men who have more than served their debt to this club in its toughest period.