Inter Coach Antonio Conte: "I Place This Scudetto Amongst My Greatest Achievements"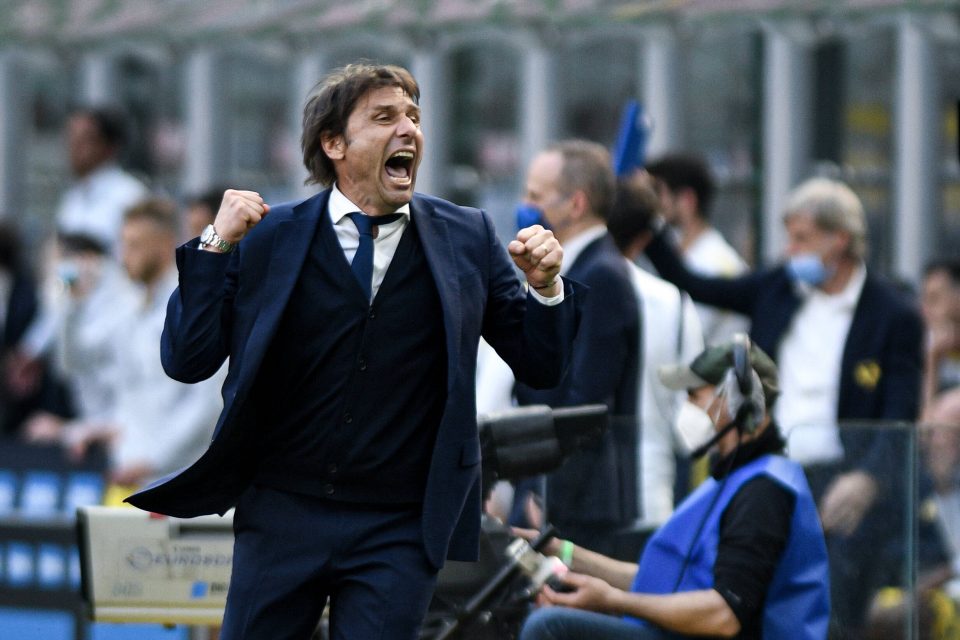 Inter coach Antonio Conte believes that leading Inter to the Scudetto this season is amongst his best achievements throughout his career.
The 53-year-old ended the Nerazzurri's 11-year wait for a Serie A title this term and was able to lift the trophy following yesterday's 5-1 win over Udinese at the Stadio Giuseppe Meazza, as they brought the curtain down on the season.
Speaking to Inter TV after the match to answer questions submitted by fans, the coach reflected on his success and claimed that it was amongst the most important triumphs of his career, despite three titles with Juventus and a Premier League crown at Chelsea.
"I place this amongst my best achievements. It wasn't easy to come to Inter because I was joining a team that hadn't won for a long time. We worked and after a year of effort we did something incredible," Conte declared.
"It wasn't easy, when you work at Inter you understand many things. Winning the Scudetto here gives me great satisfaction and makes me understand that seriousness, work and sacrifice are the only weapons that I and the players can have. We were all good, me, the players and the club."
Despite having sealed the title earlier in the month, Inter bowed out in style and produced a clinical performance to defeat Udinese, much to the happiness of Conte.
"I think today's game was the right end to a great year. We played well and I asked the boys not to be complacent.
"Despite being the final day and the fact that they are already champions, it is proof that the boys have taken the right mentality. We have 91 points, the best defence and the second best attack. We have done something important."
The coach was full of praise for his players and felt that the spirit of the squad was important in their success.
"It's a team full of good guys. Everyone is pleasant. They know that with me that you don't mess around on the pitch, but off the pitch I am close to them and in general each of us has a more pleasant side.
"With some you have to throw yourself on the ground with laughter. It's beautiful, a chemistry has been created between us. In addition to respect for work, there is respect for people."
Inter were able to lift the Serie A trophy in front of a small crowd yesterday in a sign of easing restrictions in Italy, and Conte was glad to see supporters returning.
"Having some fans at the stadium was nice and they helped us. There is little to say for how we were received and for what we experienced afterwards. .It just has to make us happy, we have given something nice to the fans who, regardless, are always alongside the team," he continued.
Finally, the coach claimed that he was not dedicating the Scudetto to anyone else, but rather wanted to enjoy and appreciate his achievement.
"Honestly, I dedicate it to myself. I know that it has not been an easy path in these two years, I had to get everything out. In certain moments, doubts arise, even about yourself, but I have overcome everything and everyone and in the end it is the demonstration that we have all been good. Even myself," he concluded.