Inter Legend Marco Materazzi: "Simone Inzaghi Owes Us For 2002 Scudetto, He Is Amongst The Best Young Italian Coaches"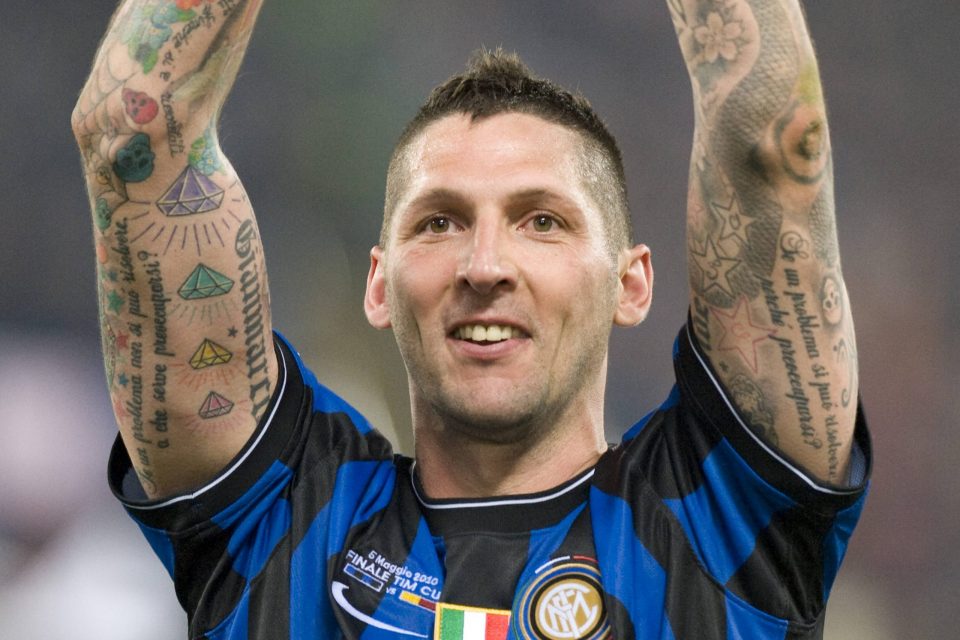 Former Inter defender Marco Materazzi has joked that incoming coach Simone Inzaghi still owes the club for the Scudetto in 2002.
Inzaghi was part of the Lazio team that beat the Nerazzurri 4-2 on the final day of the season to deny them the title, allowing Juventus and Roma to overtake them, with the Bianconeri crowned champions.
The 45-year-old is expected to replace Antonio Conte as Inter coach this week, and in a wide-ranging interview with 7 Corriere on Instagram, and as reported by FCInterNews.it, Materazzi offered his thoughts on the appointment.
"Everyone is sceptical of Simone, but in the meantime he needs to give back the Scudetto of 5 May. Inter have the opportunity to stay on top, Simone has done so well that his work has remained hidden, but he is one of the best young Italian coaches, now he has to make the leap," Materazzi claimed.
The former defender considered the best players he had come up against in his career, with ex-Nerazzurri striker Ronaldo named.
"Inter were unlucky not to win what they deserved, like the 1998 Scudetto. They had Ronaldo, the strongest in history, and we should have won even more with him.
"I was dying to have his shirt when I faced him, to find him. To face him as a fellow player was an incredible emotion. I played with all the greatest, but Ronnie was the best.
"I regret not being able to convince him to stay after 2002, but he was tired. When he left Pinetina he said he would stay if they got rid of [coach Hector] Cuper. He would have also returned to the Nerazzurri the year he went to Milan (2007).
"I would have liked to play with [Lothar] Matthaus and [Karl Heinz] Rummenigge, I would have gotten along very well with them because they have character. [Nicola] Berti too because he is a madman like me, a real man who says what he thinks without a filter. We are like that."
Materazzi won the treble with Inter under Jose Mourinho in 2010 and the Portuguese tactician is set to return to Serie A next season with Roma, although the defender claimed he could have gone back to Inter before Conte arrived in 2019.
"Marriages always need two, but I know for a fact that he would have come back two years ago. Then they chose Conte, who as a former Juventus player did a lot for Inter and should be thanked.
"When he said, 'I understood what Inter means', it was most significant. He created a solid group, I was already saying in December that Inter would overtake Milan and many laughed at me, then I was right because Inter have the strongest team."
The former Everton player was full of praise for striker Romelu Lukaku, whilst also commending his ex-teammate Samuel Eto'o.
"Eto'o is my little brother, I have to thank him for life because he brought us the treble. He knew how to do it, he allowed us to fight on every front in terms of mentality and this made the difference.
"Lukaku is like Vieri now, but not when he arrived. I did not think he could be the new Vieri, instead he proved to be a leader and goal scorer, he made great strides thanks to Conte."
Having played with current Milan striker Zlatan Ibrahimovic during his spell at Inter, Materazzi felt that the Swede could have taken a step back in his approach so social media, having antagonised Nerazzurri fans.
"When he was at Inter the relationship was good, but then he changed his course. On the pitch things happen. He could avoid going on social media to bring up the past because it makes no sense.
"He could have avoided it, I respect him as a player and I thank him for what he made me win when he was with us and when he left. I congratulate him because he is making a difference at 40 years old, hats off to him."
Former Inter coach Roberto Mancini leads Italy into Euro 2020 this summer and Materazzi recalled his arguments, whilst revealing the two former Roma players he wished had joined the Nerazzurri.
"We argued several times, luckily we were always separated and we never got into a physical clash. It took very little to get into his graces by winning the World Cup (in 2006).  I would have liked to see Francesco Totti at Inter, unfortunately I didn't. It was impossible. The same with [Daniele] De Rossi.
"I resisted a move to Milan and thank those who allowed me to stay, in this case [Giacinto] Facchetti. I would have left more out of pride than to betray the club, but I couldn't say no to Giacino and in the end nothing happened," he added.
On the international stage, Materazzi was best known for being on the receiving end of a Zinedine Zidane headbutt as Italy defeated France in the 2006 World Cup Final in a penalty shootout.
"I was lucky enough to play in the World Cup due to Alessandro Nesta's injury. I prefer to remember my two goals rather than Zidane's headbutt, which allowed us to win.
"In the end it was important to score goals and above all to score the penalties despite the pressure. I congratulate Zidane as a player and as a coach, he has proven to be number one."
Finally, Materazzi reflected on his career at Inter and felt that the Champions League victory in 2010 was the crowning achievement.
"Javier Zanetti was so reliable, you could count on him every game. He was always there in moments of difficulty, as a captain.
"You can't wait to embrace the Champions League, but before the game you mustn't touch the trophy. You should teach it in football schools.
"The treble was the crowning a dream of a career because after the World Cup I was only missing the Champions League. When I saw the various titles in the living rooms of Paolo Maldini and Lionel Messi, I looked at my wife and told her I wanted it," he concluded.