Five Things We Learned From Inter This Week: "Edin Dzeko Looks The Real Deal"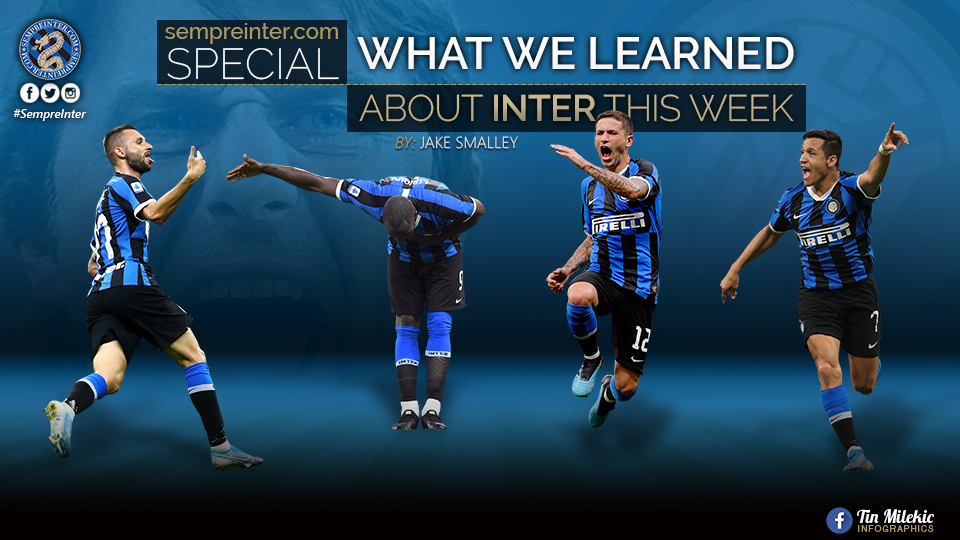 Inter kicked off their title defence with a terrific 4-0 victory over Genoa at San Siro on Saturday evening.
A limited capacity crowd at the Meazza were delighted to see their blue and black heroes again up close and were fully appreciative of an excellent performance.
Here's what we learned from Inter's excellent start.
1) Simone Inzaghi's Brand Of Football Looks Promising
It may only be one game into the season but it was very encouraging to watch Inter's brand of football on display.
Some excellent link up play between new signings Hakan Calhanoglu and Edin Dzeko was clear to see, whilst the defensive side of Inter's game was rock solid.
Inzaghi's Lazio side over the past five years have provided Serie A with an exciting blend of football, something that the former Piacenza striker is clearly trying to implement at Inter.
With another striker added, Inter could be very easy on the eye this term.
2) Hakan Calhanoglu Very Impressive
When Inter picked up Turkish midfielder Hakan Calhanoglu from rivals Milan, a few eyebrows were raised.
Clearly a player with ability and potential but also a man who struggles with consistency, leading to a number of his critics to question why Inter signed him.
However, on debut, Inter saw what promise Calhanoglu has and what he could bring to the side.
Picking the ball up from deep, playing in and around the number 9, excellent set piece delivery and also a cracking long range finish, Calhanoglu wowed his new supporters.
A sly little dig about playing with better players in his post match interview won't do him any harm in endearing himself to the fans either.
A nice start for Calhanoglu, consistency is the next step.
3) Arturo Vidal Outta Nowhere
The much maligned Arturo Vidal put in a sterling performance as a substitute, scoring and assisting for Edin Dzeko.
All summer long it has seemed that the veteran Chilean would leave the club with links to Brazilian clubs and MLS sides.
So when he rocked up in the squad list on Friday, it was a bit of a shock.
Last year the former Barcelona man struggled for any form at all and was heavily criticised for getting himself sent off against Real Madrid in a crucial Champions League clash.
It seemed as if it was only going to be a matter of time before he was cast aside and Inter cut their losses on him but Saturday may prove he has something left in the tank.
A player of his calibre felt he hadn't done himself justice since his arrival, perhaps he could prove to be a good rotation option this term.
4) Edin Dzeko Looking The Real Deal
It only seemed to be a matter of time before the big Bosnian ended up in an Inter shirt after years of tenuous links to the club.
On debut, he did not disappoint as he opened his goal tally and laid on an assist for Calhanoglu's long range strike.
Despite being 35 years of age, his movement and ability to lead the line and provide a focal point for the side was excellent and shows much promise.
A perhaps underwhelming signing could prove to be a handy one for Inter as the season goes on.
The line between experienced and being 'over the hill' is a fine one but Dzeko proved to be in the former on yesterday's evidence which is promising.
5) Hats Off To The Coaching And Playing Staff For A Strong Start
On paper, Genoa at home is a nice opening fixture.
However, this makes it a potential banana skin, especially for an unsettled club beset by financial worries and the loss of key players.
Although, the execution of the performance by Inter put all off field worries on the back burner and gave the fans a terrific showing that they had been waiting nearly two years to see in the flesh.
A new exciting brand of fluid football was played and there were promising signs from new signings as well as cameos from faces old.
Credit must go to the players for pulling their socks up and buying into the methods of the coach who has steered the side excellently amid all uncertainty.
It may only be game one but there are definitely signs of hope and promise that Inter can be worthy of attempting to challenge at the top of the table.