Five Things We Learned From Inter This Week: "Joaquin Correa Showed What He's Capable Of"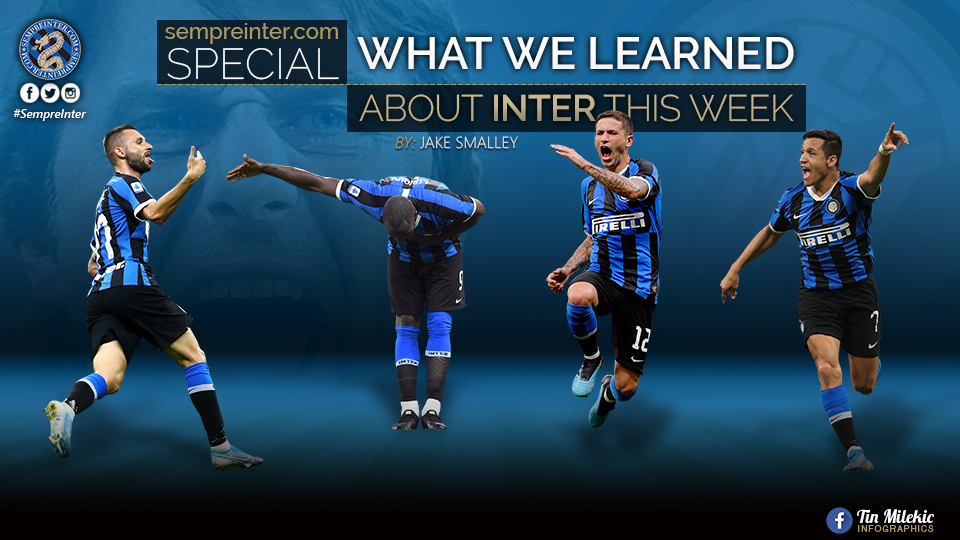 Inter were made to work for three points in their away trip in the Serie A to the Bentegodi on Friday evening.
Simone Inzaghi's side came from a goal down to triumph 3-1 over a plucky Hellas Verona. Goals from Lautaro Martinez and a debut brace from Joaquin Correa ensured Inter kept up their 100% record.
Here's what we learned from the win over Eusebio Di Francesco's side.
1) Joaquin Correa Showed What He Is Capable Of
All summer long transfers in and out have dominated the club. Since Romelu Lukaku departed, Inter have been linked to countless names as replacements and it appears that they have settled on Joaquin Correa.
Only confirmed as an Inter player on Thursday, Correa appeared off the bench to score a terrific header and a low drive into the bottom corner from the edge of the box.
A really top way to start his Inter career and answer critics who believed that €30million is a tad steep for the former Lazio, Sevilla and Sampdoria player.
2) Arturo Vidal's Indian Summer Beginning?
Arturo Vidal at times last year looked a complete liability.
A great player throughout his career looked as if he was finally starting to fade.
However, he has started this term like a man possessed and truly impacted Friday's match.
Some terrific pressing as well as probing passing, including a beautiful ball for Darmian to cross for Correa's first goal, saw shades of Vidal of old.
Given his advancing years it will be interesting to see if this is a flash in the pan or not but if he can stay on song, Inter have an excellent midfield option already in the squad that they didn't think they could rely on.
3) Samir Handanovic Looks Spent
Last term was the first year that the Slovenian stopper and Inter skipper look vulnerable.
Sure he's not been perfect in his 11 years as number one but he sure has started to feel his age the past twelve months.
A very poor error and lapse in concentration allowed Hellas to get in front and the finger well and truly was pointed at Inter's keeper for allowing it to happen.
Last term Handanovic managed to gain some second wind towards the end of the season and came up trumps in games at San Siro against the likes of Lazio, Napoli and Milan.
This term he has started poorly so he must aim to regain that momentum. The club themselves need to have an eye on his replacement.
4) Edin's Experience
Only positives can be attributed to Edin Dzeko's start in blue and black.
The Bosnian himself has been effusive in his praise for his team mates and has said he finds it very easy to link up with the players around him.
As a man of his experience, he has shown Inter fans so far that he can be an excellent focal point for Inzaghi's system, and on a free transfer he looks a bargain thus far.
With Alexis Sanchez to come back into the fold when he's fit and the two Argentines, Dzeko completes a deep attacking department which is something Inter haven't had in years.
Martin Satriano could even be added to that should he not go out on loan and there's still rumours of Andrea Belotti, Moise Kean, Gianluca Scammaca or Balde Keita coming in as another option.
Rather than relying on one world class number 9, there's now interchangeable options in that area which is exciting to see.
5) Federico Dimarco Should Start Instead Of Ivan Perisic
We've seen five years of Ivan Perisic and we know full well he isn't the player he is when he's playing for Croatia.
No matter how hard we try we aren't getting world class performances from him week in week out, especially as he hits his early to mid thirties and is playing as a wing back.
Inter have sacrificed so much time and money into Perisic, now is time to show him the bench and invest in our exciting Inter fan Federico DiMarco.
After an excellent spell at Hellas Verona over the past 18 months, DiMarco looks the perfect fit for Inzaghi's system.
Pacey, willingness to get up and down the flank to both defend and attack and also possessing a deadly cross on him, the former Sion man is a perfect wingback for this system.
Perisic out. Dimarco in. That's the tweet.