Edin Dzeko: "Everyone Knows What To Expect Of Me At Inter"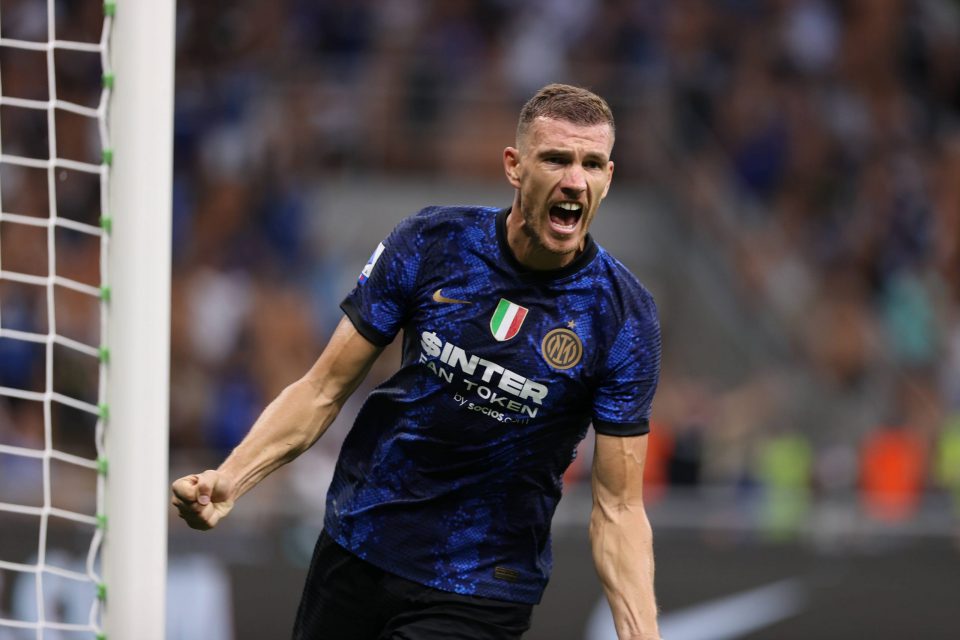 Inter striker Edin Dzeko believes that he can do what he was brought in for at the Nerazzurri, and that the club will not regret signing him.
Speaking to Bosnian news outlet Klix, the 35-year-old spoke about the reasons for his transfer to Inter from Roma and what he believes that he can contribute to his new club.
Dzeko is an experienced centre-forward who has made more than a hundred appearances for his country, and won the Bundesliga with Wolfsburg and the Premier League with Manchester City before arriving in Serie A to join Roma.
Since his arrival in the Italian capital in the summer of 2015, the Bosnian has not managed to get his hands on a Scudetto, though highlights of his impressive spell with the Giallorossi include finishing the 2016-17 season as top scorer in the league and helping fire the club to a Champions League semifinal in 2018.
Through it all, and regardless of Roma's form as a team, the striker has shown his quality, and Nerazzurri fans will hope for more of the same as he looks to help Inter defend last season's Scudetto triumph.
On his Inter debut, he said, "I was particularly excited on the eve of my debut with Inter. The goal came as a kind of prize and I am really happy that it went like that."
"However, there was no special celebration," he went on. "At Inter everyone knows what they can expect from me and I will do what I do best on the pitch."
The striker was full of praise for his new head coach Simone Inzaghi, stating "I have a lot of respect for Inzaghi. I like his football philosophy which is extremely offensive and I think I will have many more chances in front of goal."
"As I have already said, Inter know what they can expect from me and they know why they chose me, just as I know what I need to do to improve my game, but also that of the whole team," he continued.
On the team as a whole he said, "We are compact and I believe that over time our game will improve because we need a little more time to play together."
"It is difficult to make predictions now," he said of the Serie A season underway, "Inter is defending the Scudetto and know how difficult it is to do so. The Italian league is very balanced and at the top you always find teams that are very close to each other."
Dzeko explained, "Juventus have been inviolable for years, but now things have changed a bit. Inter have shown that they are on track to inherit the throne in Serie A, but it will be very difficult especially because there are several teams that have great ambitions, and last season they showed that even one match can be a turning point."
"I think it will be a competitive championship until the last day and I hope that in the end it will be Inter who will win the Scudetto," he predicted.
On his role in the team this season, the Bosnian said that "The attacker's task is to score, there is no striker who can predict the number of goals at the end of the season. I wish I could score a goal in every match, but it's impossible."
He continued, "I know that I will do my best to help the team win, I don't even think about the title of Capocannoniere. I just hope the team will win. The success of a team is always more important than the success of an individual."
On his priorities, Dzeko said that "Family is the most important thing in everything. I am grateful to God for giving me a great family and it is so much easier when there is understanding."
"I am really happy to bring a smile to the faces of my fellow citizens in Bosnia and Herzegovina," he said, "I have received a huge number of messages of support and I take this opportunity to thank everyone for the wonderful words, encouragement and support I receive every day. It means a lot to me and I'm really proud of it."
On his former club Roma, the 35-year-old stated, "I wish Roma a lot of luck. I will support you in all 36 Serie A matches."
Dzeko does not believe that his advanced age for a footballer is a problem, stating that "I have always given my answers on the pitch. It doesn't matter how old someone is, but what he manages to show on the pitch."
He closed, "I feel good and I don't care what they say about these things. I am only interested in the pitch and I am focused on my matches and playing with my team."