Inter Coach Simone Inzaghi: "Denzel Dumfries Great, Marcelo Brozovic Irreplaceable For Us"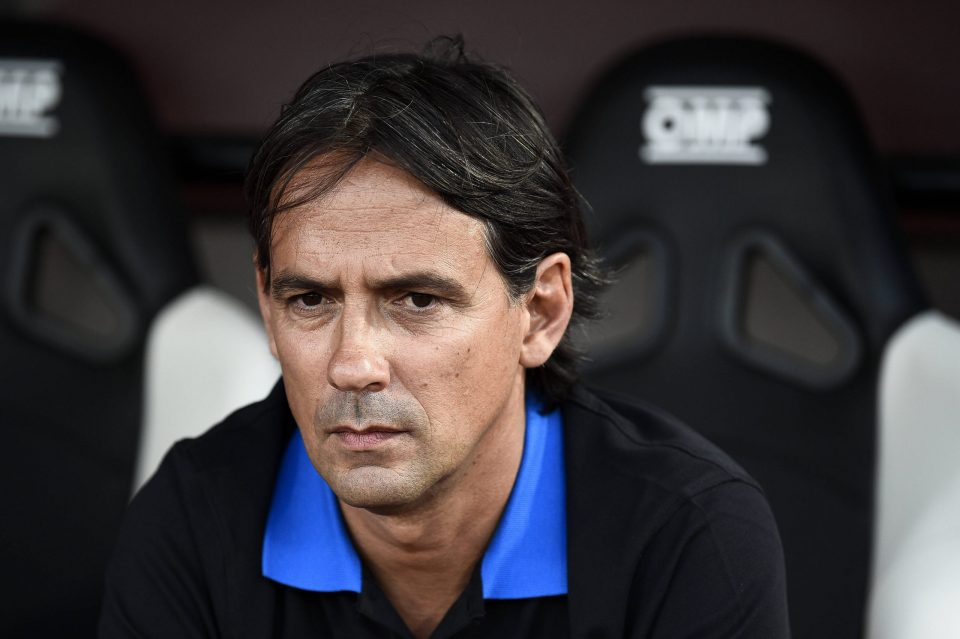 Inter head coach Simone Inzaghi is happy with his team's performance, after a 6-1 rout of Bologna at the San Siro earlier this evening.
Speaking to Italian broadcaster DAZN, the 45-year-old gave his thoughts on the performances of some key players, particularly a strong performance by Dutch wing-back Denzel Dumfries in his first start since his summer move from PSV Eindhoven.
Dumfries was vital to Inter opening the scoring with an excellent assist to set up Lautaro Martinez for the Nerazzurri's first goal, of what proved to be many, and generally acquitted himself well.
The summer signing looked more at home in a Nerazzurri shirt than he has so far in the season, and the supporters as well as the coach will hope that this can be the start of a strong run of form for him.
"I think he had a great match," Inzaghi said of the 25-year-old. "He needs integration, but this has gone faster than expected. We are satisfied, he had a great match. I was very afraid of this match after a night like Wednesday against Real [Madrid in the Champions League] but we've responded in the best way."
On his initial response to the loss against Real Madrid, Inzaghi said, "Sometimes you have to analyse without focusing on the result. I complimented the team on how we had controlled the pitch, but it's normal to be angry about a loss after playing like that.
"Maybe against Real you take 18 shots and don't score, today on the first occasion we unlocked them immediately. It's a very big result, but Bologna are coming off two victories in a row without conceding a goal," he added.
Of midfielder Marcelo Brozovic, the Italian tactician was full of praise. "I made him rest for the last half hour in Genoa and today. For us he is irreplaceable, there is a reason why he's played under all the different coaches here at Inter. In that role I can put [Roberto] Gagliardini, who is very useful, [Matias] Vecino, and [Nicolo] Barella."
Inzaghi also offered an update on Chilean forward Alexis Sanchez, following his return as a substitute after a period out with injury.
"He worked with the squad for a week, he is a great player. Unfortunately he had a relapse at the beginning of preparation, but now he is working hard. This half hour will do him good, now we are waiting for good news about Correa."
On injured midfielder Stefano Sensi's best position, Inzaghi said, "In my opinion he can play as a deep pivot, but he has such high technical quality that I like to see him in positions where he can affect the game like mezzala or mezzapunta."
"Everyone will have to help," Inzaghi said of his forward options. "We know  we have to play every two and a half days. Today I wanted to give Ivan Perisic and Hakan Calhanoglu a complete rest, but I also wanted to give one to [Edin] Dzeko who had to come in and helped us a lot. Sanchez doesn't have 70 minutes yet."
Inzaghi closed by talking about striker Lautaro Martinez, stating that "I knew he was a very important player, but now that I coach him I realize the importance he has and the reason why he's been so successful here and with the Argentine, he showed a great tour-de-force."