Five Things We Learned From Inter This Week: "Dimarco & Dumfries Must Be Nerazzurri's Starting Wingbacks"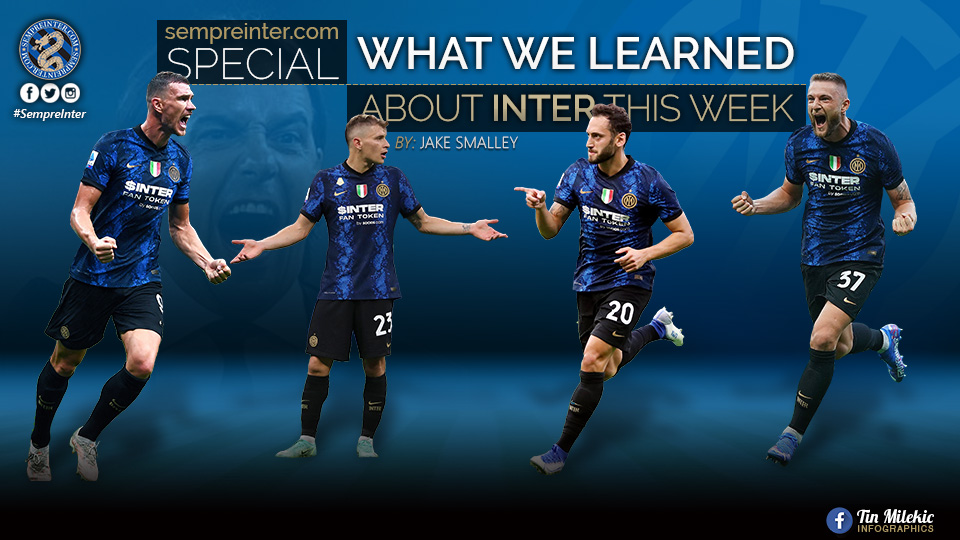 Inter bounced back from agonising European heartbreak to demolish Bologna 6-1 at San Siro on Saturday evening.
A brace from Edin Dzeko alongside goals from Nicolo Barella, Lautaro Martinez, Milan Skriniar and Matias Vecino completed a convincing rout.
Harshly beaten in midweek by Real Madrid, a perfect performance to bounce back.
Here's what we have learned from Inter this past week.
1) Matias Vecino Proving To Be Handy
One of the few remaining stalwarts of the Luciano Spalletti era, Uruguayan Matias Vecino has bounced back from injury problems to earn a place in Inzaghi's side.
Full of energy and endeavor, Vecino played a solid game and added a goal to the win over Bologna, whilst reminding Inzaghi and the Inter faithful that he can still be a useful option.
With Arturo Vidal starting the season so well also, it serves as a reminder to what Inter have in terms of depth in the squad.
2) Marauding Denzel
Much has been made of the departure of Achraf Hakimi and rightly so given that he is one of the best in world football as a right wing back.
His replacement, Dutch international Denzel Dumfries, has had to be patient to get his chance at replacing the Moroccan.
If Saturday evening is anything to go by, Inter have a player on their hands.
Strong and brave in the tackle and feet like a turbo engine, the former PSV man tore Bologna apart, laying on two goals for his teammates.
Whilst Hakimi may be missed, our Denzel proved that he can go some way towards replacing him.
3) Clinical Edin Dzeko Proves He Can Still Add Goals
Despite his advancing years, the Bosnian swan that is Edin Dzeko is showing his goal scoring qualities are far from fading.
Brought into the action following an injury to Joaquin Correa, Dzeko bagged two poachers goals to add to Bologna's miserable trip to San Siro.
Sure he isn't the fastest these days but his forward play and goal scoring qualities add real strength to Simone Inzaghi's attacking arsenal.
Replacing Lukaku is an unfair task to label at Dzeko's door but if his job is to add canny link up play and goals when he plays, he will do just that.
4) Dimarco & Dumfries Must Be Inter's Starting Wingbacks
With Simone Inzaghi tinkering over the early games with different options in these roles, it's clear to see after this week who needs to be starting.
Ivan Perisic and Mateo Darmian and more than capable of playing that position but as far as being system perfect goes, Denzel and Federico should be starting.
Both men added assists on Saturday and are approaching their prime years unlike the former two who are into their 30s.
Pace, power, ability to cross the ball and also get up and down the pitch are skills that both DiMarco and Dumfries have in abundance.
Those two, albeit they could be rotated to preserve their fitness at times, should be starting weekly.
5) Inter's Lack Of Composure In Front Of Goal Costs Them In Europe
Despite netting a league high goals tally of 14, the Nerazzurri couldn't find the back of the net when it mattered on Wednesday night in the Champions League.
A brutal knock out blow from Rodrygo in the final minutes meant they came away from Matchday 1 with zero points; a truly harsh brutality after they controlled large parts of the game.
Lautaro Martinez and Marcelo Brozovic saw chances go begging in both halves which leads onto the idea that if Inter are to reach the hallowed knock out stages, they need to take their chances.
Sure they now face Shakhtar and Sheriff in the next fixtures, which should be an easier test, but they cannot afford to miss out on maximum points.
The Madrid game should be a lesson for Inter that at the top level of European football they need to make their superiority count when they're on top and creating chances.