Five Things We Learned From Inter This Week: "Start Playing Andrei Radu & Sign Andre Onana In January"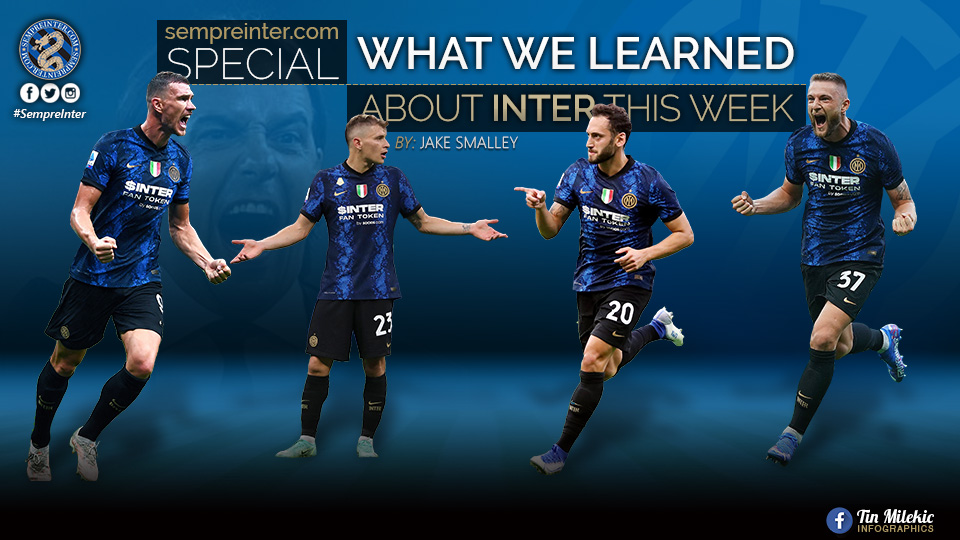 Two tough fixtures in the Serie A for Inter produced two excellent games this week with different results.
A terrific 3-1 comeback victory on the road in Florence on Tuesday evening was a fantastic display of attacking intent, against a side in form.
A tops- turvy 2-2 draw at home to Atalanta on Saturday evening once again drew up conclusions about the future of Inter captain Samir Handanovic.
Here's what we learned from Inter this week.
1) Start Playing Andrei Radu & Sign Andre Onana In January
It seems very clear that Inter are looking to Cameroonian stopper Andre Onana to replace the faltering Samir Handanovic.
With the Ajax keeper out of contract next summer, Inter are believed to be in discussions over a move. That deal needs to be pushed sooner even if it means having to pay a few million.
Samir Handanovic is finished. A great player for Inter in arguably the club's darkest period but now is time to say goodbye.
Play Radu until January and get Onana in.
2) Nicolo Barella or Milan Skriniar As The Next Nerazzurri Captain?
This one is really tough. Some may argue that Inter have struggled to replace Javier Zanetti with a true skipper. Handanovic simply was thrust into the role after Icardi's tantrums so it's nice to have a dilemma between a few options for Inter's next captain.
With Samir on the wane, it's time to be proactive and bring in someone new to replace him in the side and with the armband.
Barella is Inter through and through and his combative displays in the middle of the park are something that has given him rave reviews and made him appear captain material.
Slovakian Milan fired his agent to stay at Inter, adapted to a new style under Conte and has reiterated on numerous occasions his desire to become a Nerazzuri legend.
A tough pick between the two. Marcelo Brozovic maybe as a wildcard pick?
3) Lautaro Martinez Stepping Up To The Mark
With the departure of Romelu Lukaku, a lot of pressure and goalscoring burden has reached the shoulders of Lautaro Martinez.
Thrust into the side following the Mauro Icardi saga, Lautaro has had to adapt pretty much his whole Inter career due to chopping and changing.
This year however feels like his coming of age year where he grasps the mantle and becomes Inter's premier striker.
Supported by Bosnian swan Edin Dzeko, Lautaro has started the season with aplomb and looks dangerous in and around the eighteen yard box, something he hasn't always in Inter colours.
This year looks to be his year to break the 20 goal barrier in Serie A.
4) Brave Federico DiMarco Will Bounce Back
A decisive moment that potentially cost Inter two points went against young gun Federico DiMarco.
His late penalty smashing against the crossbar saw Inter manage only a draw against La Dea at San Siro.
His first big moment and arguably his first big chance to deal with expectation and the former Sion man fell just short.
DiMarco seemed a strange choice to take the kick but given his outstanding set piece capabilities it is understandable.
Apologising on social media after the game, DiMarco was clearly gutted. Get behind him. He will bounce back.
5) Inter Must Bounce Back In The Champions League
Looking ahead to this week, Inter face Shakhtar in the Ukraine.
Both sides having lost their first game will be hoping to bounce back.
Inter somehow managed to do everything but score on their last visit as the game ended 0-0 and cost them qualification for the round of 16.
This time out, goals aplenty could be on the menu given how Inter have started the season in front of goal.
No matter how it comes though a win as needed like no other. A win here will all but rule Shakhtar out of contention as they have to face Madrid twice yet.
The confidence boost it will give Inter could be enough to see them romp to qualifying for the knockout phase.
Must win is sometimes an overused term in football but not in this case.