Nerazzurri Assistant Coach Massimiliano Farris: "Pressure Always On Inter, Alexis Sanchez Quality Not Up For Debate"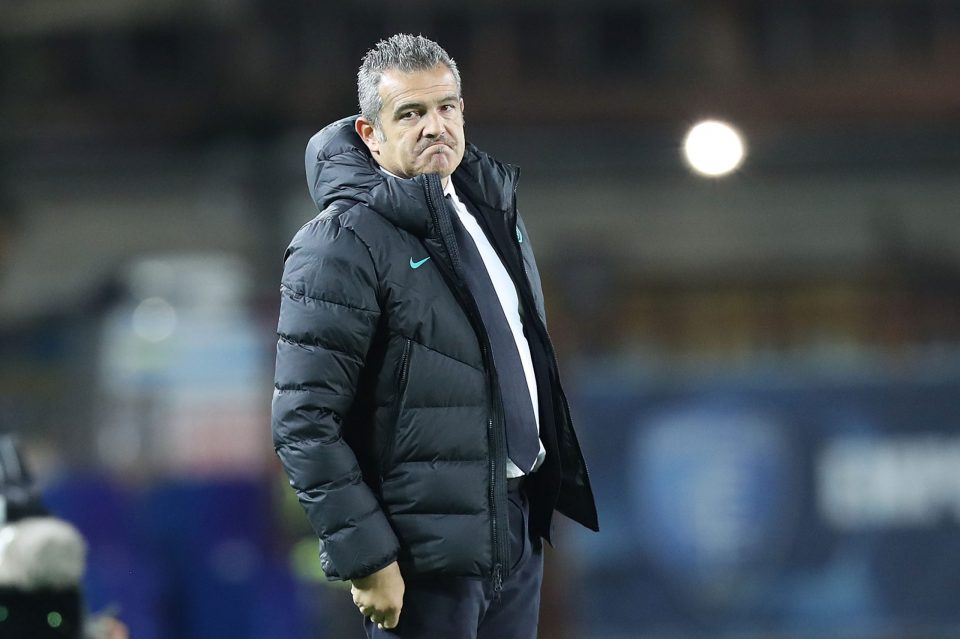 Inter assistant coach Massimiliano Farris emphasized the constant pressure to achieve results after seeing his team achieve a 2-0 win over Empoli earlier this evening.
Speaking in a press conference after the match, as reported by FCInter1908, the assistant coach gave his immediate reaction to the win and also singled out forward Alexis Sanchez for praise.
Inter had failed to win their previous two matches prior to their trip to Tuscany, suffering their first defeat of the Serie A season to Lazio before drawing with Juventus.
The team will have known that a win in Tuscany would be important to re-establish their confidence and keep themselves in touching distance at the top of the table.
Despite coming up against difficult opposition, and despite the fact that they played with a rotated starting eleven, the Nerazzurri controlled the match and got three vital points, with Farris guiding them through the match from the touchline in place of the suspended Simone Inzaghi.
"The pressure is always there because we are Inter and we have the desire, obligation and duty to do very well and win our games," he stated, "we have prepared for the game,with some players who had played a little less.
"In view of these rotations, players who have done a little less take the pitch and solve the game for you."
"Assist by Sanchez for D'Ambrosio," he went on, "D'Ambrosio dedicates it to his teammate and this goes further because you see the emotional side.
"It makes you understand how deeply-linked this squad is. We know that we have left a little bit, but we also know what our quality is. The important thing is to move forward."
Farris stated that "Sanchez introduced himself, a real champion. He missed a few training sessions due to some fitness problems. But he's not a player whose quality is in question.
"If he is fit he will surely be a part of the rotation."
"Tonight he showed that in this team he can have his say," he continued.
"Beyond the performance, there is the affection of his teammates. Both for Sanchez and for Lautaro."
"Sorry they didn't score," he said of the two strikers.
"But given what they did in training we didn't expect that. They also created a lot."
On the idea that the team lacks balance he said, "We have our own balance to our squad. We went from people saying we weren't balanced to being conservative against Juve.
This is not so. All games are different. It is clear that the goal is not to concede a goal. It is important to find this kind of team solidity, which is not a just a defensive problem."
"Very often we have left the three defenders to defend," he explained, "and now we have found the balance with the midfielders.
"Tonight it was really a matter of episodes and centimetres. Goals disallowed, Gagliardini's handball, hitting the post – we have created so much. The match was handled well."
And of the opponents on the night he stated, "We expected this start from them, they are not a trivial team. They have a lot of quality. The difficulty could have been that of not knowing how to suffer."
"But we have been able to do it," he explained, "defend when necessary, go to ground in front of the player who takes a shot that's headed to the goal."
And on a potential foul by D'Ambrosio in the area he stated, "I haven't seen it back. Inter were superior."