Ajax Ultras Supporters Group Release Statement Branding Inter-Linked Andre Onana A "Judas"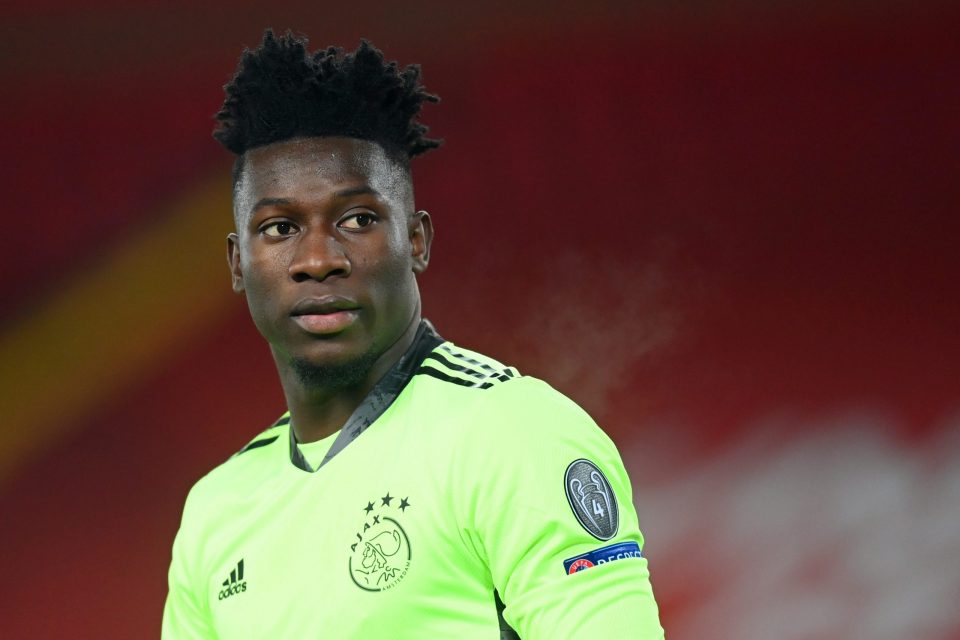 Ajax ultras group the F-Side have released a statement condemning Inter-linked goalkeeper Andre Onana and calling him a "Judas" now that he will almost certainly leave the club at the end of his contract next summer.
Release via the group's official site, the F-Side criticize the 25-year-old goalkeeper for his decision not to remain loyal to the club and to instead seek a move away.
Onana's situation in Amsterdam has been unsettled for some time, with the Cameroonian having faced a doping ban and which has ruled him out for a year but from which he could return this week.
However, the F-Side gave the view that they do not want to see the return of the keeper, who they brand as a traitor for negotiating a move away.
A link to the Nerazzurri as the long-term successor to Samir Handanovic has been long reported, while the player has openly stated that he feels negotiations with his current club have completely broken down, something affirmed by figures at the club.
The F-Side enumerated their criticisms of the player, writing that "You were an excellent goalkeeper and often very important to us. Only, as has often been shown in the past, a good player is not the same as a good person. In your case, this is undeniable."
"With the actions you took, you completely lost our support. When the news of your doping ban came, there was initially a feeling of pity because we all thought highly of you. In hindsight, we were all wrong," the statement continues.
It goes on, "You said you mistook a banned substance for paracetamol. A bizarre story, of course. A great athlete like you, who knows what's in the ;ist of banned substances, you don't make such a stupid mistake, do you? Apparently you are. Your credibility is no longer a given for us and hopefully for your future clubs as well."
"The club has even offered you an improved contract several times when you have not collected minutes of play for months. Fantastic club, Ajax, right?" they write.
"In hindsight it was a waste of time and energy because the rumours were already circulating," the statement goes on, "'Onana does not want to renew and will go away for free.' We could not and did not want to believe it. Ajax and who has been so supported by the club and the fans can't betray us, right? Anyway, the opposite is true."
"After all, you decided not to sign and put a knife in the back of Ajax and their supporters. Ajax loses a huge amount of money because of you, but you can no longer be taken seriously as a person," they write.
"First you get suspended for a longer period," the statement continues, "then you screw Ajax by not signing. Unfortunately, we have to conclude from that that you are a terrible Judas, we cannot forgive you and we will not forgive you. From now on you will be on the list of Kenneth Vermeer, Mino Raiola and Wesley Sneijder."
"This week the news came out that we weren't waiting at all," they write, "that is that you have been allowed to train again with Ajax. We inform you that we no longer want to see you in an Ajax match; if that happens, we obviously won't support you. You went too far this time."
They go on that "We would rather see a goalkeeper with inferior qualities than someone with a rat personality. When you read these words, they probably won't affect you anyway, because you already have your million euro contract and your position elsewhere."
"But keep the honour to yourself and choose not to be part of the senior team," the statement concludes. "We as the most fanatical supporters in any case are no longer waiting for your presence, and more people who care about Ajax should do the same."