Ex-Inter President Erick Thohir: "I Wanted Lukaku & Dzeko Too, Suning Will Sell At Right Time"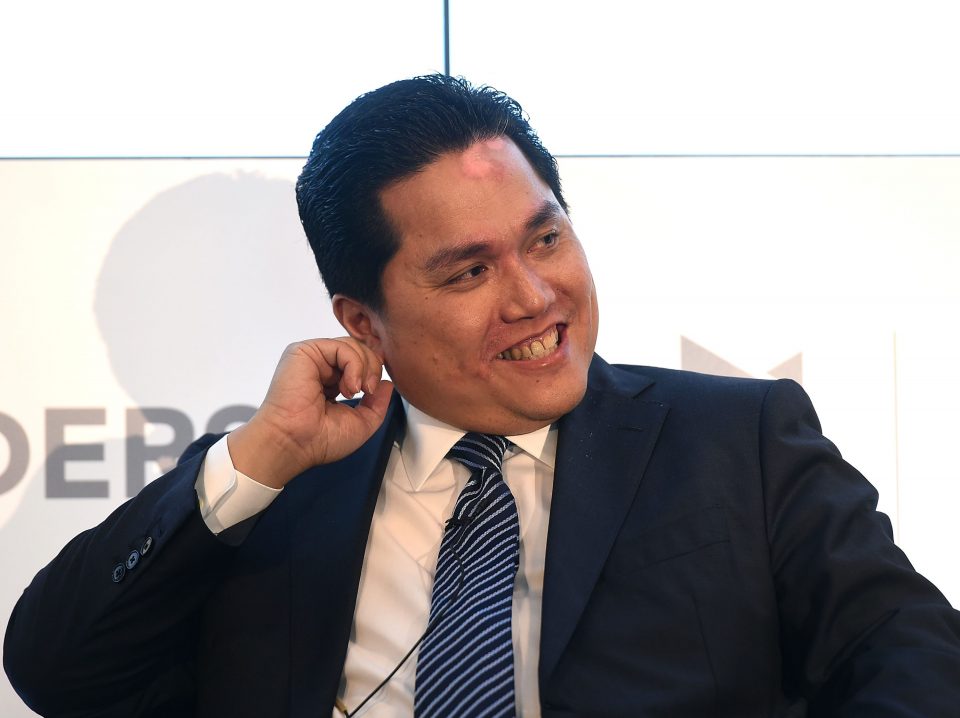 Former Inter President Erick Thohir had ambitions to sign strikers Romelu Lukaku and Edin Dzeko to the Nerazzurri while he was in charge of the club, but never had the chance to.
Speaking to Rome-based newspaper Corriere dello Sport in an interview published in today's print edition, the former President spoke about the period in which he was in charge at the Nerazzurri and the transition that the club was going through.
Thohir took over in 2013 after he bought the shares of former President Massimo Morratti, and then, after selling part of his shares to Suning in 2016, he was eventually replaced as President by Steven Zhang in 2018 and then sold his minority stake in the club to LionRock in 2019.
The Indonesian businessman was not able to have the same kind of impact that Suning did when they gradually guided the Nerazzurri back to the top of Italian football, but he explained why this was the case.
Thohir explained that he sold his shares to Suning "Because they convinced me with an ambitious and solid project. At the same time in Indonesia I was proposed the Presidency of the Olympic committee. I no longer had the possibility to manage my time properly. So I discussed with Moratti what the best solution was for the club. We are both in love with Inter."
Of his leaving he said that "In certain circumstances, that too is a gesture of love. I have the utmost respect for Suning. They chose the investment routes they thought were best. They built a platform that earned the Scudetto after eleven years."
He went on that "they signed Lukaku, a player I would have liked so much to buy. But it really couldn't have been, at the time. Dzeko was the same: we tried, but Roma were quicker."
When the Nerazzurri won the Scudetto last season Thohir felt "So much happiness. For the fans, for Steven Zhang, for Moratti. I know that saying it like this is trivial, but my joy of that day was simple. I immediately sent a message to a friend: Forza Inter, we are champions."
Of the current situation of Suning at the club he said, "I prefer not to comment. Always because of the love I have for Inter. And because of everything Suning has done to win the Scudetto. One thing is certain: they have great respect for Inter and for Italians. When the time comes to leave, they will."
"It depends on them," he said of when the current owners could sell. "If you are in love, being lucid when making decisions is not easy. I can say that anyone who arrives and undertakes to keep Inter at these levels will have my appreciation. Inter it is a global institution, not only for the Italian fans. Let the Zhangs reflect and eventually find a buyer of that type."
"Passion and business," he said of his time in charge, "for me it was a mix. I'm a businessman. It's like when you start a family: love counts but what you bring to the table also counts. If the company's finances are not in order, stay cool."
Of Roberto Mancini, Inter head coach while he was in charge and now European champion with Italy, Thohir stated "Congratulations to him. We wanted to keep him, the timing was not kind. It was the transition phase to the club's Suning period."
"He decided to leave and we must respect his choice," he went on. "The strength of football lies in its dramas. Antonio Conte too – he left Inter after winning the Scudetto. He felt that that situation was no longer the right one for him, that's all. How can you discuss a strong character like his?"
On the possibility of defending the Scudetto he stated, "The team is good. It needs to become more consistent. The defense is one of the best: Bastoni, De Vrij, Skriniar. And then Barella. We had looked everywhere for a similar player, starting with Medel, but we have never found one with the same qualities. And I'm happy that Brozovic and Perisic are still there."
And of the summer departure of Lukaku he said, "In this game there is no right and wrong. Things happen for a reason. Good job to the professionals who are there now who have chosen Dzeko and Correa to replace Lukaku. Balance, that is always the magic word."